8 Ways to Enjoy Your Time in Napa Valley
By Rachel O'Conner
October 12, 2022
Hot air ballooning over Napa - Istock/Judd Brotman
When people think of California, the first two cities that probably come to mind are Los Angeles and San Francisco. They might alternatively mention San Diego or Sacramento, but many people tend to overlook some of the other great places California has to offer.
Take, for example, Napa Valley. Now, some people might have heard of Napa Valley, but it often gets overlooked.
Napa Valley packs a lot with plenty of activities to do. Here are eight ways to enjoy your time in Napa Valley.
1. Visit a winery
Let's get the most obvious activity out of the way first. Napa Valley is world-renowned for its wine. There are over 500 wineries, many of which offer tours and tasting rooms.
With so many options, it's not easy to pick just one or two. It helps to know what you are looking for on a trip to a winery. For instance, maybe history plays a vital part in your enjoyment. Longstanding wineries like Beringer Vineyards have a lot to offer in this department. Beringer has been around since 1876 and is the oldest continuously operating winery in Napa Valley.
Looking for a more intimate experience? There are plenty of smaller family-run wineries like Robert Sinskey Vineyards, founded in 1986 and has won multiple awards for its wine.
2. Take a Napa Valley Wine Train tour
Sticking with wine, there's also the option to take a wine train tour. If you can't pick just one winery to visit, then a trip on the Napa Valley Wine Train might be worth it. The Napa Valley Wine Train offers different wine-tasting experiences that range from a few hours to an entire day. The tours are a fantastic way to sample different wines from other wineries without worrying about driving or having to plan your day around visiting one of them.
3. Go on a hike
Okay, let's move beyond the wine-based activities. Napa Valley makes for a great region to go on a hike. There are many trails that offer unique experiences.
For example, the Bothe-Napa Valley State Park has over 10 miles of hiking trails that take you through redwood forests, meadows, and streams. Another option is the Oat Hill Mine Trail, a slightly more challenging hike that takes you to an abandoned 19th-century mine.
4. Go for a hot air balloon ride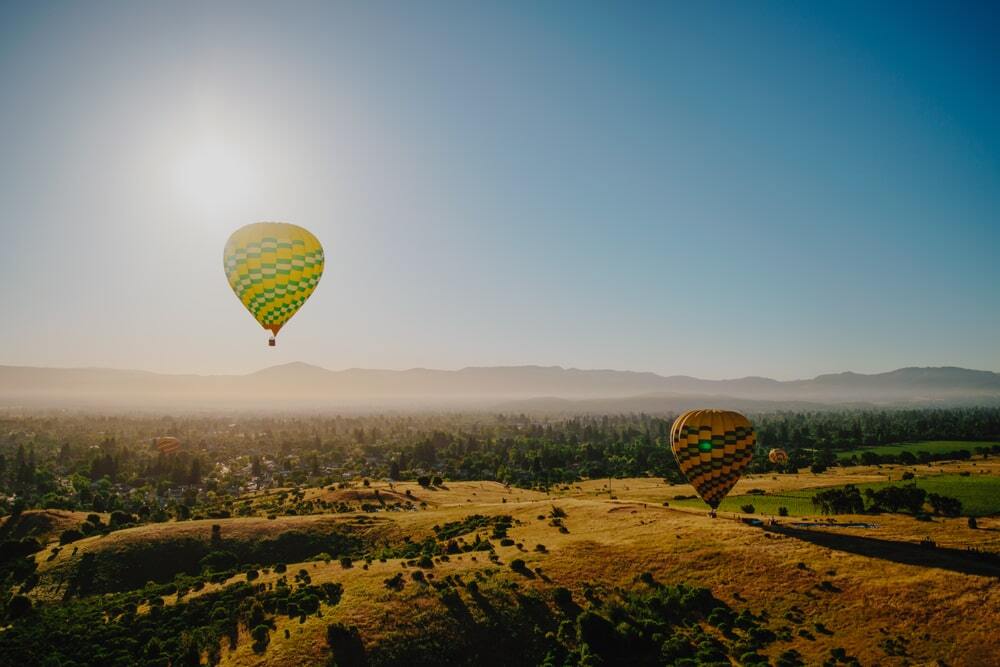 Want to see Napa Valley from a different perspective? Consider going on a hot air balloon ride. Many companies offer balloon rides, so you'll have plenty of options.
Hot air balloon rides share an interesting history with Napa Valley. The first hot air balloon ride in Napa Valley dates all the way back to the 1870s, and the first ride was almost a complete disaster. However, in the 1970s, the region saw impressive growth in hot air balloon companies, and hot air balloon rides have become a staple in the region.
5. Go on a bike tour
Napa Valley is a great place to go for a bike ride. There are many trails that wind through the vineyards and offer stunning views of the surrounding mountains. There are several companies that offer guided bike tours, so you don't have to worry about getting lost. Most of the tours include stops at wineries and restaurants, so you can enjoy the best that Napa Valley has to offer.
6. Visit a museum
If you're not really into the outdoors, you might want to consider visiting one of Napa Valley's museums. There are several to choose from, including the di Rosa Center for Contemporary Art and the Napa Valley Museum.
The di Rosa Center for Contemporary Art is a must-see for art lovers. The museum has over 2,000 works of art from more than 800 artists. The Napa Valley Museum is an excellent option if you want to learn about the history of Napa Valley. The museum has exhibits on the Native Americans who once lived in the region, the early settlers, and the development of the wine industry.
7. Enjoy a resort
Maybe you're in the mood for something a bit more luxurious and relaxing. You might want to consider staying at one of Napa Valley's many resorts. The region is home to several luxurious resorts that offer everything from spa treatments to golf courses.
One of the most popular resorts in Napa Valley is the Auberge du Soleil, which is located in Rutherford. The resort has an on-site spa, a Michelin-starred restaurant, and stunning views of Napa Valley.
8. Take a cooking class
If you're interested in learning to level up your cooking skills, then consider taking a cooking class. There are many cooking classes you can take in Napa Valley that range in various levels of experience.
The Culinary Institute of America at Greystone is a great option if you want to learn from some of the best chefs in the world. The school offers classes on everything from knife skills to baking.
Don't skip out on Napa Valley
While it might be small in size, there's plenty to do in Napa Valley. What makes Napa Valley stand out is how much history and things you can do in such a limited area.
It's easy to overlook it, but it offers a unique experience, especially compared to other parts of California. And you don't have to be a wine lover to enjoy the region. There are plenty of activities for anyone to enjoy.
Rachel is a freelance writer and a self-proclaimed "Travelholic". She enjoys traveling to parts unknown, sampling local cuisines, and sharing her experiences with the world. In her free time, you can find her planning her next trip, running with her dogs, or heading to the closest farmers' market.