Bing Makes Navigating Airports a Breeze
By Budget Travel
January 12, 2022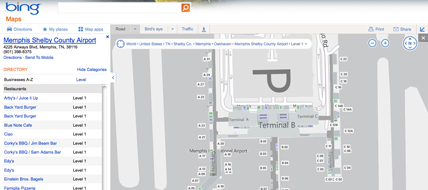 Paris. Shanghai. LAX? Airports may not usually be listed among the world's most exotic locales, but they can still be destinations in themselves. Unfortunately, they can also be confusing and time-consuming: searching out a café for a quick coffee before a flight or finding the correct baggage claim upon touchdown can make one's airport experience more stressful than it needs to be.
With the new, free Airport Maps tool for its Bing search engine, Microsoft plans to change that. Users can now scour online maps for 42 airports in the United States, plotting out snack stops, ATM locations, terminals and restrooms.
The tool offers more than just static maps. Bing users can benefit from several useful features:
Seamless integration into Bing Maps. Just search for the name of an airport—or its city or code—and then zoom and drag to your heart's content.
Clickable destinations. Want to check out a menu before you decide on your lunch? Just find a restaurant within the airport, click its color-coded location, and Bing will serve up additional information—including company websites, if available.
Mobile functionality. Bing allows you to send airport information to your mobile phone, so you'll stay informed even away from your desktop.
Microsoft might be the latest company to release an airport travel tool, but related applications for smart phones have been gaining steam for some time. Mobile travelers can check out the following tools for a smoother experience at the airport:
FLYsmart. Served up for free by Clear Channel and Geodelic Systems, FLYsmart offers airport maps and directories just like Bing, but it also provides convenient real-time flight information. Instead of rushing out to the terminal to check your flight's status, sit back in an airport bar and enjoy a drink, knowing that up-to-the-minute information is right in your pocket.
FlightView. Planespotters will love FlightView, which provides nationwide flight tracking and weather delay maps. And that's just the free version; the $3.99 FlightView Elite app also offers arrival and departure boards and weather conditions at airports across the country.
B4YOUBOARD. A free app from Airside Mobile and travel-food experts HMSHost, B4YOUBOARD allows hungry travelers to order food delivered straight to their departure gate. Currently the program is limited to selected terminals at the Minneapolis–St. Paul and JFK airports.
Apps and online tools can be helpful, but nothing beats experience. What are some of your strategies for making airports more navigable, interesting, or even—yes—fun?
— Ryan Murphy
MORE FROM BUDGET TRAVEL:
10 Most Useful Travel Websites
The Ultimate Guide to Travel Apps
Airport Survival Guide—We Want Your Tips!