12 Delicious Foods to Try in Colombia
By Karen Attman, Viator.com
May 19, 2014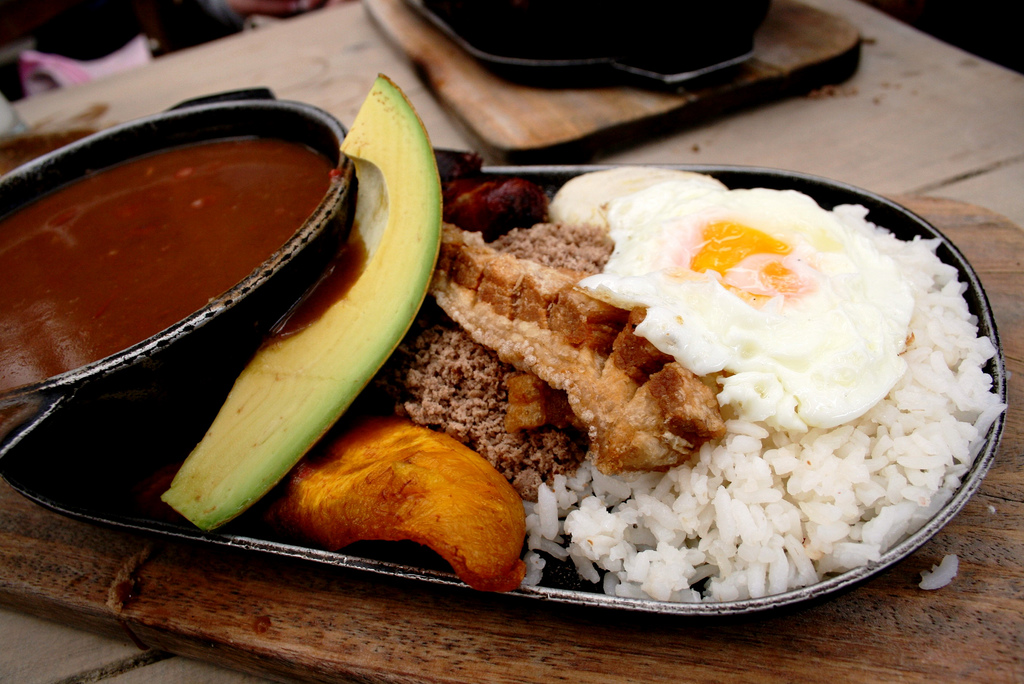 Courtesy <a href="https://www.flickr.com/photos/13077379@N02/2752681471/in/photostream/" target="_blank"> Nicole Tarazona/Flickr</a>
This article was written by Karen Attman on behalf of Viator.com.
There are so many delicious dishes in Colombia it's hard to choose just a few. Here are 12 of my favorite foods to try when visiting.
Bandeja Paisa
The Colombian national dish, bandeja paisa, is not for the faint of heart. Born in the "paisa" region of Colombia—Medellin and its surroundings—it is called bandeja (tray) because rather than being served on a plate, it's often served on a tray large enough to accommodate the huge portions. You certainly don't have to travel to Medellin to try it, since this is a typical lunch throughout Colombia, sometimes served as a corrientazo (popular, inexpensive lunch). Normally included on the plate: rice, fried plantain, chicharron, ground beef, blood sausage, avocado, arepa, and red beans, all topped with a fried egg.
Lechona
Lechona is whole baby pork, roasted to perfection, with a crunchy outer skin and deliciously soft meat on the inside. For those not used to seeing the heads of the animals they're eating, it can be upsetting to see a whole lechona, but just one bite of it erases any doubts about the value of the dish. Lechona is served throughout Colombia for lunch or dinner at roadside stands, fine restaurants and fairs, or basically wherever Colombians are. A common street food, it is often served on small plates with arepa or potatoes, or made into a sandwich.
Chicharron
While we're on the subject of pork, let's discuss chicharrones. Perhaps one of the most common ways to eat pork in Colombia, it's readily available everywhere and is inexpensive. The pork rinds are deep fat fried until crispy, then cut into small pieces and served with arepa, fried plantain, or potatoes. Pick it up from vendors on the streets throughout the day or enjoy it as a side dish with a meal.
Fritanga
This is another one for meat lovers. Fritanga is a dish with a mix of meats—longaniza (pork sausage), bofe (lung), liver, chicharron, blood sausage, chorizo (another type of pork sausage) and chunchullo (intestines) cut up into small pieces, thrown together and served on a big plate with yucca or plantain. This dish goes well with beer and friends.
Sancocho de gallina
A comforting soup in colder climates, sancocho de gallina is often the dish of choice to make whenever there is a large gathering of friends or family. Hen, yucca, plantain, cilantro, carrots, and other vegetables are cooked into a soup in huge pots.
Pan de bono
Small, puffy, light-as-air cheese breads made with yucca flour and queso costeño (hard white cheese), these are common throughout Colombia for breakfast or snacks, or to accompany that afternoon coffee.
Peto
Peto, or mazamorra, is white corn cooked very well until it reaches a soupy consistency. The mazamorra antioqueña is usually served in milk and with a heaping serving of grated panela (raw sugar cane). It's common to see vendors selling it on the streets or even from door to door, calling out "pehhhhhto" as they walk.
Chuzos
Or brochetas. Or pinchos. Whatever you want to call them, these Colombia kabobs are delicious. On the side of roadways or on any crowded city sidewalk, vendors set up grills where they place long skewers with juicy cuts of beef, pork or chicken and topped with an arepa or small papas saladas, a heavily salted potato.
Calentao paisa
Calentao (which means warmed up) began, as its name suggests, as warmed up left overs, traditionally served for breakfast in poor households. Rice, ripe plantain, chorizo, potatoes, beef, beans, chicken, and sausage are all thrown into the pan and heated up together, with a fried egg often served on top. Depending on the region, corn, lentils, and even pasta can also be thrown into the mix.
Tamales
These are served throughout Latin America, and in Colombia the tradition is for families to gather together to eat them in restaurants and bakeries on the weekends. Tamales are made with ground corn or corn flour and are filled with meat, chicken, pork, vegetables and rice, then neatly tied up in plantain leaves and boiled. Each region of Colombia has their own version of tamales; in some areas rice or plantain is used to encase the meat, and they can include peas, beans, egg, veal, chicken, capers, or raisins.
Obleas
These thin, round wafers are served sandwich-style, filled with arequipe (a South American caramel sauce). In addition to arequipe they can be filled with mora (berry) sauce, grated white cheese, peanuts, passion fruit sauce, or cream. They are an inexpensive sweet snack sold everywhere throughout Colombia.
Fresh fruit
There's an abundance of fresh fruit in Colombia that delights visitors. Fruit here comes in all colors, sizes, shapes, and flavors and with unusual names like lulo, maracuya, granadilla, pitaaya, and níspero. Also, some of the ones that are well known, like mangoes, are so flavorful and juicy and come in such outstanding variety that it's a totally different eating experience. Mango biche, green mango that is often cut into thin long strips that look like green spaghetti, is served with lime and salt. Salpicon is a huge serving of tropical fruit salad served with or without ice cream.
For those that are brave, there are also choices like mondongo, large fried ants, and chunchullo (fried pork intestines). A food tour is one of the best ways to get in a number of these tastes at local spots around Colombia.