5 Outdoor Wonders Just Beyond Berlin
By Ofer Valencio Akerman
June 12, 2014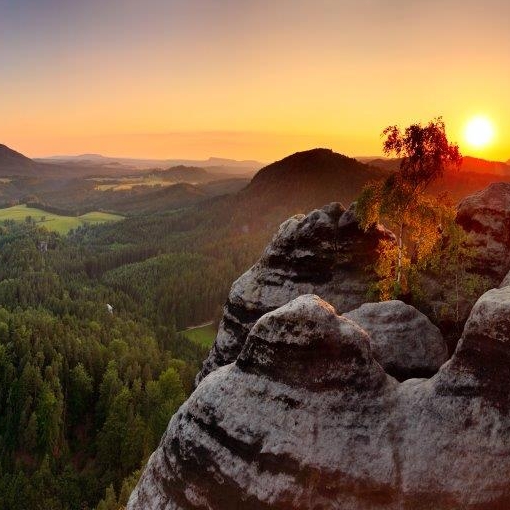 Courtesy Ofer Valencio Akerman
This article was written by Ofer Valencio Akerman, a turnaround expert and lifetime entrepreneur. He is the founder of hivino.travel, a travel site dedicated to helping people discover amazing places in Germany.
Not sure where to spend your next weekend adventure? Take a breather from the hustle and bustle of Berlin, and broaden your horizons at one of the national parks just a stone's throw from the city. Discovered by HiVino, these five spots offer all manner of flora, fauna, and fun-filled activities with nary a U-Bahn station in sight.
Jasmund National Park
You know how the saying goes: The best things come in tiny packages, and no place exemplifies that statement quite like Jasmund. This bite-sized National Park may be Germany's smallest, but don't let the size fool you; from soaring chalk cliffs to stunning beech groves, the natural splendor here is beyond breathtaking. Stroll along the hiking trails to search for orchids, eagles, and rare plants, or hop on your bike for a relaxing ride along the Baltic Sea. Traveling with the kids? You're in for a special treat: Jasmund offers an array of family-friendly climbing trees that let little ones channel their inner Tarzans.
Nationalpark Harz
If magical forests and fog-drenched vistas dominate your daydreams, Nationalpark Harz is your ticket to paradise. Sprawled across both Niedersachsen and Sachsen-Anhalt, this vast region is filled with the sort of canyons, valleys, and woodland hideaways you see splashed across the silver screen. Spend an afternoon spotting bats and boars on the hiking trails, but make sure to budget enough time for a ride on the Brockenbach. This 19th-century railway takes you on a climb to Brocken Mountain's peak, and it still operates on a nostalgic steam engine.
The Bastei
Mother Nature definitely outdid herself with this one. Uncovered by HiVino's network of travel experts, this Saxon Switzerland rock formation is among the region's most striking landmarks, and its sky-high beauty and untouched surroundings nod to the continent's geological past. History lovers will have a special fondness for the park; the iconic Basteibrucke Bridge leads directly to the 14th-century fortress of Neurathen and its panoramic views of the Elbasandsteine.
Hainich National Park
Want to walk on top of the world? Grab your hiking boots, and make a beeline for Thuringia's one and only Hainich National Park. Tucked among the deciduous forests and wildcat habitats, you'll find the Treetop Trail: a tour that lets you climb to the heights of Germany's very own jungle. You can even explore adventure trails that combine playful activities with natural wonders or take your kiddos on a hunt for hidden treasure. Hainich truly has it all.
Muritz National Park
Welcome to the land of a thousand lakes. Protected by UNESCO, this biosphere reserve all but overflows with waterfront vistas, wetland sights and must-try discovery trails. Get the lay of the land at the observation tower of Kaflingsbergturm, test your exploring skills with a GPS Adventure Tour, or commune with nature on a relaxing stroll around the ponds and bogs. Trust us: When it comes to lakeside wonderlands, Muritz National Park takes the cake.
Need a few more ideas? HiVino's insiders' community is the place to be. From cliffs and canyons to riverside retreats, this network of local experts has the inside scoop on Germany's best-kept secrets, and they can't wait to share the finds. Pack those bags, and get ready for an adventure.