5 Unforgettable Experiences in Seward, Alaska
By Kae Lani Kennedy updated 8.4.2021
February 26, 2018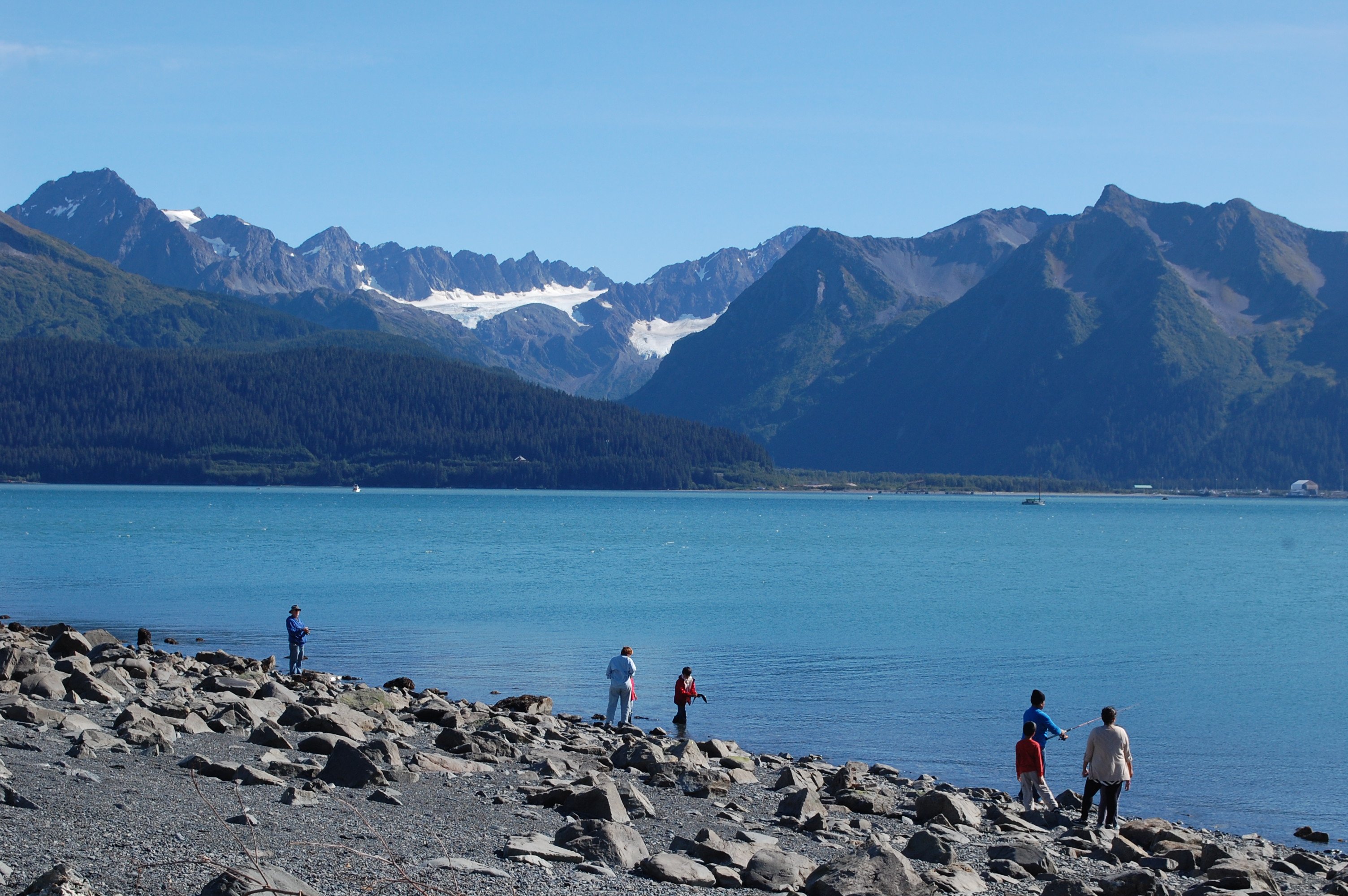 Courtesy Kae Lani Kennedy
The coastal community of Seward gives visitors the chance to experience all the nature, sports, and excitement that Alaska has to offer.
"Alaska Starts Here" is the motto of the small town of Seward, Alaska, located on the Kenai Peninsula. With a population of a little over 3,000 it seems like a bold claim, but this coastal community truly delivers, giving visitors the chance to experience all the nature, sports and excitement that Alaska has to offer, with lodging under $200/night. Here, five ways to enjoy Alaskan pursuits in Seward.
1. GO FISHING
Alaska is home to some of the world's best fishing spots, and in Seward the waters are teeming with Pacific salmon, lingcod, halibut, and rockfish. Beginners, experts, and all kinds of fishing enthusiasts in between can join a guided fishing tour to some of Seward's top fishing spots. Spend a calming day fly fishing for salmon at the Ptarmagin creek as they migrate to and from Kenai Lake or catching fish for Sockeye on a drift boat in the Kenai River. From guided saltwater or freshwater charters to share fishing you can do it all here. Tour companies provide necessary supplies along with professional guidance, and then lead you to some of the region's most plentifully lakes and rivers.
2. TRY DOG SLEDDING
Get into the Iditarod spirit by partaking in one of Alaska's greatest traditions; the sport of dog sledding. In Seward, you will learn that there's more to dog sledding than just a team of fast dogs. There's strategy, training, and endurance required to become a winning dog sled team. Feel the excitement as your sled team steadily trots through the Alaskan terrain while learning the commands "Gee" and "Haw" to signal turns to the team of dogs. At the Turning Heads Kennel in Seward, the home of Iditarod musher Travis Beals, not only can you meet the athletes (both dog and human) but you can also reserve a dog sled ride for as low as $69.
3. TAKE A CRUISE OR BOAT TOUR
Since Seward is surrounded by the Kenai Fjords National Park, there are plenty of chances to observe Alaska's natural wonders. For a great overview of the Kenai Fjords, hop aboard a day cruise and spend a thrilling day at sea, searching for marine wildlife, gazing upon glaciers, and learning about the history of the fjord and the Alaskan Bay. With Major Marine Tours you can choose from a variety of boat tours including whale watching, national park tours, and wildlife cruises, with prices ranging from $94 to $239. All cruises offer snacks on board with some of the longer full day cruises including a deli lunch.
4. GO HIKING
Alaska's picturesque landscapes and wild nature attracts outdoor buffs and adventure seekers from around the world. Whether exploring the forests, climbing mountains, or navigating around rivers and lakes, hikers enjoy the unique outdoor challenges, some of which can only be discovered in Seward. One of the most stunning hikes is to Exit Glacier with trails leading to multiple vantage points around the glacier, including a trail accessible to those with disabilities. Trails lead to right beside the glacier where visitors can experience the massive blue wall of ice, listening to its thunderous cracks as Exit Glacier slowly inches down to the Resurrection River from the Harding Ice Field. You can hike there on your own or join one of Seward Windsong Lodge's guided walking tours for $48 to learn more about this glacial environment from a naturalist guide.
5. ENJOY FINE ALASKAN CUISINE
There's never a shortage of fresh seafood in Alaska, especially in Seward when the Kenai River and Copper River, two main sources of Alaskan salmon, are close by. At the Seward Windsong Lodge's Resurrection Roadhouse, chef KC Loosemore uses minimal ingredients to create exquisite dishes. Utilizing the region's abundance of fish, chef Loosemore creates delicious dishes such as Seared Alaskan Halibut on a bed of toasted Alaskan-grown barley couscous dressed with arugula, lemon, golden beets, and goat cheese, an Alaskan-caught salmon filet with seasonal vegetables, fennel-arugula salad, and warm herbed quinoa, as well as a variety of favorites including fish and chips and burgers.
For more information visit the Seward Chamber of Commerce and Visitor Center.