Don't Miss the New York Travel Festival
By Kaeli Conforti
April 14, 2014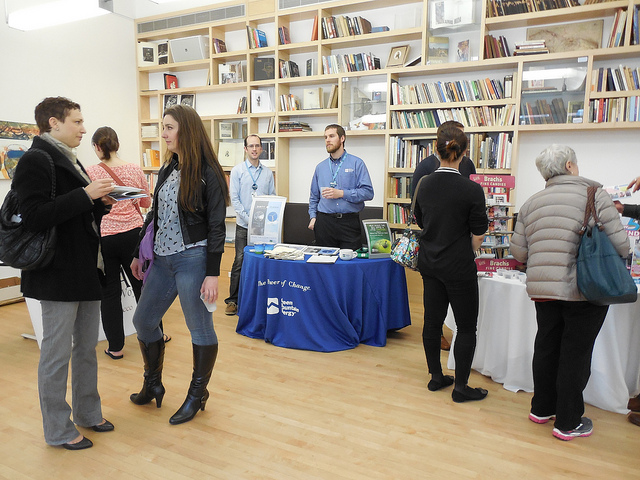 Courtesy <a href="https://www.flickr.com/photos/nytravfest/8867422839/" target="_blank"> Michele Herrmann</a>
If you happen to be in the New York City area the weekend of April 26th and 27th, you won't want to miss the New York Travel Festival, now in its second year, and offering a wide variety of seminars and presentations by some of the biggest names in travel.
On Saturday, the Festival will take place at Bohemian National Hall, located at 321 E. 73rd St. between First and Second Avenues. Registration opens at 9:15 a.m. with seminars and events happening all day until about 7 p.m. Come to hear about the latest in travel tech start-ups, see presentations by Travel With Val and travel editors from Afar Media, and learn how to travel 675-days with your signicant other without killing each other from the founders of HoneyTrek.com, a couple who did just that. Other seminars include What's Yummy in Travel with Matt Gross and friends, Queens, NY: The World's Most Diverse County, and Celebrating the Dead in San Miguel de Allende, a special presentation by the San Miguel de Allende Tourism Board. Don't forget to stop by the Mexico Bar on the fourth floor between 11 a.m. and 3 p.m. to try mezcal and sample other delicious Mexican delicacies.
On Sunday, the Festival will take place at Hostelling International New York City, located at 891 Amsterdam Avenue and 103rd St., and will feature expert panels, workshops, and performances starting at noon. You'll hear great travel stories and tips from speakers like Lee Abbamonte, the youngest American to visit every single country, and learn how to successfully quit your job and travel the world in a panel hosted by Rainer Jenss and Meet, Plan, Go! You can also sign up for the Matador Network Speaker Series, from 4 p.m. to 6 p.m., which will feature G Adventures' founder, Bruce Poon Tip, who started the company in 1990 by maxing out two credit cards to follow his dream—G Adventures is now the largest adventure travel company in the world and offers more than 1,000 tours on all seven continents. His new book Looptail—about the how he reinvented the business model by focusing on the human element, karma, and happiness within the company—recently became a New York Times bestseller.
As a special treat, all ticket holders will receive exclusive discounts on tours from participating companies like On Location Tours, A Slice of Brooklyn Bus Tours, Bike and Roll NYC, and Shop Gotham, Carreta Tours, Cititrek, Gotham SideWalks, Metro NYC Tours, NYCindy Tours, NYC Subway Art Tour, SusanSez NYC Walkabouts, Turnstile Tours, Urban Oyster, Wall Street Walks, Whistlin' Pup Tours, and Urban Adventures from Intrepid Travel—I'll be taking their Tenements, Tales, and Tastes tour in a few weeks and writing about it, so stay tuned!
Tickets are on sale now through the New York Travel Festival website: $45 per person for both days; or $12 per person for Sunday only including lunch ($15 per person at the door). Please visit their website for a full schedule of events and more information.