A Train Lovers' Guide To Thailand
By Andrew Kolasinski
updated September 29, 2021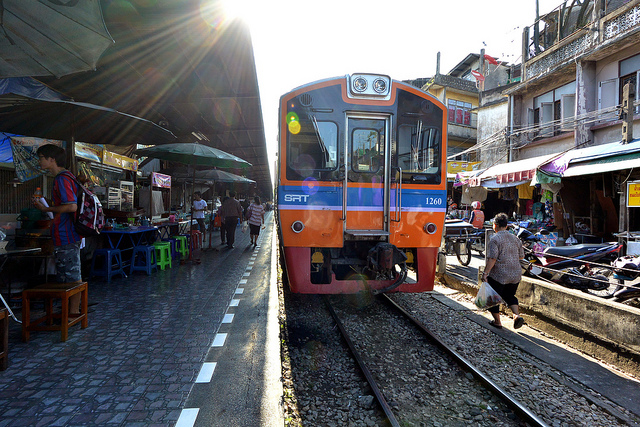 Courtesy <a href="https://www.flickr.com/photos/m-louis/9275485149" target="_blank"> takato marui/Flickr</a>
I was one of a dozen westerners waiting for the Chiang Mai midnight sleeper, along with 500 uniformed school kids noisily waiting for their train. Their frantic teachers invented amusements like group charades and spelling contests, but still most of the kids wandered around looking for trouble. A dozen 13-year-olds blocked my path. Their bold leader, a chubby pony-tailed girl, demanded to know where I come from. They all giggled and elbowed each other chattering hysterically in Thai after I told them I was from Canada. A fellow passenger, a British woman said (loudly over the din), "These kids were already here when I arrived at 7:30." She looked peevishly at her wristwatch. It was 10 p.m. I had been told Thai rail is usually reliable, so this was not a good sign.
I went in search of the station master who spoke just enough English to tell me the entire system was backed-up due to a landslide in the highlands up north, but, "Not to worry all trains still arriving, just a little slow."
Two hours later the kids' train to Pai came and went, leaving the platform strangely silent. The midnight train arrived at 1:45 a.m. with my bunk bed ready for me. The car's air conditioning was working—too well. After an attendant gave me a second blanket, I slept soundly, lulled by the swaying of the car and the clacking rhythm of the tracks.
I awoke an hour before we reached Chiang Mai. At the end of the corridor several sinks were ready for the passengers' morning ablutions. When I returned to my bunk the rail company's slogan "Service Mind" was demonstrated as an attendant worked with remarkable speed, efficiently converting my bunk bed into a comfortable seat and table. For about $20 (600 baht), I had a Second Class sleeper ticket, but the service was First Class. My berth was aboard a reasonably modern car, pulled by a clean diesel/electric engine. My rail journey had begun at Ubon in Thailand's northeast. At Ayutthuya near Bangkok I had transferred to the night train to the last stop on the Northern Line.
Thailand's rail system was launched in 1890, named the Royal State Railways of Siam. The first line was the 71-kilometer span from Bangkok to Ayutthuya. Today it's called State Railways of Thailand, has over 4,000-kilometers of track, and carries 50 million people annually. Here's what you need to know.
TICKETS
First Class tickets are available on most long distance routes. These compartments are air conditioned and include private two-passenger sleeper rooms complete with wash basins (but shared bathrooms). Second Class sleepers have convertible bunks in a dorm arrangement. Privacy is maintained with curtains for each bed. Third Class tickets sometimes have upholstered seats, though on most lines, only wooden benches. There are no sleeping accommodations in Third Class, and no air conditioning, though many trains have fans.
POPULAR LINES
There are four principle lines of track in Thailand. The Eastern Line connects Bangkok to Vientiane, Laos, and a second train ends at Nai Mueang near the borders of Laos and Cambodia. The Northern Line starts in Bangkok and terminates in Chiang Mai, near the border of Burma. The North-Eastern Railway ends on the Laotian border at Nong Khai. The Southern Line links Bangkok to Malaysia. This route connects many towns near some of Thailand's most popular beach resorts and terminates at the Sungai Kolok Station on the border. In the past, this train went all to the way into Kuala Lumpur. The line now runs down the Malay Peninsula's eastern shore along the Gulf of Thailand.
INTERESTING ROUTES
True train aficionados shouldn't miss The Death Railway (Thailand-Burma Railway), built by Asian and Allied prisoners of war of the occupying Japanese forces during WWII. Thousands of prisoners died from the brutal forced labor. Along the route is the famous Bridge on the River Kwai, immortalized by the eponymous 1957 film starring Alec Guinness. The Death Railway originates at Thorburi Station in Bangkok and terminates at Lang Suan, no longer reaching Burma. For luxury rail fans, the Eastern and Oriental Express runs through Thailand into Malaysia ending in Singapore.
This article was written on behalf of Tucan Travel. Born in The Hague, Andrew Kolasinski arrived in Canada as a small child riding in the luggage rack of a DC-7. Since then he has felt at home anywhere. As the publisher and editor of Island Angler, Andrew spends half the year fishing for salmon and trout, and in the off-season, traveling the world looking for a story.