Death in Venice: Residents plan the city's funeral
By Kate Appleton
updated September 29, 2021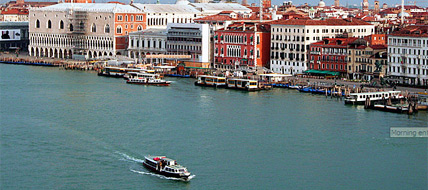 Courtesy <a href="http://mybt.budgettravel.com/_Venice-Grand-Canal/photo/5322307/21864.html">tcarlson/myBudgetTravel</a>
Three gondolas will escort a red coffin through Venice's famed canals this Saturday, November 14, in a symbolic funeral organized to highlight the disastrously shrinking population—which dropped below 60,000 at the end of October. There won't be a single full-time resident left in Venice by 2030, according to demographic predictions cited in Newsweek.
The primary cause of death isn't the much-publicized acqua alta that floods St. Mark's Square and city streets annually, but rather the flood of tourists. Of the 55,000 average daily visitors, more than half are now daytrippers who drop in as part of a guided tour or choose to stay in nearby towns like Padua or Verona, where hotels and restaurants are cheaper.
Venetian business owners used to charge higher prices to tourists, but now are charging those tourist prices to locals, too, in the struggle to get by.
Wealthy outsiders who've purchased second or third homes in Venice have driven up property prices, while the recession and a dwindling tax base have led to service cuts, in what has become a vicious cycle prompting many to abandon the city. Twenty-five percent of residents are over 64, compared to an Italian average of 19 percent [via italymag.co.uk].
Andrea Morelli, who has an electronic population ticker in the window of his pharmacy off the Rialto Bridge, helped organize the funeral to draw attention to the mixed blessings of tourism. Newsweek's Barbie Nadeau reports:
"Maybe this funeral doesn't have to be the end," he says. "It might be the beginning; it could even spur a rebirth." In fact, the weekend after Venice's population dipped below 60,000, 11 babies were born at a local hospital. "Now we just have to create a Venice [those new natives] will want to stay in," says Morelli. "We have to give them a reason not to leave."