Discover USA: Grand Junction, Colorado
By BT Editor
March 11, 2022
Courtesy of Visit Grand Junction
Join Budget Travel as we continue our new series Discover USA. Discover USA explores states, counties, cities, and everything in between. Each week we will explore a new US destination to help you find things to do, itinerary ideas, and plan where to go next.
This week, we invite you to Discover what Grand Junction, Colorado has to offer. Grand Junction is known as the hub of Colorado's wine country. Grand Junction is a place where vibrant music, farm-fresh cuisine and a lively art scene converge with countless outdoor adventures.
Culinary
There is a reason why Food + Wine Magazine recently called the Grand Junction area of Colorado, "the new Sonoma with its charming vineyards and stellar dining." Shaded by the majestic beauty of the red rock cliffs and mesas that surround Grand Junction, the area is home to nearly 30 wineries and vineyards that serve up some of Colorado's best wines.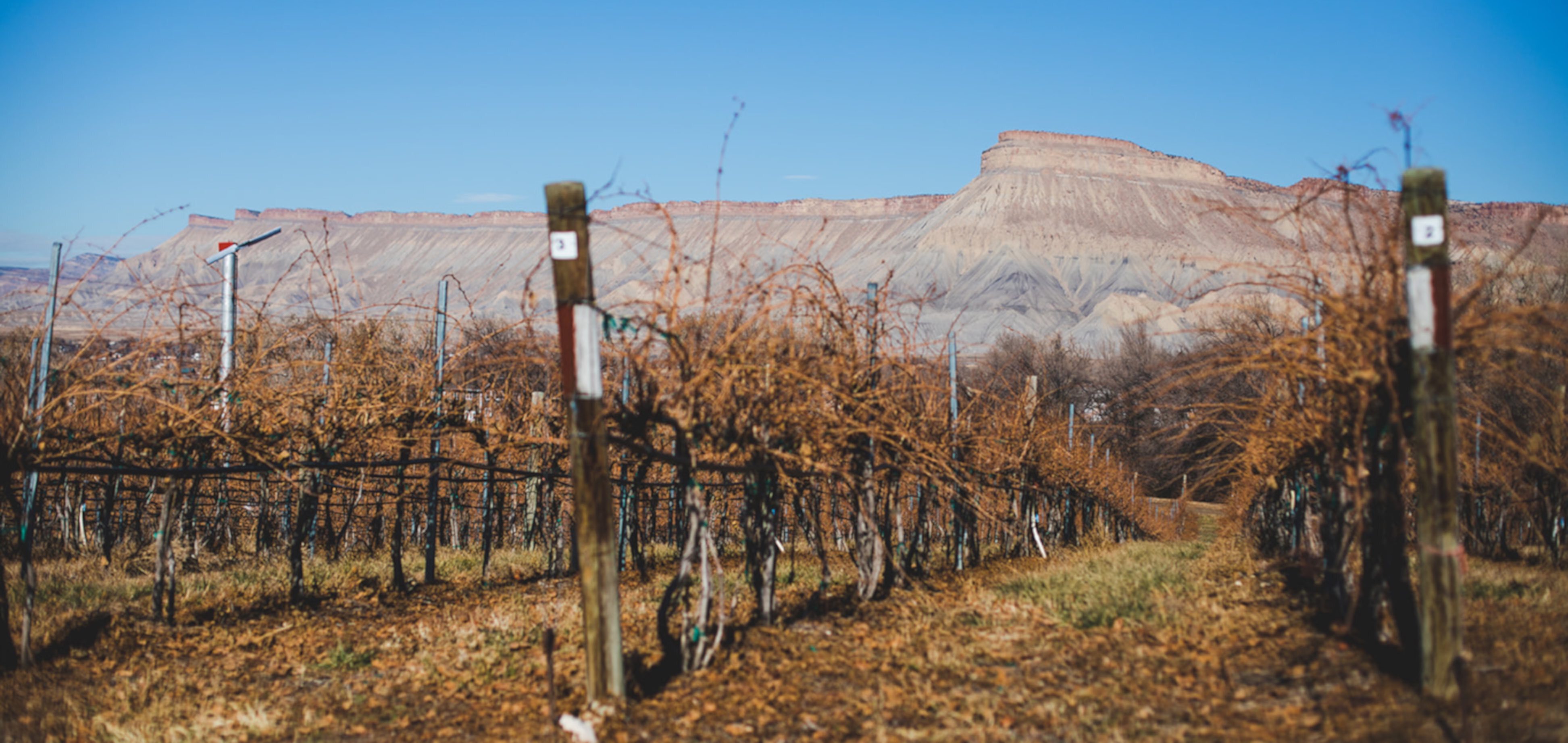 The Glorious Fig hosts monthly curated dinners that are centered around the chefs' curated menus celebrating the flavors, produce and flowers of each season and take place in The Fig's intimate dining space.
Devil's Kitchen - Recently opened on top of the Hotel Maverick, this rooftop restaurant has regionally inspired craft cocktails and menu options. Upscale, yet super approachable.
Arts and Culture
Outdoor Art: Grand Junction is home to a wealth of art, especially in its outdoor spaces. From its massive sculptures when you enter the city to the public art in its parks, to a year-round outdoor sculpture exhibit known as Art on the Corner, and the murals along the Riverfront Trail, Grand Junction has a vibrant art scene that you don't even have to go indoors to experience.

Colorado National Monument Ranger Walks: When John Otto first witnessed the rugged red rock canyons south of Grand Junction in 1906, it was love at first sight. His passion sparked him to create Colorado National Monument and serve as the park's first custodian. Today, students K-12 can study geology, ecology and cultural history along ranger-guided field trips and earn a Junior Ranger badge in the process.
Dino Dig: The largest multidisciplinary museum between Salt Lake City and Denver, Grand Junction's Museum of Western Colorado engages with its dinosaur expeditions, extensive educational programming, and historic and cultural trips and tours. For a dino fix, kids can dig for bones and search for tracks in the 150-million-year-old badlands of the Morrison Formation. One-day "101" sessions include transportation between Dinosaur Journey Museum in Fruita and the quarry, field instruction and Paleo lab tour.

Learning made fun: Kids can jump feet first into an interactive, hands-on day of fun at the Dinosaur Journey Museum. Visitors can feel what it's like to be in an earthquake, and uncover dinosaur bones from the Jurassic era. Another spot for fun learning opportunities is at the EUREKA! McConnell Science Museum, where along with more than 100 exhibits designed to make the wonders of science accessible to children of all ages, kids can check out exotic saltwater tanks, and meet Charlie the chinchilla.

Avalon Theatre: Built for the residents of Grand Junction by local publishing giant Walter Walker in 1923, the Avalon Theatre was and still is one of Western Colorado's largest performing arts halls. The Avalon Theatre features a foreign and independent film series; dance, theatrical, lecture and variety shows; and private functions.
Explore the Outdoors
Outside of Grand Junction, Powderhorn Mountain Resort, open through late March, sits on the edge of the Grand Mesa, the world's largest flat-top mountain. The area enjoys a reputation for outstanding tree skiing and diverse terrain. Spend the morning on the slopes, then head into town where visitors can ride the area's famed singletrack pretty much any day of the year. One of the most famous riding areas is the TabeguacheTrailhead, better known as the "Lunch Loops." Just six miles from Downtown Grand Junction, the trails were named by locals who can bust out of work and get an awesome ride in during lunch.
Winter brings plenty of snow to the Grand Mesa, which stands taller than 11,000 feet at its peak elevation. Three networks of cross-country ski trails crown this enormous, flat-top mountain. The Skyway trail system offers pristine classic and skate-skiing routes for every level and a warming hut just 100 yards from the trailhead. The Country Line trail system is ideal for beginner and intermediate skiers, while the Ward trail system on the south side of the Mesa is best suited for intermediate to advanced skiers. The Grand Mesa Trails also offer great snowshoeing and fat biking.
Go Canyoneering, Rock Climbing or Hiking in The Colorado National Monument, Colorado's Unofficial National Park:
The Colorado National Monument is a semi-desert land that sits high on the Colorado Plateau. More than just a monument, CNM's spectacular canyons cut deep into sandstone and granite, aptly referred to as a mini Grand Canyon. Popular trails include Devil's Kitchen, and Coke Ovens that are great options for a shorter hike; while No Thoroughfare and Liberty Cap trails will keep you out and about for a longer excursion.
Grand Junction boasts four year-round golf courses to enjoy beer, birdies and sunshine. Both Tiara Rado andThe Redlands Mesa Golf Course have breathtaking views of the Colorado National Monument accompanied by rolling terrain and fresh mountain air.
Biking and Bird Watching on the Audubon Section of the Colorado Riverfront Trail: Easily accessible from Downtown GJ, there are over 200 species of birds that visit the Audubon Section during various times of the year. A few of the easier birds to spot are bald eagles, blue heron, osprey, several varieties of hawks and ducks.
Storied Waterways: The confluence of two of the largest rivers - the Colorado and the Gunnison - makes Grand Junction a paradise for those seeking out water-based activities. With multiple parks along the rivers and adjacent lakes like the James M. Robb-Colorado River State Park and Highline Lake State Park, jet boating, wakeboarding, paddle boarding, windsurfing, and more are all available to visitors. Getting out on the Colorado River is easy with many put-in areas, as well as guides to take guests on rafting, canoeing or kayaking trips.
Hike to The U.S. Second Largest Concentration of Arches at Rattlesnake Canyon: Outside of Grand Junction you can find a collection of 35 natural arches tucked away in Rattlesnake Canyon. These soaring spans, protected in the 123,400-acre McInnis Canyons National Conservation Area, form the world's second largest concentration of arches in the world. The Rattlesnake Canyon Arches are one of Colorado's most spectacular wonders, but also one of its best-kept secrets.
Visit the Wild Horses of The Little Bookcliffs: Spring is a beautiful time to explore the Little Book Cliffs Wild Horse Preserve that encompasses more than 30,000 acres of rugged canyons and plateaus, and is home to roughly 100 wild mustangs. It is one of only three ranges in the U.S. set aside specifically to protect wild and free roaming horses.
undefined
Plan Your Next Getaway