5 Secrets to Perfect Leaf Peeping
By Liza Weisstuch
updated September 29, 2021
Fall foliage is busting out all over the U.S. We gathered the top expert tips on how to make the most of your Technicolor autumnal excursions.
Blink and you'll miss it: That short stretch of time when you can catch the autumn leaves at their peak color. We talked to some outdoorsy experts for pro tips on how to get the most out of this season's splendid display of reds, golds, and yellows. 
1. Be an early riser 
(Daveallenphoto/Dreamstime)
Jim Salge has a background in meteorology and environmental science and spends time observing the weather from up on New Hampshire's Mount Washington, the highest peak in the Northeast. He's also a widely published nature photographer. If Salge has one piece of advice for leaf-peepers, it's this: get up early. "So much of the magic happens at dawn in the fall in New England," he says. "There's morning mist, amazing sunbeam patterns, dew on the ground, and fog over lakes and settling over valleys. You miss so much of what fall is if you get out at nine or ten in the morning and the sun is already bright."
That means superior photographs and envy-worthy Instagram posts for early birds. And tranquility. Salge is out before dawn every day between mid-September and November, so he's well familiar with the serenity to be found when there's just a few others around to share the majestic landscape.
2. Know the science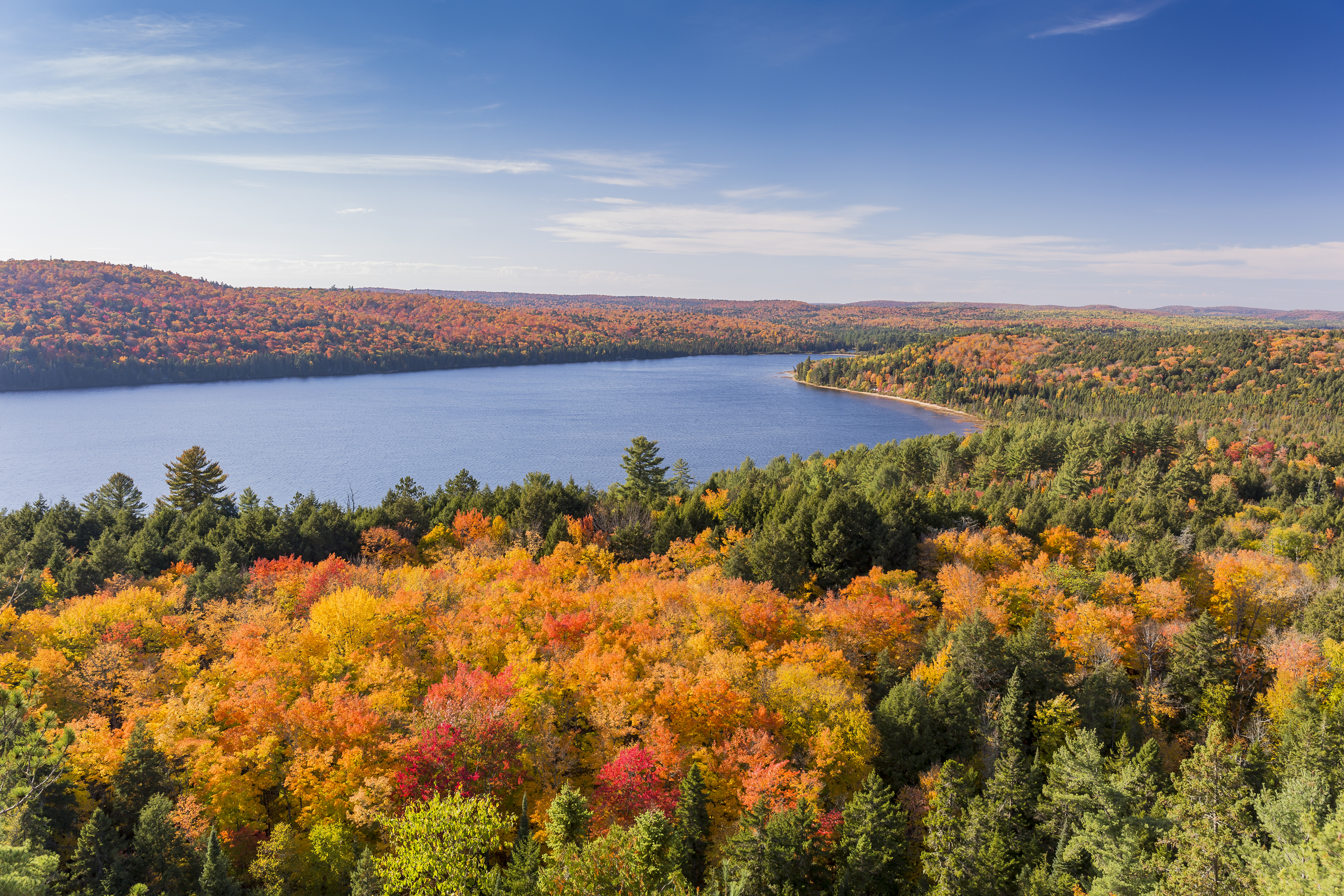 (Brian Lasenby/Dreamstime)
It tends to take people by surprise when you put it in these terms, but foliage is essentially death. When a tree shuts down for the winter, photosynthesis--the respiration process that produces the chlorophyll that gives leaves their green hue--stops. To hear Chris Martin, director and state forester at the Connecticut Department of Energy and Environmental Protection, explain it, that allows the leaves' other pigments, many of which are always present, just not visible under the predominant green, to pop through as they take a longer time to die off. Fun fact: those other pigments play familiar roles elsewhere in nature, like carotenoids, the stuff that makes carrots orange and buttercups and bananas yellow.
Each leaf is like a snowflake: unique in its own way. Salge suggests looking at leaves backlit by the sun to see the singular vein structure. 
3. Follow the map
Considering there are apps for identifying stars in the night sky, it's almost a wonder that foliage trackers didn't have many digital guide options until recently. A few popular regions have their own up-to-the-moment live maps to follow. The Adirondacks, for one, has reintroduced its Foliage Meter this year (adirondacksusa.com/fall), which indicates, by region, what percentage of the trees are at peak. At the time of writing this in late September, they were only at an average of 10% around the Adirondacks. The site also provides itineraries for day trips and guidance on where to eat and stay. Connecticut's Department of Energy and Environmental Protection website offers predictions and advisories as well as suggestions for prime viewing locations and day trips. Newengland.com shows where the wave of peak is occurring—or where it's expected, at least, notes Salge with a wink.
But perhaps most impressive of all is the effort from SmokyMountains.com, an extensive tourism website. Their predictive map involves an algorithm that analyzes a few million data points, like historical temperatures and precipitations as well as forecast temps and precipitations, all of which are based on the National Oceanic and Atmospheric Administration's figures. The algorithm is designed to forecast the precise moment when peak foliage will happen. And this year there are even more features to enhance the experience.
"After having dozens of conversations with our fall foliage map users, I realized the data-driven predictive process seems magical to the average layperson," Wes Melton, the map's creator and co-founder and chief technology officer of SmokyMountains.com, said in a statement. "This year, I decided to make a secondary interactive graphic with regional and state data related to temperature variations. The temperature data supplied by the NOAA is one of the most important factors and now leaf map users can easily visualize the impact of regional precipitation on peak fall dates."
Fall prediction map for October 1, 2018. (Courtesy smokymountains.com)
4. Park your car
When you're looking at the foliage at 65 miles per hour, it's one giant blur of color, making it easy to think every tree looks like all the rest. Not so fast. Most people like scenic vistas, Martin notes, so find a precipice and park your car for a long view of the scenery. With their hills and varied terrain, the northeast and northwest corners of Connecticut provide excellent observation points. And for a deeper understanding of foliage's glorious diversity, get out of your car and take a hike.
5. Make a plan
As you now know from the interactive map of the Smoky Mountains, the moment's foliage is not simply dependent on the week's weather. Year-round conditions contribute to the ultimate color show. This year there have been drought issues in northern New York and northern Vermont, which could mute the colors, so if this season's spectacle doesn't quite compare to that of last year, that's why. In Connecticut, however, there was lots of rain in August and the damp forestry lends itself to some vivid color across the area's diverse trees. Anyone south-bound will be happy to know that the recent hurricane did not have an impact on the foliage in the Blue Ridge. Asheville experienced only 1.5 inches of rainfall from the storm, so they're expecting as jaw-dropping of a show as always in the area, including along the Blue Ridge Parkway.
As far as planning, there are some general things to keep in mind. Peak color takes about six weeks to move across New England. It starts at high elevations and moves downhill then south and towards the ocean over that time. But let's be honest: even the most avid nature buff can only tree-gaze for so long. Salge reminds that for many people, foliage is about more than just trees. Most plan their travels as a bonus to traditional fall events, like going to a farm, a fall festival, or apple orchards. "I've been doing this for ten years, and it's amazing to go out and enjoy looking at leaves, but natural sites are second to traditions." he says. And everyone knows that leaves look even better with cider and a donut in hand.