Fun Finds for Teen Travelers
By Maya Stanton
December 3, 2018
Courtesy FUJIFILM INSTAX®
Everything a young explorer needs to take the show on the road.
Teenagers can be notoriously tough to please, but we believe we've cracked the code. From cute accoutrements to bigger-ticket investment pieces, we've got the gear that'll earn that nod of approval—no sweat necessary.
1. Warm Up
(Courtesy Rumpl)
Airlines' standards for a clean and germ-free environment may not be mile-high (...sorry), but you can avoid those grimy, barely-bigger-than-a-towel fleece throws by packing something with panache. We love the puffy down blanket from Rumpl for its shimmery shades, cushy feel, and compact, lightweight footprint. They can stuff it in the sack that's included and clip it to their carry-on to save room in their bag, toss it in the back seat to stay warm on a road trip, and bring it on overnight hikes or camping trips for an extra dose of coziness around the fire. Thanks to ripstop nylon encasing 600-fill goose down, it'll keep you toasty, and it's machine washable and dryer friendly, so they'll have no problem rinsing away those plane pathogens once they're back on solid ground.
Puffy Down Blanket in Fractal, $199; rumpl.com.
2. Travel Light
(Courtesy Patagonia)
We're big fans of a hands-free bag, both for travel and for the everyday, so we were psyched to discover this tough little ripstop number from Patagonia. At just seven inches long by five inches high, it's already impressively tiny, but it also folds away into its own case, which makes it a great choice for an already overcrowded suitcase. Even better, the case itself turns into an internal, zippered pocket when the pack's being used, so your valuables will stay protected when you're on the go. Add to that its vibrant blue hue, and you've got a real crowd-pleaser on your hands.
Lightweight Travel Mini Hip Pack in Balkan Blue, $29; patagonia.com.
3. Guard The Digits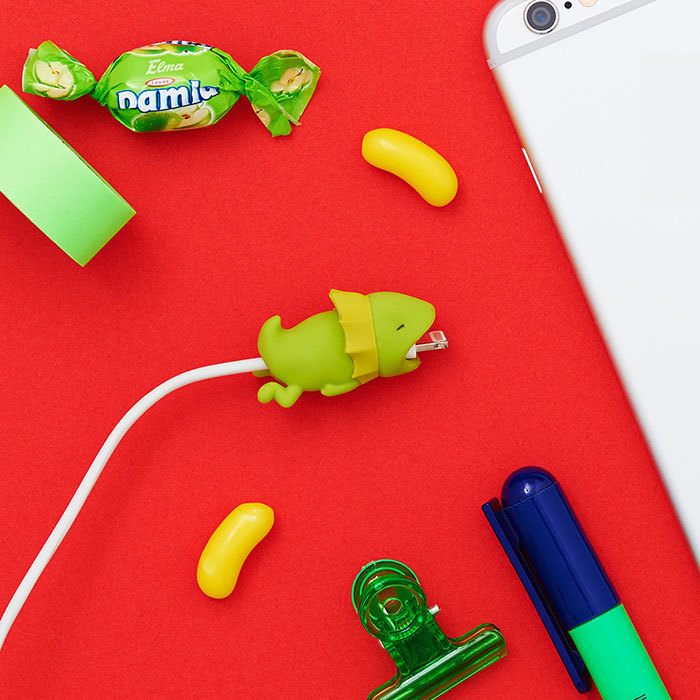 (Courtesy cable-bite.com)
In the grand scheme of things, a frayed cord may not seem like much more than a petty irritant, but exposed wires on phone chargers can be a dangerous proposition, causing minor shocks and even, in the extremely rare case, death by electrocution. These fun iPhone cable bites will protect your screen junkie and provide some cuteness at the same time, and they're just a few bucks a pop. Choose their favorite animal (we're partial to the penguins ourselves), or grab a set and let them change things up as the mood strikes.
Dreams Cable Bites, from $3; amazon.com.
4. Keep It Moving
(Courtesy Jabra)
For that traveler who's looking to shut out the noise of the world, give them the gift of solitude—and good sound. Jabra's wireless on-ear headphones have a slimmer profile than bulkier over-ear alternatives; they're adjustable, but they best fit those with smaller heads (we found they don't pinch at all, even when wearing earrings). They'll keep the music going for eight hours at a trot, and they come with a cord so you can plug in and keep listening even if your playlist lasts longer than the charge. The Bluetooth pairs quickly and easily, the microphone works well for taking calls, and though they're not technically noise-cancelling, the headphones do block out quite a lot of commotion. Most important? They produce remarkably robust, well-rounded tones—especially considering the affordable price point.
Jabra Move Wireless Headphones, $50 (discounted through 1/5/19; regularly $100); amazon.com.
5. Protect Those Peepers
(Courtesy Sunski)
What's a selfie without a set of shades? This pair from Sunski has frosted, translucent frames and polarized, mirrored lenses for a standout look, and they're feather-light and comfortable to boot. Like the rest of the brand's offerings, they come with a lifetime warranty—a strong selling point if you're shopping for someone who isn't particularly precious about their eyewear—and the company donates one percent of its sales to environmental nonprofits, so it's a win-win for anyone with a green streak.
Dipsea polarized sunglasses in frosted sky, $58; sunski.com.
6. Provide Instant Gratification
(Courtesy FUJIFILM INSTAX®)
In these digital times, there's little more appealing than the tactile pleasure of a physical photo, and when you factor in the immediacy of an instant print, you can't go wrong. Even the most jaded teen will get a kick out of Fujifilm's latest Instax model, a chunky camera that produces square images ready-made for Instagram—once they're scanned in, of course. They can mess around in double-exposure mode, experiment with macro and landscape settings, adjust the light levels, and play with color via the filters that pop onto the flash and add a tint to the scene. But our favorite feature is the selfie mirror, right next to the lens. All they have to do is make sure they're in the frame, click away, and the camera handles the rest. (PS: It's really popular at parties too.)
Instax Square SQ6, $130; fujifilm.com.
7. Teach Them About Beauty Sleep
(Courtesy Oliver Bonas)

It's a lesson best learned at a young age: If you have trouble getting a good night's sleep on the road, an eye mask is your best friend. This one is super-fun, a playful wink to emoji culture wrapped in a fuzzy faux-fur hug. Lined with cool satin and finished with a ruched band to keep it in place without pulling hair, it'll help them get through that first red-eye like a champ.
Faux Fur Eyes eye mask, $19; oliverbonas.com.
8. Grow Their Library
(Courtesy Amazon)
Bountiful reading material in one slender device: What's not to love? Amazon's new Kindle Paperwhite offers 8 GB of storage (double the memory of previous versions), a 300-ppi glare-resistant screen, and WiFi connectivity to download on the go—great for folks who get itchy when they don't have a book on hand. This version is Bluetooth-enabled, so they can sync to an Audible account and listen instead, and it's waterproof in six-plus feet of water for up to an hour, so they won't have to stress over the odd poolside splash. Naturally, it comes with access to a huge collection of titles, including magazines, comics, and newspapers, but they can also borrow Kindle-compatible e-books from the library for even more budget-friendly reads.
Kindle Paperwhite, $130; amazon.com.

9. Pack in Style
(Courtesy ban.do)
Form over function? Not so fast. Yes, this coated-canvas toiletries bag from ban.do is adorably logoed, but it also has plenty of pockets—inside, a clear PVC zippered pouch and two mesh pockets; outside, one big pocket on the back—so everything they pack will have its place, even when they're stuck in coach. All set on the toiletries front? The youthful brand carries an array of similarly smart travel gear, from planners to passport covers to luggage tags to eye masks, so you're bound to find something for them here.
First Class Getaway Toiletries Bag, $15; bando.com.