Have a Hoot at Edinburgh's Hogmanay Celebrations
By HomeAway UK
December 27, 2013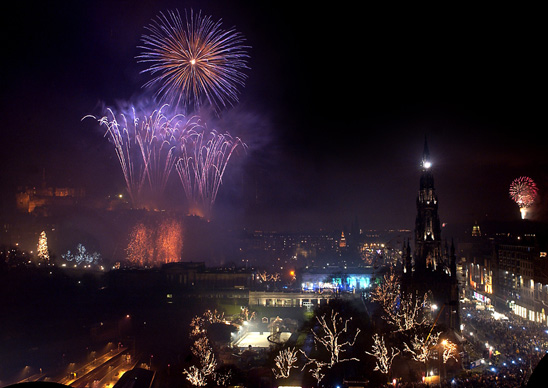 Courtesy Edinburgh's Winter Festivals
Sophie Gackowski writes for HomeAway UK
New Year's Eve in Edinburgh: there's nothing else quite like it. From the infamous Street Party to the 'Loony Dook' on New Year's Day (and trust me—it's pretty loony…), it's not just one evening that Hogmanay heralds; it's three fun-filled days and nights of celebration, Scottish-style. And so, the countdown begins...
This year is Edinburgh's 21st annual Hogmanay festival, and as such, there's a lot to take in.
On the 30 December, some 35,000 people will attend the Torchlight Procession, which sees thousands illuminate the city with fire. Led by Shetland's 'Up Hella A' Vikings, it's free to attend; you only need to purchase a torch, the profits of which go to local charities. Finishing in an equally dramatic manner, the procession marches from George IV Bridge to a spectacular sound, light and fireworks show on Calton Hill.
On the big night itself, 31 December, over 80,000 will head to the world-famous Street Party; but before that, there's plenty to choose from. Many head to the Candlelit Concert at St Giles Cathedral (sadly sold out for this year), where the music of Haydn and Bach, alongside more Baroque classics, is made all the more beautiful by the candles and incense. For some, however, Hogmanay has to be about Scottish music; and for those eager to dance a 'Gay Gordon', there's nowhere better than the Keilidh. Unfortunately, tickets have also sold out for this event: if you were lucky enough to bag tickets for these incredible nights, well done!
If not, never fear: there's so much more to see and do in the Scottish capital. This year, there will be 12 giant screens to watch all the live music on, and fireworks displays at 9 pm, 10 pm, 11 pm and midnight. At Waverley Bridge you could catch bands like Django Django, or at Frederick Street, listen to the sounds of Treacherous Orchestra on the Scottish Stage. Finally, at the Mound, the Rewinder DJ set will be sounding out beats from back in the day until 1 am. If you'd rather the Concert in the Gardens, even the Pet Shop Boys will be playing!
But wherever you are at the stroke of midnight, you'll want to join hands with friends and strangers alike. When the last bell is struck and fireworks flurry, the world's biggest rendition of 'Auld Land Syne' takes place: For auld lang syne, my dear / For auld lang syne / We'll tak a cup o kindness yet / For auld lang syne!
Once you've shaken hands with innumerable strangers, free bus transport will take all revellers home.
But it doesn't end there: it's the1st of January, after all! Thumping head? Feeling rough? The 'Loony Dook' is sure to sort you out. Clear your mind the morning after with a dip in the River Forth at South Queensferry. On New Year's Day, thousands take to the Dookers Parade through the High Street (many in fancy dress), all before plunging into the freezing waters of the Forth, with the beautiful bridges as their backdrop. Having raised thousands for charities over the past 25 years, things can only get better for the loons in 2014!
Of course, if that's all a bit much, head off with SCOT:LANDS on a New Year's tour of Edinburgh's Old Town. Starting at the National Museum of Scotland, you'll be given a postcard with instructions, before travelling to nine different venues throughout the city's old centre. Entirely free to attend, dance performances and folk music, storytelling and art exhibitions will take over the city. Set to be one of the capital's most impressive cultural itineraries ever, it's one that aims to showcase everything Scotland stands for.
And if that doesn't do the trick, you could always nurse a bottle of Irn-Bru instead.
Happy New Year!