Hotels: Choose your own room, for a fee
By Sean O'Neill
updated September 29, 2021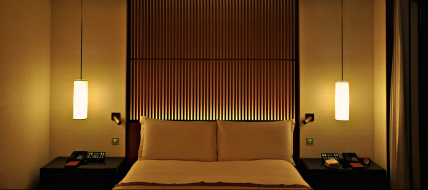 Courtesy <a href="http://www.flickr.com/photos/uggboy/5183749623/" target="_blank">uggboy/Flickr</a>
Some major hotels have a question: Would you pay a fee—say, $20—if you could pick your own room assignment?
Here's the backstory: Today, you usually only book a "type of room." When you reserve, say, a "superior double," you don't know where in the hotel your room will be.
But some hotels would like to change that. They want to show you online floor plans, with details about each room's size, amenities, and location.
Based on that information, you could then pick the room you want, within 36 hours or so of check-in.
The result: No more being placed next to the ice machine or above a noisy hotel bar.
To help make your decision, you could check out the room's rating on an independent room review site. Is a room quiet? Is the hotel's WiFi signal strong from this room?
Case in point: New review site,
Room 77
. It aims to show how previous guests have rated 425,000 rooms at "three-star and better" hotels in 16 cities. It also offers photos of the
views from each room
.
But Room 77 doesn't allow booking of individual rooms—yet. The company is in talks with Starwood to let people book individual rooms, reports CNET.
Hotels now want to do for rooms what airlines have long done with seats. Airlines, as you know, let all fliers pick their seat assignments. But they set aside their best seats for their most profitable customers. United charges extra for its Premium Economy seats, Spirit sells upgrades to its Big Front Seats at the gate (from $25), and Continental often holds its roomiest seats for elite members of its frequent flier program, Elite Access.
Hotels have been slowly rolling out similar offerings for room assignments. Already, most Hilton Hotels let HHonors rewards members choose their room number ahead of arrival.
Homewood Suites goes one better with its room-picking option. As the blog Tnooz has reported, anyone who completes an online profile can reserve an exact room. A guest makes a reservation and then, within 36 hours of their check-in, selects his or her suite. Guests pick up their key at the front desk.
Demand will be high for the best rooms, of course. So, hotels are likely to start charging a fee for reserving them.
As a rule, hotels can't simply raise the rates on these rooms up front. The problem is that they can never be sure until the last-minute how many rooms they have. Cancellations and other factors make things complicated. So room assignments are generally made at the eleventh-hour. A hotel wanting to charge extra for a premier room assignment would need to have a separate fee close to the check-in time.
What are your thoughts? Would you pay a $20 fee if you could reserve a specific hotel room? Vote in our poll! (And assume you have TripAdvisor-style information about the room's quality from a site like Room 77.)
(Special shout-out to reporter Dennis Schaal who has done more to report on the significance of Room 77 than any other reporter, for USA Today and Tnooz. This post borrows heavily from his reporting.)
In the meantime, here are some Budget Travel tips on how to boost your chances of landing a hotel's best room at check-in.
1. Ask, and you may receive.
At check-in, politely ask the front desk clerk. This works better late in the day or at an off-peak time, such as during a weekend at a hotel in a financial district.
2. Join loyalty programs.
3. Tip your way up.
A spare $20, discreetly offered, may get you a better room. But don't get angry if you don't get the room you want. It's a tip in the hope of better service, not a guarantee.
MORE FROM BUDGET TRAVEL
What's a guy gotta do to get a seat assignment around here? (35+ comments)
Check out our new Cities pages, with hotel recommendations for Las Vegas, New York City, and more