Looking To Save Money On Books? Read And Return Them At The Airport
By Kaeli Conforti
January 27, 2022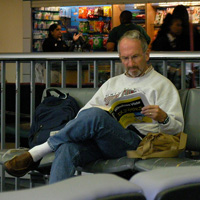 Courtesy <a href="http://www.flickr.com/photos/brairwabbit/2511930128/" target="_blank">BrairWabbit/Flickr</a>
Great news for book lovers: The Read and Return program at most U.S. airports lets you buy a book, return it at another store location, and get half your money back.
The service has been around since 2003, and is offered in any one of the 500–plus Paradies Shops, located in over 70 airports around the U.S. and in Canada. According to their website, books that are brought back in good condition will be resold at half–price, and if for some reason the returned book is not able to be resold, it will be donated to a local charity instead.
Just imagine the possibilities. You could buy a book in New York's JFK airport and return it for a half–price refund in Los Angeles. You could then pick up another for the return flight and do the same in your home airport or any other place you fly within six months. Sounds like a sweet deal to me, especially considering the price of a brand new book nowadays. (Sticker shock, anyone?)
What do you think about this program? Does it sound like a good idea to you? Have you used it before? Share your thoughts below.