Paris on the half shell: Two great places for oysters
By Meg Zimbeck
October 3, 2012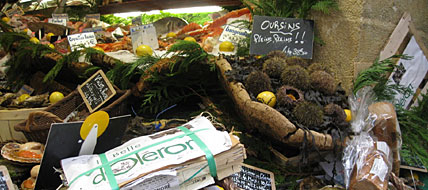 Courtesy Meg Zimbeck
The temperature has fallen, signaling the end of our Indian summer. The sun shines on, but your breath is visible in the crisp fall air. This sort of weather is perfect for many things: crunching leaves underfoot in the Tuileries, sipping hot chocolate at Angelina's, and slurping raw oysters while sitting on the hood of a car.
If that last one doesn't seem obvious, you haven't yet been to Le Baron Rouge. This lively bar à vins draws a crowd year-round with its friendly atmosphere and inexpensive wine. Weekends are packed with shoppers who have stopped in a visit to the Marché d'Aligre. But during oyster season (now through April), this place is positively bursting at the seams. Jubilant locals pack the sidewalk and street, balancing oysters in one hand and Muscadet in the other. Plastic crates become makeshift tables, and lidded bins become littered with glasses of wine. It is, in other words, a scene.
In cold weather like this I also love L'Écume St.-Honoré. Just steps away from some of the swankiest shopping in Paris, this simple fish shack can seem a little out of place. A working poissonnerie with just a few tables in the back, it becomes unexpectedly boisterous during the apéro hour. Manicured shoppers and suits spill out onto the sidewalk, tossing back bi-valves and licking their fingers.
Oysters are often associated with luxury and special occasions. They're a prime feature of the Paris brasseries, which serve them on silver platters in gleaming art déco surroundings. Nonetheless, my favorite oyster experiences remain rowdy and unrefined. Standing on the sidewalk and slurping shellfish is a decidedly Parisian experience. It's also easy on the wallet—a plate of six oysters with buttered rye and a crisp Muscadet will run you €11 ($14) at L'Écume St.-Honoré.
Le Baron Rouge 1 rue Théophile Roussel, 12th arrondissement, 011-33/1-43-43-14-32
L'Écume St.-Honoré 6 rue du Marché-St.-Honoré, 1st arrondissement, 011-33/1-42-61-93-87