Rome: 5 best March values
By Katie Parla
October 3, 2012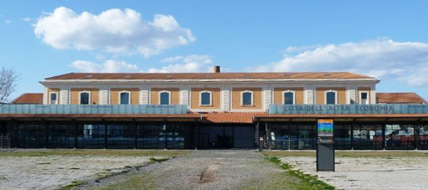 Katie Parla
Women's Day
Italy celebrates the annual Festa della Donna on March 8 with discounts for ladies at bars, clubs, cinemas, and some restaurants. Over the weekend of March 6-7, all state-run museums and archaeological sites let women in for free. The Casa Internazionale delle Donne sponsors free exhibits, film screenings, and dance performances at Campo de' Fiori on March 7, from 11 a.m. to sunset. And don't be surprised if you see women across the city with mimosas, yellow puffy flowers on stalks that are traditionally bestowed by men (glorified rag weed, if you ask me).
"Our World" photo exhibit
Take a break from Rome's ancient glories to contemplate the modern human condition at the free National Geographic "Our World" exhibit at the Palazzo delle Esposizione. Ninety photographs are organized in a progression (kids, women, men, group) meant to highlight both our differences and similarities. via Milano 13, open Tues-Thurs and Sun 10a.m.-8p.m., Fri-Sat 10a.m.-10:30p.m., through May 2.
Organic food fair
La Citta' dell'Altra Economia, an organic food collective inside former slaughterhouse grounds in Testaccio, hosts its monthly fair on Sunday, March 21. Known as Altradomenica, the fair encompasses stalls selling locally grown produce, activities for children, and lectures. The marketplace is free and open 10 a.m. until sunset; enter at Largo Dino Frisullo. While you're in the neighborhood of Testaccio, you might stop to see statuary at Centrale Montemartini.
Ara Pacis in its true colors
The Ara Pacis—Emperor Augustus's Altar of Peace—will stay open after hours over the weekend of March 26-28. Visitors can see a multimedia exhibit devoted to singer-songwriter Fabrizio De André and another exhibit, "L'Ara Pacis in Color". Color will be projected onto the monument to recreate what it would have looked like when painted during ancient times. Evening visits March 26-28 from 8-11 p.m.; €9 ($12).
Landscapes of the American West
Museo di Roma in the medieval neighborhood of Trastevere is the unlikely site of an exhibit on the American West. American photographer Stephen Shore snapped the images for "Biographical Landscape" during his cross-country journeys from 1969 to 1979. Piazza S. Egidio 1B, Tuesday to Sunday 10am-8pm (last entrance 7pm) through April 25; €5.50 ($7.50).