9 Gorgeous Things to See in Shasta Cascade, California
By Maya Stanton
July 2, 2018
Maya Stanton
This corner of California beckons hikers and paddlers of all levels with unforgettable mountains, lakes, rivers, and iconic redwoods.
Way up north in California, not far from the Oregon state line, the Shasta Cascade region boasts a stunning array of mountains, lakes, rivers, and redwoods that provide a backdrop for everything from river-rafting, kayaking, and paddleboarding to fishing, camping, and hiking. There's a Pacific Crest Trail access point nearby, among others, but you don't have to be an experienced outdoor enthusiast to enjoy the area's grandeur—if you're not quite ready for your own personal Wild moment, there are plenty ways to keep it low-impact without skimping on the scenery. Here's our guide to the natural (and man-made!) wonders in this beautiful corner of the world.

Travel Over Water and Under Stone
A cloudy day on Lake Shasta. (Maya Stanton)
Thirty minutes north of Redding via narrow roads rife with switchbacks and tight curves, you'll find Lake Shasta Caverns National Landmark (lakeshastacaverns.com). The two-hour group tour of these 200-million-year-old limestone caves ($28 for adults, $16 for kids ages 3-15) begins with a catamaran ride across Lake Shasta, California's biggest reservoir, which plays host to fish like bass, catfish, and sturgeon. It's also houseboat heaven, with plenty of marinas dotting the 370 miles of wildlife-rich shoreline. Keep an eye out for bald eagles—there were 67 in the vicinity at last count.
Tour guide Maria Diane Jensen (right) leads a group through Lake Shasta Caverns. (Maya Stanton)

After you dock at the other side, a mini-bus takes you up a steep mountain road to the cave entrance. (En route, your driver will rattle off fun facts and historical tidbits to distract from your proximity to the cliff's edge, but if you're nervous about heights, avoid the window seat.) A guide will meet you at the top and take you into the mountain, pointing out the perfectly preserved formations, from stalactites dating to the 1700s to flowstone resembling strips of bacon. Pro-tip: If you end up with the hyper-talented Maria Diane Jensen as your guide, be sure to ask for an aria. You won't soon forget the sound of her classically trained voice bouncing around the 125-foot-tall cathedral room.

Embrace the Sun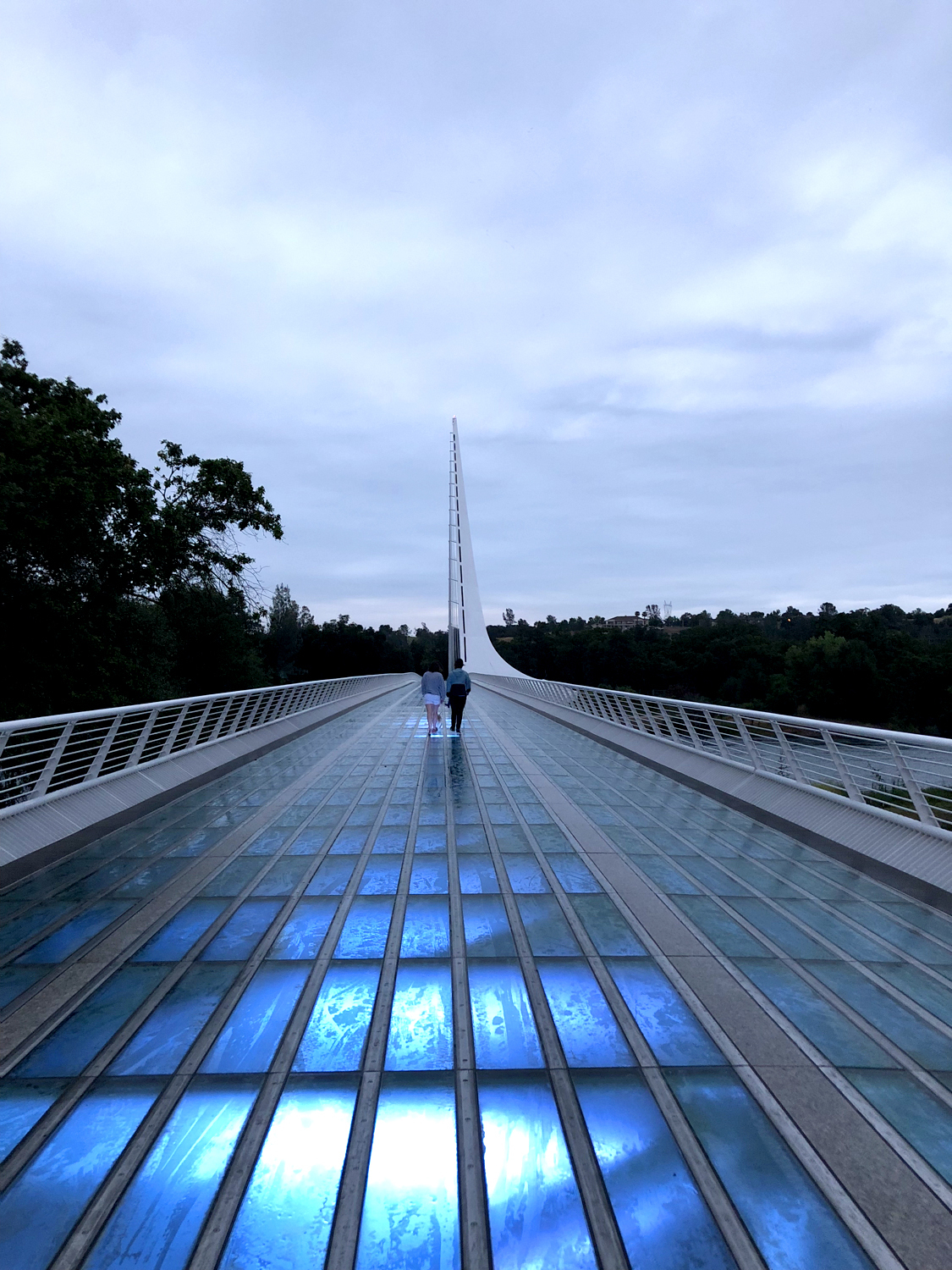 America only has two Santiago Calatrava bridges, one of which is in Redding. (Maya Stanton)
Redding's newly opened Sheraton is just a few minutes from famed architect Santiago Calatrava's Sundial Bridge, a cantilevered structure that spans the Sacramento River, with an opaque glass walkway that lights up at night and a 217-foot cable-stayed pylon that's actually the largest working sundial in the world. It links the two campuses of Turtle Bay Exploration Park (turtlebay.org), a 300-acre urban escape featuring botanical gardens, a forestry and wildlife center, and more. The bridge is also an access point for the Sacramento River Trail, a paved path with gorgeous river and mountain views. Walk or bike the entire stretch, or connect to the Sacramento River Rail Trail, an 11-mile trek that runs between two dams: the 157-foot-high Keswick and the 602-foot-high Shasta, the masterpiece of engineering that created Lake Shasta. Take a free tour of the facility (usbr.gov/mp/ncao/dam-tours.html), or take in the scenery on your own.
See Some Volcanoes
Serene Manzanita Lake in Lassen Volcanic National Park. (Maya Stanton)
From Redding, it's an hour's drive east to Lassen Volcanic National Park ($20 park pass required; nps.gov/lavo), reportedly the only place on earth to see each different type of volcano—who knew there were four kinds?—as well as hydrothermal phenomena like boiling hot springs and burbling mud pots. Lassen Peak is the 106,372-acre park's centerpiece and the world's largest plug dome volcano; it's active, but hasn't erupted since 1915. Get up close and personal with a hike to the summit (five miles round-trip through steep, rocky terrain), or admire it from afar as you mosey around peaceful Manzanita Lake on the easy 1.5-mile trail.
Go Waterfall-Chasing
A hundred million gallons of water flow through spring-fed Burney Falls each day. (Maya Stanton)

Once you're in Lassen, you're perfectly positioned for a trip to waterfall country. Just under an hour  north, McArthur-Burney Falls Memorial State Park ($8 entry fee; parks.ca.gov/?page_id=455) is home to a cascade so impressive that Teddy Roosevelt once called it the eighth wonder of the world. You can hike a portion of the Pacific Crest Trail here, or book a campsite or a cabin for an overnight stay, but the main attraction is the 129-foot-high falls. Walk the short paved loop from the overlook to the pool at the base, then grab a soft-serve cone from the camp store before getting back on the road.
Beware of wild beasts around Lower McCloud Falls. (Maya Stanton)
Your next destination, McCloud River, is another 40-some miles to the north. The site's three stellar sets of falls are each accessible by car or trail, but either way, you'll want to start at Lower McCloud, where you can park and walk to the falls or take the easy-to-moderate path that leads upriver to the other two. 
The middle set of McCloud River falls. (Maya Stanton)
At 120 feet wide, with rushing water that drops 40 feet into a picture-perfect (but super-cold!) swimming hole, Middle McCloud makes the strongest impression, but the taller Upper McCloud is beautiful as well. 

Cool off at Hedge Creek Falls. (Maya Stanton)

From there, it's on to Hedge Creek Falls, the final stop on the loop. A smaller-scale enterprise with a cave behind and prime swimming spots in front, Hedge Creek feels like a hidden treasure, but really, it's a not-so-well-kept secret. On warm sunny days, get there early to avoid the crowds.
Relax Like a Local
Get out on the water at Whiskeytown National Recreation Area. (Maya Stanton)
If the rest of the region weren't so well-endowed in the natural-splendor department, you'd want to spend all your time at Whiskeytown National Recreation Area ($20 entry fee for cars; nps.gov/whis), a 39,000-acre playground with breathtaking lake and mountain vistas, 70 miles of hiking trails, and even more waterfalls. Book a free ranger-led kayak or paddleboard tour through the park, or sign up for a complimentary Friday-night social paddle with Headwaters Adventure Company (headwatersadventure.com); take a dip in the pristine mountain waters; and explore the falls of your choice. The 3.4-mile hike to Whiskeytown Falls is arduous, but the trail to Lower Crystal Creek is ADA-accessible, and the payoff far outweighs the effort you'll expend getting there. On the drive back to town, pull over in Old Shasta for a peek at the remains of a circa-1860s Gold Rush town, then make a pitstop at La Cocina de Chuy (lacocinadechuy.com), a tiny local gem slinging handmade tortillas and righteous carnitas in decidedly down-home digs behind a gas station. After a day spent in the sun and on the water, not much tastes better than a round of tacos.

The Details
By car, Redding is about 160 miles from Sacramento,  215 miles from San Francisco, and 315 miles from Eugene, Oregon. Flights connect in San Francisco via United Express, which runs daily service between SFO and Redding Municipal Airport. Once you land, you'll need a car to get around, and rental agencies such as Enterprise offer airport pick-up and drop-off within business hours. I used these driving directions for the waterfall loop. 

Opening hours for national and state parks vary seasonally and are subject to change, so check online for trail closures and warnings before heading out. It's a good idea to bring cash for the entry fees, especially in the off-season when toll booths are often unmanned and reliant upon an honor system.  
Local accommodations range from rustic campsites and cabins to tricked-out houseboat rentals, but if sleeping under the stars isn't your thing, the Sheraton Redding Hotel at the Sundial Bridge is a convenient pick and will run you less than $200 a night. Downtown, the Thunderbird Lodge is a revamped mid-century motel with great vintage signage and even better rates, walking distance to bars and restaurants. Plan your trip around the annual Redding Rodeo (reddingrodeo.com) in mid-May, or visit year-round for outdoor exploration of all sorts.