Satisfy Your Thirst in South Carolina
By The Budget Travel Editors
September 5, 2018
Bhofack2/Dreamstime
Take a cool "sip and see" tour of the Palmetto State to enjoy its variety of breweries, distilleries, wineries, and dairy farms, not to mention an ice-cold glass of Sweet Tea.
South Carolina is home to some of the friendliest, most welcoming locals in America. That means whether you're visiting a vibrant urban center like Charleston or Columbia, a beautiful coastal retreat like Myrtle Beach or Hilton Head, or a cool small town like Beaufort, you are likely to be offered a cold glass of Sweet Tea, a world-class pint of craft beer, a shot of "white lightning" (a.k.a. moonshine), or other distinctly South Carolina libations. In fact, wetting your whistle in the Palmetto State has never been easier, with the help of the free Satisfy Your Thirst Tour app, and a few pointers for getting the most out of your tour.
CRAFT BEER
Coast Brewing Co. in Charleston, SC (Courtesy CoastBrewing.com)

After a busy day seeing some of South Carolina's historical sites, hitting a beach or golf course, or paddling one of the state's scenic waterways, nothing refreshes quite like a chilled pint of artisan-crafted lager, pilsner, ale, or stout. And if that sounds just about perfect right now, you're in luck: South Carolina offers more than 50 craft breweries, many boasting great food, tours, and canned and bottled beers you can't pick up at the grocery store or bar.
South Carolina's craft beer scene extends from the coast to the upstate, and its finest products have garnered nationwide attention. Our friends over at Southern Living named Holy City Brewing, in North Charleston, the best in the state, and Beer Advocate gives the thumbs-up to Westbrook Brewing Co., in Mount Pleasant, and Coast Brewing Co., in Charleston.
We're partial to Conquest Brewing Co., in Columbia, for its variety of textures and mythology-inspired names such as Artemis Blonde and Medusa Stout. And besides loving the name River Rat Brewery, we also admire how the Columbia-based establishment offers affordable brewery tours, great nachos, and evocative names like Twisted Lemon Wheat and American Kolsch Story.
MOONSHINE & COCKTAILS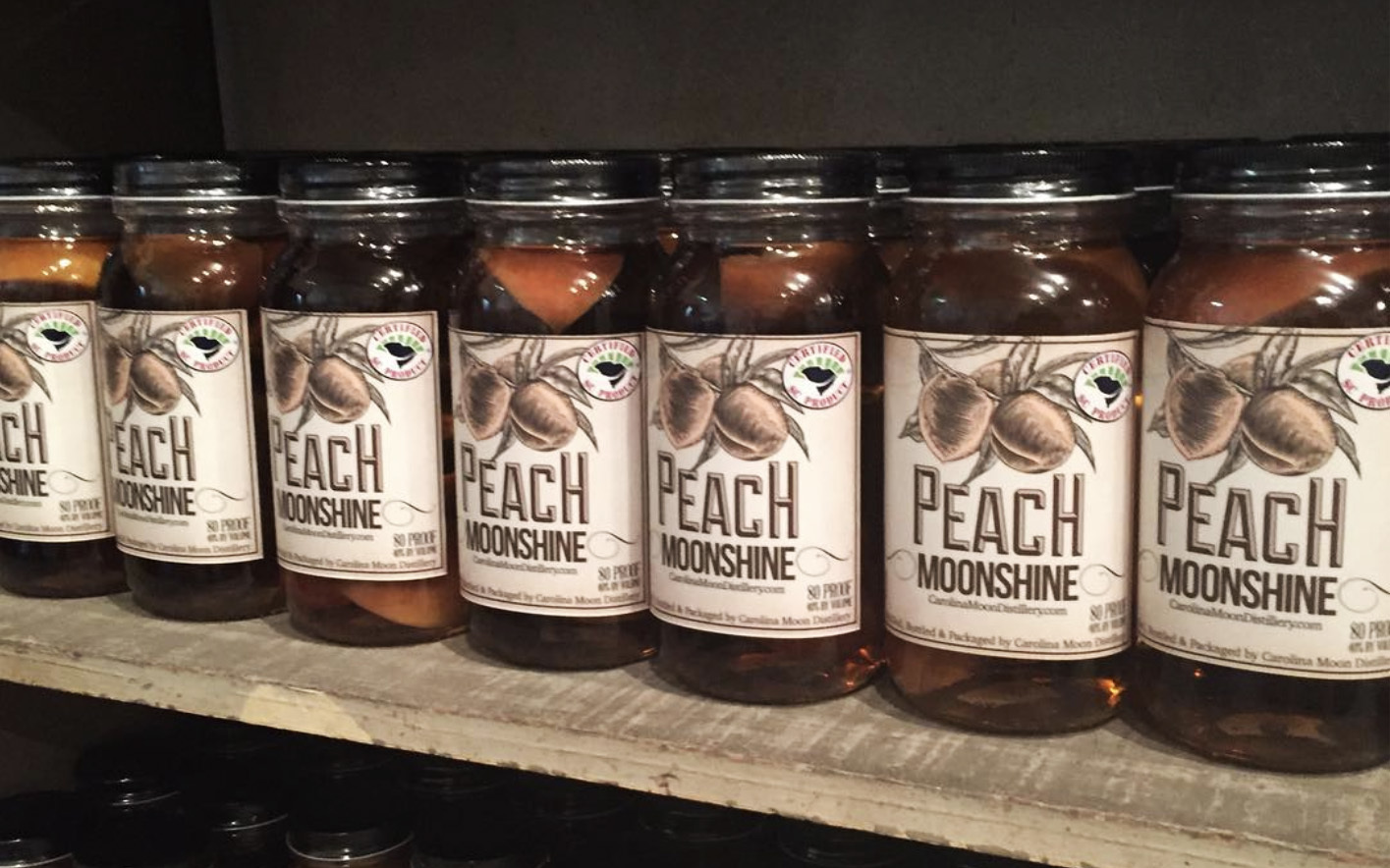 Peach Moonshine at Carolina Moon Distillery (Courtesy @cmdistillery/Instagram)

Not too long ago, producing moonshine in the backwoods of South Carolina was against the law - not just during the Prohibition years, when alcohol production was illegal across the U.S. and illicit distilling could earn a farmer a small fortune in "liquid gold," but right up until 2009, when state laws finally changed to allow for micro-distilling of the potent spirit known locally as "white lightning" and "corn likker." These days, there are more than two dozen artisanal stills across the state producing not only classic moonshine but also bourbon, rum, and vodka, making for a lively tasting scene - and some great cocktails.
Dark Corner Distillery, in Greenville, is named for the former bootlegging hotbed "dark corner" of South Carolina, and it produces popular flavored whiskies (butterscotch, maple, and beach to name a few) and offers a tasting flight with a side of regional history. Carolina Moon Distillery, in Edgefield, offers tours of its small-batch operations where vodka, bourbon, and a "high octane" moonshine evocatively dubbed Rabbit Spit are produced. Stop by Palmetto Distillery, with a distillery in the city of Anderson and a shop in Myrtle Beach, both offering fun tours and the brand's signature moonshine.
Of course, all this talk of spirits is bound to make you want to raise a good cocktail, right. Across South Carolina, restaurants and bars are crafting signature concoctions. We especially love the Charleston restaurant Prohibition, where you'll find a vast array of mixed drinks and small-batch spirits. Try the Bacon Maple Old Fashioned or the classic Mint Julep. When you're in Myrtle Beach, hit the Chemist for science-fiction themed cocktails like Thyme Machine (including gin and thyme-infused ice) and Flux Capacitor (with vodka, blackberry syrup, and mint).
WINE
South Carolina's wine scene is lesser known and ready for the spotlight, with vineyards and wineries producing some outstanding bottles from the coastal regions to upstate. Locally grown grapes include scuppernong and muscadine, used in the great wines produced at Duplin Winery, in Myrtle Beach. And some wineries, such as Island Winery, in Hilton Head, make great use of tasty local fruits like berries and peaches to craft highly rated wines.
Kick back at a South Carolina wine bar such as Wined It Up, in Beaufort, where you'll enjoy small plates and the flexibility to try a variety of hand-picked wines in 2-, 4-, or 6-ounce glasses perfect for tasting a little bit of everything.
SWEET TEA
On the softer side, but potent in its own way, Sweet Tea is one of the most iconic beverages of South Carolina. For the most authentic, local experience, visit Charleston Tea Plantation, on Wadmalaw Island, where, just like visiting a brewery or winery, you can take a charming tour and savor a variety of teas in an elegant tasting room. And remember that although the name Sweet Tea implies a thick, syrupy experience, you can order it lightly sweetened if you prefer.
MILK
That's right: Milk. No visit to South Carolina would be complete without a sip or two of the state's official drink. There's nothing like a trip to the farmland of upstate South Carolina for a tour of a dairy, such as Happy Cow Creamery, in Pelzer, that kids of all ages will appreciate. And don't forget one more mouth-watering tasting experience as you try the milk, cheese, and sometimes even ice cream produced at a dairy farm.
DOWNLOAD THE FREE 'SATISFY YOUR THIRST TOUR' APP
Ready to satisfy your thirst in South Carolina? Download the free South Carolina Satisfy Your Thirst Tour app for iOS or Android or visit SatisfyYourThirstSC.com to find breweries, distilleries, wineries, tours and sampling locations and learn about upcoming festivals that celebrate the best in sippable South Carolina.
Plan Your Next Getaway