Just Back From: New Hampshire
By Maya Stanton
August 20, 2018
Maya Stanton
The Budget Traveler's guide to the lakes and mountains of the Live Free or Die state.
Thanks to its soaring mountain ranges and northeast weather patterns, the Granite State is a well-known destination for skiiers, snowboarders, and winter-sports enthusiasts of all stripes, but there's plenty to draw summer vacationers here as well, from the famed Lake Winnipesaukee to the lush White Mountains. I spent a few days exploring the state's lakes, peaks, and valleys, seeing stunning landscapes, hiking beautiful trails, and eating as much lobster as humanly possible. Here's how I did it.
Day 1: Wolfeboro and Lake Winnipesaukee
The drive from Massachusetts to New Hampshire's Lakes Region via I-93 isn't a particularly scenic or relaxing one, and yet, after two and a half long hours, when I pulled up to Lake Opechee Inn & Spa (opecheeinn.com) in Laconia, I might as well have been a world away. The family-owned and -run lakefront property has 34 country-quaint rooms with cozy lounge seating anchored by gas fireplaces, a kitchen and bar cranking out delicious plates and marvelous martinis, and a pair of fluffy, friendly golden-retriever overseers patrolling the place. I checked in and headed out to explore.

About 30 miles east on the banks of Lake Winnipesaukee is Wolfeboro, billed as the oldest summer resort in the country. The one-time farming community features sandy beaches, green parks, multi-use trails, and museums of all sorts, from natural history to historic homes. Nautical types should paddle over to the New Hampshire Boat Museum (nhbm.org), an experiential nonprofit that examines the role of the state's 900-plus lakes in the lives of its residents, while architecture buffs should allot time for a visit to Lucknow, the Arts and Crafts–style mountaintop estate known as Castle in the Clouds (castleintheclouds.org). Built between 1913 and 1914 and opened to the public in 1959, it's a striking tribute to the movement's ethos of living in harmony with nature. 
A display at the Wright Museum of World War II. (Maya Stanton)
With time for one stop, I decided on the Wright Museum of World War II (wrightmuseum.org), where a permanent collection of artifacts, memorabilia, and operational military vehicles show the impact of the "war to end all wars." Check out the full-scale tableau-style recreations of public spaces and private interiors circa the 1940s, the room filled with jeeps, tanks, and planes that saw action during the war, and outside, the museum's very own victory garden, as well as special exhibits dedicated to subjects like World War I propaganda posters and the lively, slice-of-life sketches that soldier Charles J. Miller produced during his time in the South Pacific.

Heading back to Lake Opechee, I was making good time until I passed Shibley's Drive-In (facebook.com/shibleysdrivein), a small roadside joint hawking fried seafood, ice cream, and 24 flavors of soft serve in Lake Winnipesaukee's Alton Bay. I u-turned when I saw the ice-cream sign and didn't regret my pre-dinner cone even a little bit.
I still made it back to the inn in time to catch the sunset from my room's balcony. Too exhausted to get back in the car, I popped down to the hotel's restaurant, O Steaks & Seafood (magicfoodsrestaurantgroup.com/osteaks). It was Friday, nearly 9:00 p.m., as I settled into an Adirondack chair on the lawn, sipped a perfectly spicy, dirty martini, and waited for a table. I had modest hopes for the meal, but local oysters on the half-shell and an expertly cooked salmon filet with kale pesto and cauliflower and asparagus risotto far exceeded expectations. Bleary-eyed and satisfied, I knew I was sufficiently fueled for tomorrow. 
Day 2: Zip Lines and Wine
It felt like no time had passed when my alarm went off the next morning, but no matter—I was on my way to Gunstock Mountain Resort (gunstock.com) for some outdoor adventure. First developed as a recreation area as part of the Depression-era Works Progress Administration and originally featuring a chair lift, rope tows, hiking and cross-country trails, and a show-stopping lodge, the complex now known as Gunstock has grown well beyond its initial purview. 
Learning the ropes at Gunstock Mountain Resort. (Maya Stanton)

A popular skiing destination in the winter, it now boasts options for the om-seeker and the adrenaline junkie alike, from scenic lift rides, mountaintop yoga, and off-road Segway tours to a treetop ropes course, a mountain coaster, and one of the longest canopy zip lines in the continental U.S. As a zip-line newbie, I opted for 90 minutes in the clouds, and after a brief training session with my fellow adventurers (and a nerve-calming chat with the operators about how often the equipment is tested and vetted for safety), we hopped on the lift to the summit. The ride down is split into a couple of legs, and each time, stepping off those platforms was terrifying and exhilarating and didn't get any less so with experience. After I'd soared the full 1.6 miles, though, I was ready to do it again. Make a full day of it here if you can.

Once I caught my breath, I drove north to Weirs Beach (weirsbeach.com). Situated on Lake Winnipesaukee, this family-friendly destination features a boardwalk with mountain and lake views, mini golf and go-karts, kitschy beach-town shops, and, of course, swimming, boating, and picnicking. There's a plethora of places to stop for grub, like Lobster in the Rough (weathervaneseafoods.com), where vacationers were hunkered down for lobster rolls, and for a sweet treat, the Ice Cream Parlor Car on board the scenic lakefront railway.  
Fruit-based wines are the name of the game at Meredith's Hermit Woods Winery. (Maya Stanton)

Later that day, I drove up to Meredith, a busy little town in the heart of the Lakes Region, about 10 miles from the hotel. I parked by the marina and wandered through the waterfront Sculpture Walk, an annual, juried selection of works from sculptors around the northeast. By the time I finished, it was just about happy hour, and luckily, Hermit Woods Winery (hermitwoods.com) was only a few steps away. Named to Food & Wine's 2017 guide to the 500 best wineries in America, Hermit's wines are made from local whole fruit, resulting in beautifully balanced options, from a dry white blend of peaches, rhubarb, quince, and rosehips to a medium-dry strawberry rhubarb to a sweet blueberry dessert wine. Taste six varietals for $10, and take home your glass as a souvenir.
For waterfront libations, Town Docks Restaurant (thecman.com) comes highly recommended. Enjoy breezes off the lake while sipping a watermelon cooler or a cucumber-basil smash, and try the mayo-dressed or hot-butter-poached lobster roll—just for comparison's sake, of course. 
Day 3: Into the Mountains
I couldn't say goodbye to the Lakes Region without getting out on the water, so I booked an early-morning boat ride with EKAL Activity Center (ekalactivitycenter.com). A 28-foot antique Chris Craft that once belonged to royalty, the Miss Meredith seats up to seven, but at 10:00 a.m. on a Sunday, I had the whole thing to myself. Lake Winnipesaukee was quiet too, and as we zipped around the calm, glassy lake, it felt like a window into a simpler, more peaceful time.
The 87-year-old Miss Meredith looks great for her age. (Maya Stanton)
But that zen feeling was short-lived. Before long, I was back in the car, northward bound for the White Mountains. Forty-five minutes later, I arrived at the Woodstock Inn, Station & Brewery (woodstockinnnh.com) in North Woodstock, just in time to watch the World Cup final with a pint of seasonal craft pale ale in hand. If you don't want to waste your precious hours on such things, hit the Peaked Moon Market (peakedmoonfarm.com) in nearby Lincoln for sandwiches and other provisions, then drive west until you reach the kid-friendly Lost River Gorge & Boulder Caves (lostrivergorge.com). A natural choose-your-own-adventure-style obstacle course, Lost River features a warren of caves that are open for exploration and perfectly sized for pint-sized pathfinders. A wooden boardwalk winds its way down into the gorge, past a waterfall, across a suspension bridge, and up to a treehouse with life-sized animal carvings. Pause to take in the views of Kinsman Notch, and watch the kids do their thing.
Lost River Gorge & Boulder Caves. (Maya Stanton)

From there, I headed back east, then north to Franconia Notch State Park (nhstateparks.org) and Flume Gorge, a natural gorge at the foot of Mount Liberty, with smooth granite walls standing 90 feet high and as little as 12 feet apart. The boardwalk winds through and up to the top for a view of Avalanche Falls, the 45-foot waterfall at the heart of the Flume. There's quite a bit of foot traffic, but peaceful nooks and crannies are easy to find along the way.
Cannon Mountain's easy Rim Trail offers great vistas, but the heights aren't for the faint of heart. (Maya Stanton)

Further into the park, you'll want to queue up for the Cannon Mountain Aerial Tramway (cannonmt.com)—unless you're afraid of heights. Sure, you could hike to the top, but if you're short on time or energy or will, the cable car will get you to the summit in no time, and the perspective from 4,000 feet is spectacular. On the August day I visited, it was a breezy 61 degrees, and visibility was 20 miles in every direction. Take a spin around the rim trail while you're up there, and hit the observation deck for the full 360.
Then, it was east through Franconia Notch to North Conway, my base of operations for the next two nights. Be sure to allow time for a leisurely drive—the park is so rich with photo ops that I got adept at pulling over on short notice and whipping out the camera. I would've stopped more, but I had a reservation at the Christmas Farm Inn (christmasfarminn.com), an 18th-century Cape Cod-style farmhouse just outside of town in Jackson. After the Great Recession, a father gave the property to his daughter as a holiday gift, and its next owner converted it to an inn, welcoming the first guests in the winter of 1946. Today, it's owned by a German-American couple who racked up years of globe-trotting experience in the hospitality industry before settling down in rural New Hampshire. Their expertise shows in the inn's welcoming environment, from the friendly greeting at the door to the communal fire pit on the front lawn. Hole up in the cozy pub, order a glass of wine, and dig into copious servings of dishes like steamed mussels and chorizo in an addictive tomato-garlic-wine broth and hearty, creamy cannelini beans with prosciutto, caramelized onions, Parmesan, and garlic bread. Unable to manage another bite, I drove back to North Conway and tucked myself in at the Merrill Farm Inn (merrillfarminn.com). 
Day 4: Lobster and Leisure Time
I was still stuffed from the feast the night before, so on my last full day in-state, I skipped the complimentary breakfast and had a leisurely morning and a light lunch before diving into the afternoon's full slate of activities. I rolled up to the Lobster Trap (lobstertraprestaurant.com), a North Conway institution since 1958, and placed an order for a final lobster roll. Unlike most spots with seafood rolls on the menu, this one was customizable, and as an avowed celery-hater, I was thrilled to be able to omit it from the proceedings. It wasn't the best version I've ever had, but the meat was fresh and sweet, and at $15 for a roll and a salad, it was definitely the most cost-effective.
A customized lobster roll (no celery!) at North Conway's Lobster Trap. (Maya Stanton)
Fueled up and ready to go, it was time for some action. Mount Washington Valley is home to several adventure parks, from Cranmore Mountain Resort (cranmore.com), which features giant swings, tubing, bouncy houses, and a bungy trampoline, to Attitash Mountain Resort (attitash.com), with the longest zip line east of the Rockies, a mountain coaster, water slides, an airbag jump, and a climbing wall, to Wildcat Mountain (skiwildcat.com), where you can take a gondola ride to the summit or play 18 holes of alpine disc golf. Take your pick, based on geography, experience, and age levels—you really can't go wrong with any of them.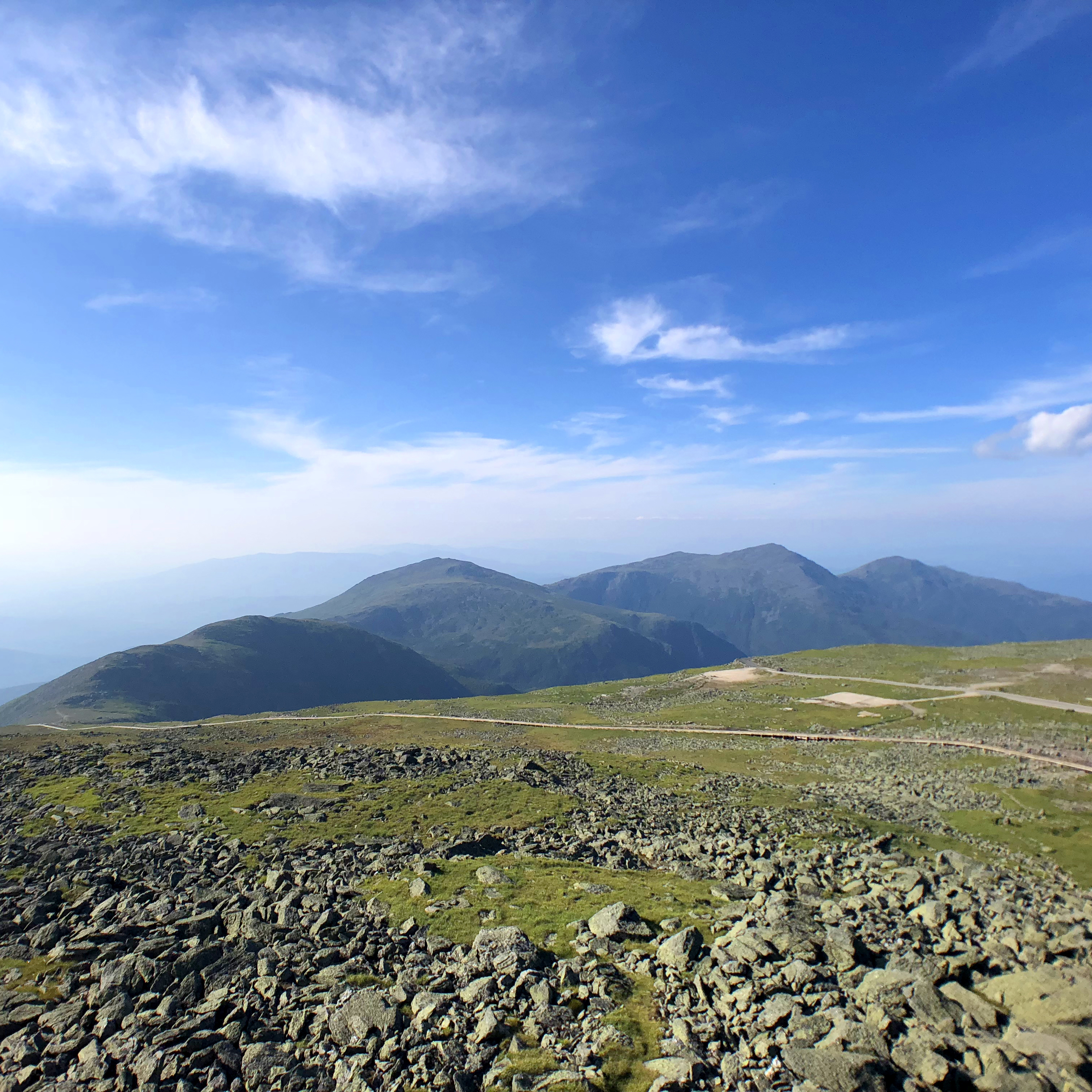 The view from the top of Mt. Washington. (Maya Stanton)
Next stop, Mount Washington itself, the highest peak in the northeast and one with a fair bit of history. Dating to 1861, the Mt. Washington Auto Road (mtwashingtonautoroad.com) is the country's oldest man-made attraction, while the Mount Washington Cog Railway (thecog.com) is the world's first mountain-climbing cog-driven train. At $78 per adult and $41 per child roundtrip, the Cog is a steep ride (pun intended), but one that train buffs may find worth the expenditure. For me, the auto road was more than sufficient. I opted for a guided tour, and as my intrepid driver navigated the narrow turns, often one-handed to point out the landmarks, I tried not to think about how close we were to the edge, and how glad I was not to be behind the wheel myself.
Diana's Baths draws crowds during the day, but in the early evening, it's a peaceful retreat. (Maya Stanton)

Before dinner, I had one more place to check off my list: Diana's Baths, just outside of North Conway. A half-mile through the woods on a flat, easy trail, with picturesque pools and cascading falls, it looks like something out of a fairy tale. Go early or late to cool off without the crowds, bring a fiver for the self-service pay station, and beware of mosquitoes—they're brutal along the way.
For my final Granite State meal, I went out with a bang at The Wild Rose Restaurant at Stonehurst Manor (stonehurstmanor.com), an old-school estate with mountain views and seafood from the Maine coast. Summer guests love the baked lobster, but I branched out from my all-seafood diet and tried the prime rib. A hulking cut of medium-rare beef served with chunky mashed potatoes and steamed broccoli, it was, like that antique boat ride, retro in the most satisfying way. For something a little less refined but just as meaty, Moat Mountain Smoke House & Brewing Co. (moatmountain.com) is right across the street and serves a wide-ranging menu of burgers, barbecue, and wood-grilled pizzas, sourced from local suppliers whenever possible.
Day 5: Back to Reality
With what promised to be a huge storm incoming, I got an early start back to Boston's Logan Airport, taking the Kancamagus Highway (kancamagushighway.com), an American Scenic Byway, in hopes of squeezing in a bit more sightseeing. But that hope was dashed when the skies opened up. When I got to the airport, I learned the weather seriously delayed my flight. Normally, I'd be beside myself with frustration, but in this case, it gave me the chance to have one last seafood roll for the road. This time around, I went with an overflowing crab-stuffed version, and it couldn't have tasted better. Until next time, New England.
Plan Your Next Getaway