5 Things To Do in Fairbanks, Alaska
By Liza Weisstuch - updated Aug 2021
September 3, 2018
George Burba/Dreamstime
This remote destination, which boomed during the gold rush, is sparkling again.
When I visited Fairbanks in early August (2018), the Blockbuster Video store was closing. It was the second-to-last outlet of the once-ubiquitous video rental depot, and it survived here because residents' cable signals weren't consistently dependable and, because of the town's secluded location in Alaska's interior, internet fees have long been quite high. Technology has helped with the signal issue, but Fairbanks (population around 32,500) will always be quite isolated: Denali, a six-million-acre national park and preserve, and the 2,525,512-acre Yukon-Charley Rivers Preserve are some of its nearest neighbors. That remoteness makes the city a bustling tourist destination when it comes to viewing astrological wonders. From mid-August to mid-April, the Aurora Borealis puts on its annual show, and the midnight sun season delivers 24 hours of daylight for 70 days (May 17 to July 27). Plus, what it lacks in proximity to other cities it makes up for with a vibrant creative culture. From its time as a territory through the boom years of the Gold Rush and the oil bonanza, Alaska has possessed a mythical allure, and people have been drawn to the possibilities that go hand-in-hand with the state's sprawling landscape. Here are just a few ways that imaginative and resourceful locals take advantage of all that opportunity today, making Fairbanks an alluring American city.
1. VISIT THE MARKET
(@tananavalleyfarmersmarket/Instagram)
Creativity is often a consequence of living in extreme weather, especially in a remote locale. (Consider, for instance, Reykjavik, Iceland, where children are required to start learning an instrument in school at a very young age. The dark winters give them lots of time to practice, after all. As a result, the city's lively music scene makes it a hotspot on the global map.) Fairbanks's artists and makers are diverse and prolific, and their wares are on display at the seasonal Tanana Valley Farmers' Market. On an impossibly hot August afternoon, as locals queued up at food stalls for crepes, Thai food, reindeer dogs, and soup, I browsed displays of handmade knives handmade by Native artisans, bowls, dishes and cups carved and whittled down from raw wood, ceramics, and knitted accessories made by a soft-spoken elderly woman named Joan who was skillfully creating new inventory as we chatted. Paintings, photographs, soaps, jams, and t-shirts were also in the mix. But about the market's namesake farmers. Given the brutal winters, it's easy to assume that Fairbanks is barren, but the 24-hours of sunlight and warm summers make it a prime growing region. Kale, asparagus, carrots and jumbo cabbage are just a few of the items for sale.
2. FEAST LIKE THE PIONEERS
There are restaurants and there are dining events. The Salmon Bake and all-you-can-eat affair, is among the latter. The location sits adjacent to Pioneer Park, frontier-themed grounds built in 1990 to commemorate the 100th anniversary of the purchase of Alaska from Russia. It includes a mock gold-rush village and a theater that stages nightly revues. The all-you-can-eat restaurant—virtually a campus—encompasses several log-cabin-like buildings that house the different food and drink stops, like the salad bar, a cute dessert bar, the spacious dining room and bar, and more, most adorned with Arctic-kitsch décor (see: colorful fake fish mounted on the walls). But the main attraction of the meal, is the grill, where a crew of personable pitmen—many of whom return season after season—turns out salmons, sirloins, and beer-battered cod, at a steady clip. They serve about 60,000 pounds of prime rib and 40,000 pounds of salmon in a season. It's a family-run operation founded in 1979 by owner Beth Richard's father Rick Winther, who wanted to bring fresh seafood to the interior. The beer-battered cod, in fact, is her grandmother's recipe and is said to have been served to President Warren Harding on his 1923 trip to Alaska. Beth's son Max, who turned 20 the day I met them, dons a grilling apron and gets to work during his summers home from college. He says his favorite offering is the homemade mousse, which happens to be Beth's recipe. Looks like her legacy is safe and sound.
3. ENJOY COFFEE AND COMMUNITY
(@venuefairbanks/Instagram)
Venue looks like your average hip coffee shop, complete with minimalist furniture and art on the walls. But when Isaac Mangum, a graphic designer and native son, opened Venue in downtown Fairbanks in June 2015, he intended it to be much more than a go-to for a quick caffeine kick. "It's where Fairbanks happens," he told me. "Coffee is just a catalyst. You're surrounded by beautiful things here." To be sure, there's a gallery-like feel to the space as well as the adjacent shop that stocks Alaskan-made goods, making it a cozy spot for locals to gather and for visitors to get a sense of the town's easy-going vibe. And cozy is exactly what a city that endures brutal weather conditions needs. Well, that and great coffee. And there's no shortage of spots to grab a great fantastic cup. Like many other Alaskan cities, coffee huts are abundant here. The modest roadside huts, often with cute names like Mocha Moose, offer all the artisanal espresso drinks you'd find at any full-size coffee shop. In the summer they're a convenience. In the winter, they're a necessity. But when it comes to hanging out, check out Lulu's Bread and Bagels, a local favorite known for fresh-baked breads and pastries. Alaska Coffee Roasting Co. and Petunia's (now closed 2021) are also excellent choices for whiling away the hours.
4. EXPLORE THE ART OF THE AUTOMOBILE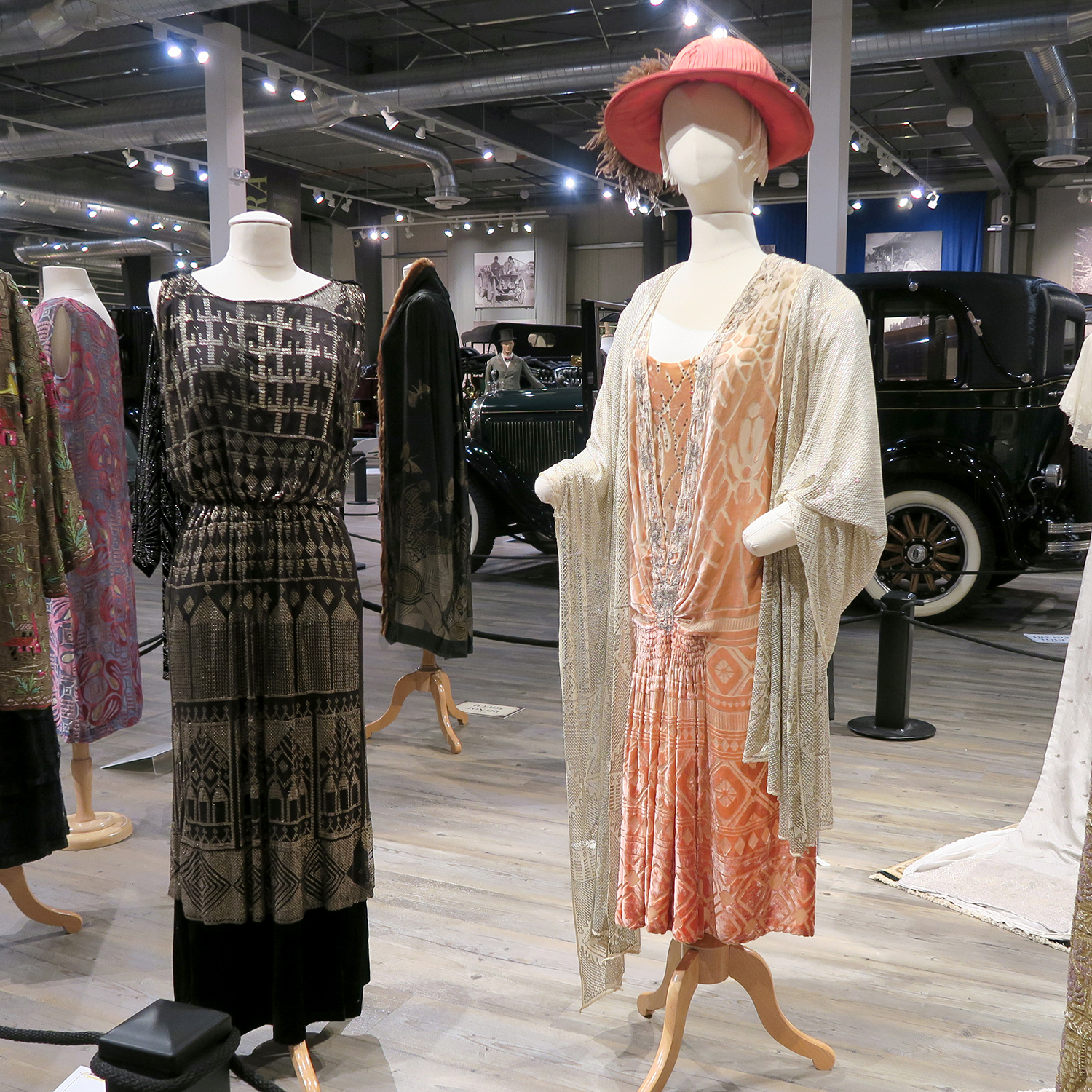 (Liza Weisstuch)
Transportation ranks pretty high among the many challenges to surviving in Fairbanks's Arctic weather. It's not unusual for temps to fall to 60 degrees below, Fahrenheit, and lower. Given that frigidity and snow, plus the state's massive area (it's twice the size of Texas) and the inaccessibility of so many towns, one out of 78 Alaskans has a pilot's license to operate small aircrafts. But before aviation was a norm, people had to get creative to devise ways to navigate snowy, icy roads. The ingenuity of engineers is on display at the Fountainhead Antique Car Museum. Among the dozens of vehicles, there's a T-Model Ford affixed with wood runners, the creator of which christened it a "snowmobile" and patented a DIY kit, and all sorts of industrial-looking vehicles. Collectively, it's a chronicle of how the area came to be accessible and livable. But the packed museum explores the style aspect of transportation as well functionality. Early and very rare Cadillacs and Chryslers are presented alongside the fashionable clothing of their times, which gives you a thorough understanding of what the town streets must have looked like.
5. DRINK IT IN
(Liza Weisstuch)
The Old City Hall in Fairbanks, which was built in 1935, sits on the National Register of Historic Places. Patrick Levy bought the building in 2014, built a steam-powered distillery inside it, started making vodka with Yukon potatoes, and christened the spirit 68 Below in honor of the freezing temps. He turned part of the town hall into a tasting room that handily serves as a local hangout and now cocktails made with the house vodka flow. Pat's likeness to Santa Claus is rather striking, not least because the town of North Pole is 15 miles away. He delights in pointing out the irony of making booze in the same building that the town drunk tank once stood. The Fairbanks Distilling Company is just one of several spots that have a social aspect to its booze business. Brewers are in on the game, too. At HooDoo Brewing Co. you can buy your pint or a flight at the bar and drink it on the spacious family-friendly patio—in the warmer months, at least. There's plenty of hangout space in the taproom for when the chill comes. At Silver Gulch Brewing and Bottling, the beers are served in a dim, cozy dining room with stone walls and a long wood bar. Anything from the menu of familiar comfort food makes a fine accompaniment to one of the small batch brews.
For more information on Fairbanks visit Explore Fairbanks.