5 Things to Do in Halifax, Nova Scotia
By Maya Stanton
March 6, 2019
Darryl Brooks/Dreamstime
With all the fine art, dining, and maritime culture you could want, Nova Scotia's capital is an unexpected destination for year-round urban adventure.
Situated directly north of Maine on the eastern seaboard, Atlantic Canada's Maritime provinces—Nova Scotia, New Brunswick, and Prince Edward Island—are perhaps best known for picturesque coastlines rife with lighthouses and fishing boats, to say nothing of the legendary seafood. The capital of Nova Scotia, Halifax is a walkable city with an active waterfront, five-star dining, and artisan culture galore. It's also a quick two-hour flight from New York and an even shorter hop from Boston, making it an easy weekend escape for Yanks yearning for a change of scenery. Here's what to do when you arrive in town.
1. Wander the Waterfront
(Debbie Ann Powell/Dreamstime)
Nearly two miles of boardwalk wind along the Halifax Harbor, and while it's an activity better suited for sunny summer days, the brisk winds off the water make for an invigorating winter stroll. Spend some time at the Canadian Museum of Immigration at Pier 21 (more on that below), then work your way north: Across the street, the Designer Craft Shop (craftnovascotia.ca) carries beautiful pottery, jewelry, and other pieces from local artisans, and down the block, Garrison Brewing Company (garrisonbrewing.com) is good for a pitstop. Book an evening brewery tour for $15, or simply sample the wares in the dog-friendly tap room. Nearby, the Halifax Seaport Farmers' Market (halifaxfarmersmarket.com) is an all-season venture. In addition to the produce, there's a solid selection of local liquors, spice blends, jams, pickles, and more, making it a great place to pick up souvenirs for your food-loving friends. From there, it's a short jaunt up to NovaScotian Crystal (novascotiancrystal.com), purveyors of heirloom-quality crystal at prices to match. Even if you're not shopping for mouth-blown, hand-cut investment pieces, the showroom is worth a stop—if you're lucky, you'll catch the makers in action. Around the corner is the Halifax Ferry Terminal, and at less than $2 USD, a boat trip is an ideal way to cap off your walk. Take in the skyline and explore hipster-central Dartmouth while you're across the harbor...and if you manage to time your ride to sunset, all the better.
2. Warm Up With Local Spirits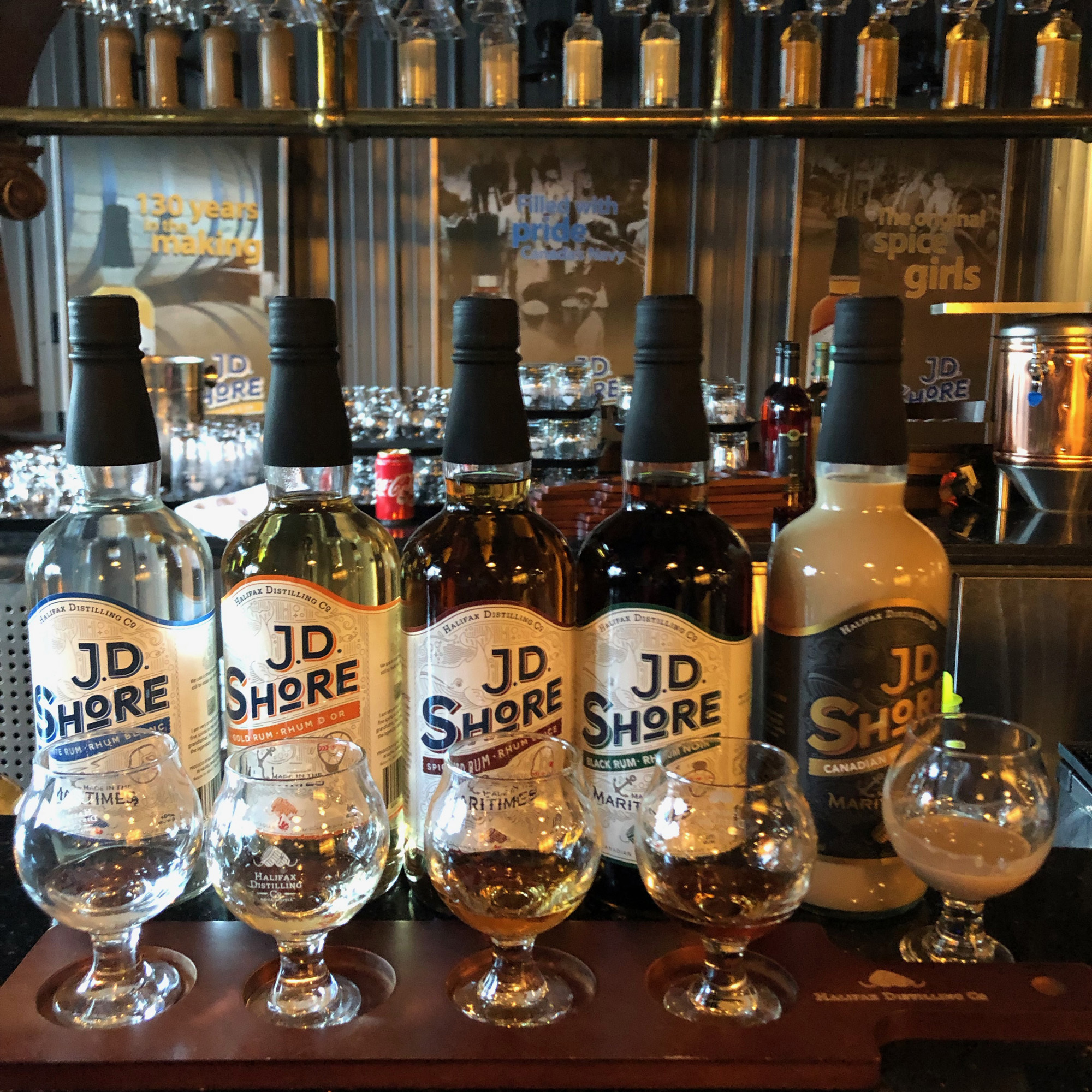 (Maya Stanton)
As the home of Scottish expat Alexander Keith, a three-time mayor and mid-1800s brewer whose facility is still in operation today (albeit under the umbrella of Anheuser-Busch InBev), it's no surprise that Halifax has craft breweries aplenty—to date, there are 12 and counting. But Atlantic Canada's history is also steeped in bootlegging and rum-running, and Nova Scotians have embraced that heritage with a vengeance, making rum one of the most popular tipples in town. Centrally located near the waterfront, Halifax Distilling Co. (halifaxdistillingco.ca) pours tastes of its J.D. Shore rums. Distiller Julie Shore is descended from a 19th-century whiskey-distilling family in North Carolina, and those generations of experience show; her light-bodied black rum is supremely drinkable, with rich caramel notes, and we can vouch for the rum cream, a Bailey's stand-in that might just be better than its whiskey-based cousin. Belly up to the bar for a drink and a snack, catch some live music, or pop in for a tour on a Saturday afternoon.
3. Get Cultured
(Maya Stanton)
For a small municipality (around 403,000 people at last estimate), Nova Scotia's capital boasts a wealth of cultural destinations. On the waterfront at Pier 21, an Ellis Island equivalent for a million transplants from the late 1920s through the early '70s, the Canadian Museum of Immigration (above; pier21.ca) traces the immigrant experience from decade to decade, with interactive exhibits, replica ships' cabins, and steamer trunks filled with clothing and treasured belongings from children who immigrated over the years. At the family history center, staff members are standing by to help track down immigration documents, ship information, and genealogical data by request. A 15-minute walk along the water's edge is the Maritime Museum of the Atlantic (maritimemuseum.novascotia.ca), devoted to the region's marine history, from its ship-building days to naval battles to disasters like the Halifax Explosion of 1917. Don't miss the model ships on the second floor, or the Titanic exhibit, a highly detailed accounting of the ship's history, its sinking, and Halifax's role in the rescue and recovery operation. (Titanic buffs should also make a detour to Fairview Lawn Cemetery on the north end of town: Halifax was the closest port when the liner went down, and more than 100 victims are buried there, their headstones arranged in a configuration resembling a ship's helm.) A few blocks over, the Art Gallery of Nova Scotia (artgalleryofnovascotia.ca) celebrates the work of artists with ties to the region. The jewel of the collection is the Maud Lewis gallery, featuring the self-taught folk artist's work as well as her lovingly restored, hand-painted tiny house—just 12-½ by 14-½ feet! The museum has extended hours on Thursday nights, with free entry and tours available. On the other side of the city's circa-1749 citadel, the Museum of Natural History (naturalhistory.novascotia.ca) has all the whale skeletons, animal models, rock and mineral samples, and, through April, animatronic dinosaurs needed to keep the little ones busy and engaged.
4. Break for Coffee (and Great Views)
(Maya Stanton)
Built in 2014 as a replacement for a mid-century building the city had long since outgrown, the award-winning Halifax Central Library (halifaxpubliclibraries.ca) is a feat of contemporary design. Reportedly "the first piece of modern architecture to be built in Halifax in decades," the $57.6 million project is an LEED Gold-certified cultural center in the heart of downtown. Check out the displays dedicated to First Nations, African Nova Scotian, Acadian, and Francophone cultures, as well as veterans' memorials and local-history research materials. The cantilevered-glass exterior resembles a stack of books, and the interior is peaceful and light-filled, with a top-floor café offering expansive views of the harbor and citadel alongside cups of excellent, fair-trade organic drip coffee and from-scratch pastries.

5. Eat Your Heart Out
(Maya Stanton)
In keeping with its maritime location, Nova Scotia is a haven for seafood lovers, and from Digby scallops and freshwater mussels to the unparalleled lobster of the South Shore, Halifax receives more than its fair share of the bounty. Obladee Wine Bar (obladee.ca) touts flights of Nova Scotian wines and Sober Island oysters, while Little Fish Oyster Bar (littlefishoysterbar.ca) does an all-day happy hour with a selection of local bivalves at US$1.50 a pop. We loved the ones from Cabot, and those from Pristine Bay were true to their name. Upstairs is the Five Fishermen (fivefishermen.com), a sister restaurant serving refined plates. Fortunately, the upscale dining room, a handsomely restored funeral home, shows no signs of its more gruesome days, but a creamy bowl of chowder and a smoked old-fashioned should chase away any lingering ghosts. The city's dining isn't all fins and gills, though. Land-based options include the donair, a uniquely Halifax offering that's akin to the Greek gyro, Middle Eastern shawarma, and Mexican al pastor, with spiced, spit-roasted meat topped with raw tomatoes and onions, doused with a sweet white sauce, and wrapped in a pita. It's a messy but glorious concoction, and you can sample it downtown at Johnny K's, or further afield at King of Donair (kingofdonairquinpool.ca), where the dish originated back in 1973. For a stellar steak tartare and a reasonably priced glass of wine, seek out Bistro le Coq (bistrocoq.ca), then have a nightcap at the Stubborn Goat (stubborngoat.ca), a gastropub with a tempting cocktail list; when it's on the menu, the Moving To the Country is a dangerously delicious blend of bourbon, peach, and mint. Looking to splurge? With a menu ranging from steamed mussels and house charcuterie to expertly rendered Nova Scotia scallops and luscious lamb pappardelle, Gio Restaurant (above; giohalifax.com) at the Prince George Hotel is one of the best bets in town.
Plan Your Next Getaway