A road trip is a great way to tell a person's story, as The Cranky Flier proves
By Sean O'Neill
October 3, 2012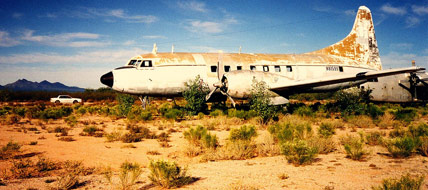 Courtesy <a href="http://www.flickr.com/photos/flissphil/6340882/" target="_blank">PhillipC/Flickr</a>
Has a friend ever said, "I'd like to write a book about my life, but I'm not sure where to start"?
Well, you ought to buy that friend a copy of Brett ("The Cranky Flier") Snyder's first book, Where the Hell Am I Going? Explain that it's a fantastic model of how to write a road trip story. (I've read about 100 road trip stories over the years, and this is easily one of the top five best.) The book may finally inspire your friend to cover the high points of their life as anecdotes prompted by the sights seen on a cross-country adventure.
After all, a road trip story is much, much more fun to read than the typical autobiography. I would never have picked up a memoir of Brett Snyder—even though he's the author of the acclaimed aviation blog The Cranky Flier. Yet when I heard he had written a short book about his two-week cross country road trip, I was game to read it, mainly because I could imagine myself wanting to take a similar trip.
The title Where the Hell Am I Going doesn't really refer to the route taken by Brett. (I feel I know the author well enough now, having read this book, that I can refer to him by his first name.) Brett pretty much knows in advance the main routes he will take in a loop from where he lives with his wife in southern California through Texas to Florida, and then back again via a path that takes him through Indiana and Oklahoma to Phoenix.
The title instead refers to the thinking that Brett does while he's driving. Newly married yet out of work, every town he passes through seems to trigger a memory from his life, such as where and how he met his wife and where and how he developed his undying love for airports. Along the way, he helps get out the vote for Obama in a small town in Florida on election day, and he gets lost down some country roads (despite his GPS unit that talks in an Aussie accent).
A road trip reveals a person's character better than any formal autobiography could. At one point, Brett has been driving for a while after having made a pit stop at Walnut Ridge, Ark., to dine at Parachute Inn (a restaurant made partly out of an old Southwest 737). It dawns on him that he forgot to tip the server. He calls the restaurant to apologize and later mails a tip.
A road trip also makes plain a person's fears, too, assuming that the writer is as honest as Brett ("What if my car breaks down and I'm eaten by wild javelina?"). After pulling him over for speeding a second time in Oklahoma (d'oh!), a police offer asks Brett to leave the car and step into his cruiser. The officer chats while verifying the records.
"So what do you do for a living?" he asked. I thought for a second and said, "Well, I was actually just laid off." For some reason, it was extremely embarrassing for me to say that. It's like I failed and now I had to wear this scarlet letter saying so.
If you have any interesting hobbies, a road trip's a great way to indulge them. Brett's love of aviation brings him to Millstone, Ind., to see "a simple and moving" memorial for an airline crash ("Maybe Kiwanis should be put in charge of all air crash memorials. This one was perfect."); and the headquarters of Southwest Airlines, where he meets the CEO (because of Brett's seat in the travel media cockpit) and helps to judge the company's Halloween costume contest. ("The contest was between departments, and this was not a faux rivalry. I think the Marketing team would have killed a man to win.")
Best of all, an excellent road trip story inspires you to pack up your bags and head out to see the same (or similar) sites. Like "The Thing?" near Dragoon, Ariz., or a spot in Cleveland, Tenn., with "a little farmhouse with an old windmill surrounded by leaves that couldn't have been painted any better."
MORE
The Cranky Flier writes a book
Budget Travel's road trip page