Bose debuts QuietComfort 15 noise-canceling headphones
By Sean O'Neill
January 27, 2022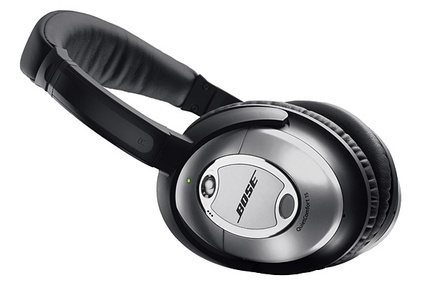 Courtesy Bose
Tomorrow (Thursday), Bose puts on sale its new QuietComfort 15 noise-canceling headphones, which aim to be the "gold standard" of such devices. The price is $300.
The new device replaces one of the company's previous high-end models, the QuietComfort 2. It adds an external microphone to each ear cup, providing additional information to help cancel out more noise. It also improves upon the device's processing power as well as the design of the leather-and-foam ear cushions.
I tested the QC15s this morning under the supervision of Bose staff people. Stereos blasted a recording of a jet plane mid-flight. A sound pressure level meter measured a 90 decibel reading, well above an approximately 50 decibel reading for the ordinary noise level in a city store. I found that the QC15 headphones dramatically reduced the sound of the jet plane noise, noticeably more so than with the previous version of Bose headphones, the QC2.
Audio quality and headset comfort are what distinguish Bose's products from comparable high-end products. In a test of the QC15, sound reproduction of a song was note perfect, and the earcups rested gently around the ears rather than push down on the ears itself. The headphones are iPhone-compatible out of the box and are powered by triple-A batteries tucked discreetly into one of the earcups.
[Bose]
ELSEWHERE