Discover 6 Perfect Florida State Parks
By Jeanine Barone
November 11, 2022
Honeymoon Island State Park, Florida - Istock/MargaretW
All across the Sunshine State, large swaths of beautiful natural expanses are set aside as pristine state parks just waiting for you to explore.
In Florida, a day at a park doesn't always have to mean hanging out with The Minions, Mickey or Big Bird, though it often does. No surprise, considering the Sunshine State is synonymous with popular theme and water parks. But, Florida is also home to 175 state parks scattered from the Panhandle to the Keys, each offering an opportunity to experience the state's myriad natural and cultural treasures, whether streams and rivers threading through a verdant landscape, a system of caverns peppered with stalactites, miles of undeveloped sandy beaches, dense tracts of forests dripping with moss, or historic forts and lighthouses. The entire compendium of state parks shows off Florida's grand diversity of ecosystems, from mangroves to pinelands to dunes, as well as the resident and migrant creatures that call these vast expanses home or pay a seasonal visit. In the six state parks below, a grand array of enticing scenery and activities are on full display. (You can learn more at floridastateparks.org.)
1. Oleta River State Park
Just 30 minutes from downtown Miami, Oleta is considered Florida's largest urban park and one offering numerous water- and land-based activities. Inside the park, BG Oleta River Outdoors rents canoes and kayaks so visitors can paddle through dark, foliage tunnels along the mangrove-lined river and then on to peaceful Biscayne Bay and the Intercoastal Waterway with opportunities to spot river otter, and sea turtles. (This concession also offers full moon and one-hour Friday sunset kayak tours.) And, despite Miami's perfectly flat topography, Oleta is considered one of Florida's best mountain biking venues, with more than a dozen miles of interconnected, challenging single track coursing beside the park's waterways.
2. Bill Baggs Cape Florida State Park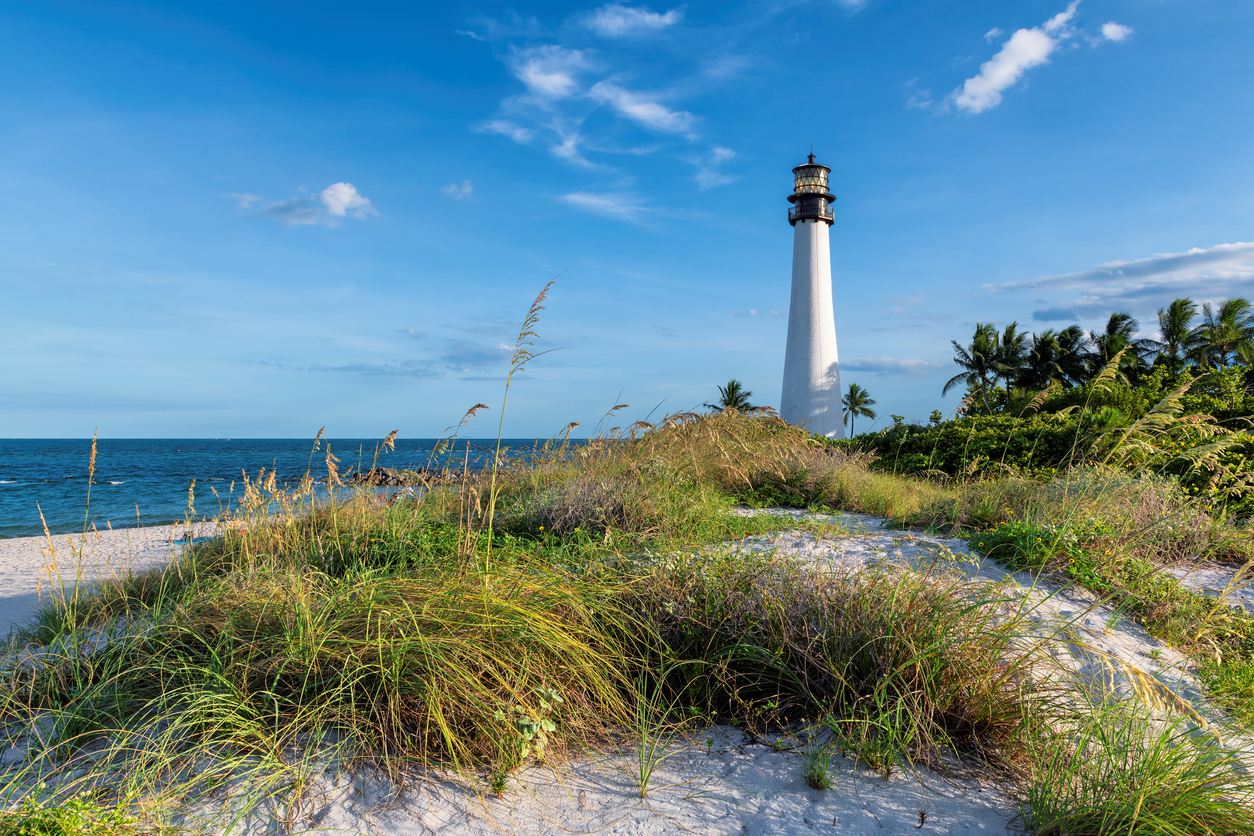 On the southern tip of Key Biscayne, Bill Baggs is most noted for its one-mile-some beach -- perfect for sunning and swimming -- that's often named as one of the top 10 beaches in the U.S. by Dr. Stephen Leatherman of Florida International University, aka Dr. Beach. Bird watchers are also attracted to this park that's a stopover on the Atlantic Flyway for migrating species, such as Cerulean and Bay-breasted wood-warblers. Anyone walking to the southern tip of the Pond Trail will be near the Cape Florida Lighthouse, South Florida's oldest structure that provides stunning views of Biscayne Bay, Key Biscayne and South Beach.
3. Topsail Hill Preserve State Park
Named for the tallest of the coastal dunes along the Gulf of Mexico that resembles a ship's sail, rising over 25 feet high, Topsail Hill, located in the Florida Panhandle, preserves these white quartz dunes with lakes -- a unique ecosystem -- where fresh and saltwater mix. Those with a fishing license can try to snag catfish, bream or bass in one of these lakes, or cast from the beach for Spanish mackerel, pompano or red fish. The paved Campbell Lake Bike Trail -- named for this coastal dune lake, a popular picnic spot -- that's shaded by tall longleaf pines appeals to cyclists.
4. Hillsborough River State Park
Just a few minutes north of Tampa, Hillsborough is one of the few spots in Florida featuring whitewater rapids. Those who bring their own canoe relish the small section of Class II rapids. The park also rents canoes that can be put in just below the rapids on this blackwater river, the color deriving from the tannins leaching from fallen leaves. Growing along the shore, live oaks, magnolia and cypress trees provide for shaded paddling, with opportunities to see otters or alligators on the banks. History buffs often sign up on a guided tour of the reconstructed Fort Foster, a replica of the circa 1837 fort from the time of the Second Seminole Indian War.
5. Honeymoon Island State Park
Having received its name after several dozen honeymoon cottages were constructed (and subsequently demolished) in the early 1940s, this barrier island remains a stunning day-trip from Tampa for nature lovers. Though beachgoers flock to the sandy and seashell/rock studded four-mile stretch, a wild landscape of tide pools, sand dunes and salt marshes await those walking past the last parking lot to the shaded Osprey Trail. Hikers will find monarch butterflies fluttering about and the ever-present scent of pine. A real treat is seeing osprey with their young.
6. Caladesi Island State Park
A short ferry ride away from Honeymoon Island, Caladesi was once attached to its sister island prior to a major hurricane in 1921. Though now connected to Clearwater Beach after a land bridge formed, Caladesi feels like the Florida of another era, once visitors wander past the ranger station/concession, with nothing but the sounds of bird calls, and the tide lapping at the powdery beach. In 2018, Dr. Beach ranked Caladesi's dazzling quartz sands as one of the country's top 10. A network of sandy trails wind through the heart of this island where signs remind visitors that the dense interior is snake territory.
Plan Your Next Getaway