Celebrate International Women's Day With These Gifts That Give Back
By Maya Stanton
March 8, 2019
Courtesy Help Refugees/Choose Love
Put your money where your mouth is.
Conscious consumerism is more just than a catchphrase—it's a real opportunity to throw your dollars at companies whose goals and values match your own. Whether it's subsidizing artisans in remote corners of the world, feeding victims of poverty and natural disasters, fighting for equal rights, or defending the First Amendment, these 10 products are backed by organizations using their platforms to make a positive social impact.
1. Support Global Artisans
(Courtesy GlobeIn)
This cheerful Mexican-made palm-leaf tote from GlobeIn inspires warm-weather thoughts, even in the dead of winter. It's a great size—not too big and not too small, just right for a day at the beach—and it's Fair Trade, so you can buy with confidence knowing that it was ethically produced, and that the artisans who made it by hand earn a wage that provides a sustainable standard of living.
Pom Pom Leaf Shopper, $50; shop.globein.com.
2. Empower Mothers and Children
(Courtesy Erin Sullivan, @erinoutdoors)
When it comes to shoes sold under a charitable business model, Toms aren't the only game in town. A nonprofit founded in Kenya by two pastors, Ubuntu Life relies on local East African women to create its line of high-quality totes, clutches, beaded bracelets, pet collars, and espadrilles—or, as they're cleverly called here, Afridrilles. The company provides sustainable employment alongside above-market wages and benefits. Profits go directly to the workers (many of whom are mothers to special-needs children), and purchases generate revenue for pediatric health and education efforts. We love the shoes: They require a little time to break in and run a touch small, but they're well-designed and sturdy. They take up minimal suitcase space and coordinate with almost everything, and they're equally great for navigating airport security or transitioning from beach to boardwalk.
Classic Afridrilles, $75; ubuntulife.com.
3. Sport Sustainable Fashion
(Courtesy SmallWarner)
Made in Jakarta by Balinese artisans, this vibrant, eco-friendly necklace layers strand upon strand of recycled-glass beads to stunning effect. A lightweight, versatile piece with a mother-of-pearl clasp, the Bali Bead necklace lays beautifully across the collarbone, dresses up any outfit, and won't irritate sensitive skin, thanks to its metal-free construction. Company founder Lillian Daniels works directly with her suppliers, an endeavor that helps the craftswomen support their families and enhance their quality of life, and donates pieces to various organizations to raise money for first-generation college students, displaced families, female-centric organizations, and more.
The Bali Bead necklace, from $70; thebalibead.com.
4. Promote the First Amendment
(Courtesy ACLU)
Part statement piece, part conversation-starter, this adorable onesie will ensure that your favorite tiny tyke gets a head start as an ambassador for human rights and free speech. (You can't teach equality early enough, if you ask us.) Since 1920, the ACLU has been supporting and defending our civil liberties, and purchases support the organization and its mission. It runs a bit small, so size up when you order.
Free Speech onesie, $20; shop.aclu.org.
5. Feed Hungry Kids
(Courtesy cuddle+kind)
Yes, these delightful dolls from cuddle+kind are hand-knit, loomed, embroidered, and crocheted in Peru by talented women earning a fair-trade income, and yes, the designs are mind-bogglingly cute—think: unicorns and mermaids, lambs and foxes, even fawns and flamingos, in sizes large and small. But that's not even the best part. Thanks to partnerships with humanitarian organizations like the World Food Program USA and the Children's Hunger Fund, each doll provides a hungry child with 10 meals, and the company aims to contribute a million meals a year. It's a goal that seems eminently doable, especially considering the heirloom quality of the merchandise on offer.
Everest the Penguin, from $50; cuddleandkind.com.
6. Foster Tolerance and Inclusion
(Courtesy Chronicle Books)
As you'd expect from John Oliver and the team at HBO's Last Week Tonight, this charmingly illustrated children's book about two boy bunnies in love tells it like it is. Not only does it have a message of equality and acceptance (important principles to instill in travelers of all ages), it also teaches a valuable lesson about standing up for yourself, and doing your civic duty, too. Buying the eBook from the Trevor Project directly supports the org's work with LGBTQ youth, but if you prefer a hardback, the Trevor Project and AIDS United still get the royalties for every new copy sold.
A Day in the Life of Marlon Bundo, $12; amazon.com.
7. Show Your Humanity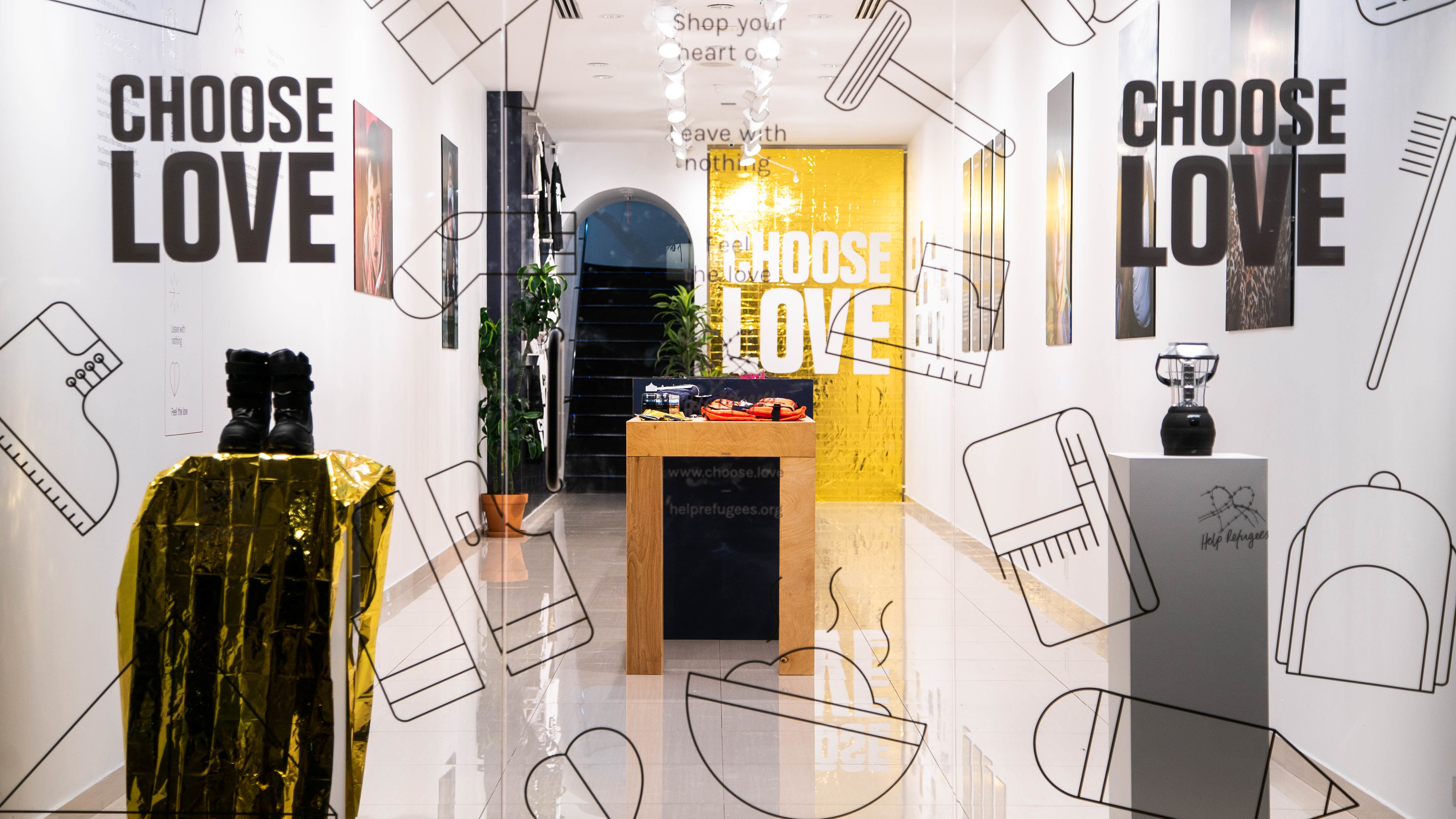 (Courtesy Help Refugees/Choose Love)
The worldwide refugee crisis shows no signs of abating, but you can extend a helping hand by shopping with Choose Love, an online store selling essential items for those who have been displaced. These are gifts that will make a real difference, like tents, emergency blankets, hot meals, hygiene kits, diapers, and even access to mental-health and legal-aid services. With almost everything ringing in at $60 or less, compassion doesn't have to come at a high cost.
Clothing and supplies for refugees, us.choose.love.
8. Advocate for Equal Rights
(Courtesy Human Rights Campaign)
Every packing list needs a neutral tee that can be dressed up or down depending on the occasion, and between its lived-in feel and understated design, this super-soft grey number from the Human Rights Campaign is destined to become a regular in the wardrobe rotation. All net proceeds go toward HRC's fight against discrimination and its work to secure LGBTQ rights and protections, so you can announce your allegiance with aplomb.
Rainbow Earth t-shirt, $29; hrc.org.
9. Combat Hunger and Poverty
(Courtesy World Central Kitchen)
As climate change affects the frequency and intensity of natural disasters at home and abroad, it's becoming increasingly clear that some of our favorite destinations, from California to Puerto Rico, are among those at serious risk. Through his nonprofit, World Central Kitchen, celebrity chef José Andrés and his network of like-minded cohorts have put boots on the ground to feed millions of people in the wake of hurricanes, earthquakes, wildfires, and more. Donations to the 501(c)3 go toward the ongoing relief efforts, but they also support its long-term programs: health, education, jobs, and social-enterprise initiatives that look to build stronger communities and economies.
Donations to World Central Kitchen, worldcentralkitchen.org.
10. Give a Dog a Second Chance
(Courtesy Grounds & Hounds)
It's the best of both worlds for puppy-loving caffeine fiends: a coffee company focused on organic fair-trade blends that donates a cut of its proceeds to rescue organizations across the country. Grounds & Hounds Coffee Co.'s stainless steel, double-wall-insulated tumbler keeps drinks hot for six hours and won't leak all over in the process. And about those donations: Grounds & Hounds earmarks 20 percent of its profits to effecting ground-level change—everything from assisting with rescue transfers and supporting life-saving initiatives to funding spay-and-neuter services and supplying shelters and low-income households with food and toys.
Key to Happiness tumbler, $14; groundsandhoundscoffee.com.
Plan Your Next Getaway