Quite the week for Richard Branson
By Sean O'Neill
October 3, 2012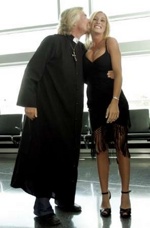 No other airline chief has ever had a week like this.
Richard Branson, whom you know well as the top backer of Virgin America and Virgin Atlantic, was seemingly everywhere.
He jumped off a building in Las Vegas. But the stunt was botched by a snag. He suffered a cut hand and bruises when he dropped from the top of a 120m (390ft) tower and crashed into a wall.
But he was still smiling. He reported that Virgin America is making scads of money, and he expects it to be profitable much faster than expected.
He kissed Kyla Ebbert, the woman known in our previous blog posts as the Southwest woman who revealed too much.
He also rang the bell to open the New York Stock exchange.
And he threw a celebrity-filled party in Las Vegas. Details at Jaunted.
And Budget Travel awarded his company an Extra Mile Award last night at a fabulous reception in New York. (He flew his team on his private jet so that they could attend the event while he rested up.)