Swingers Wanted
By Josh Sens
March 13, 2006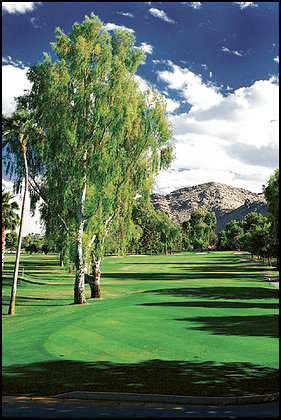 courtesy of Orange Tree Golf Resort
In the hope of filling up vacant tee times, golf courses around the country slash prices for last-minute reservations--sometimes you pay less than half the normal greens fees. Certain websites serve as clearinghouses, accepting discounted reservations at dozens of courses, generally only for the same or next day. Your best bet for openings is off-peak periods--most anytime except for weekends, holidays, and mid-mornings. Before booking, do your homework and inquire with the course for updated prices. Many sites that seem to offer discounts tack on service fees and actually charge more than the course itself.
Well, the southern and western parts of America, anyway. That's where most of the hundreds of courses represented are located. For one last-minute search in the Phoenix area, dozens of offers appeared, with discounts of 10 to 60 percent off.
Discounts are available not only for next-day reservations, but also for the occasional tee time booked several weeks in advance, at hundreds of courses in Massachusetts, North Carolina, Florida, and 11 other states, as well as select locations in Canada. For same-day reservations, you'll have to call 800/671-0750.
There's a wide spectrum of discounts for southern California courses. We found savings in the San Diego area that ranged from a measly $6 off a $65 fee at The Vineyard at Escondido to more than half off the $95 fee at Riverwalk Golf Club.