How to Do Greece on a Budget
By Maya Stanton
April 3, 2019
Desislava Vasileva/Dreamstime
See the sights without going bust.
Dreaming of lazy afternoons on the Aegean, and mornings spent wandering ancient ruins and quaint cobblestone streets? You're not alone: Greece is a hugely popular tourist destination, welcoming some 30 million visitors in 2018. But even though demand is high, a Hellenic vacation doesn't have to break the bank. Here are three tried-and-true tips for stretching those euros as far as they'll go.
1. Spend Up Front to Save Later
A good travel agent will worry about the details for you, freeing you up to explore. (Maya Stanton)
We were sipping Aperol spritzes and watching the sunset at an oceanfront café on the island of Naxos when the call came in: The ferries, shut down for the past few days due to high winds and turbulent seas, were up and running again. At this point, we'd already had to rework our itinerary, flying into Naxos instead of taking the boat from Athens and skipping our day in Mykonos, and if we wanted to be on the ferry to Santorini the next morning, we'd need to book it to the nearest ticket office on the double—a chance we would've missed without that alert. In most cases, I prefer to DIY my travel, but for this trip, we worked with an agent for just such an occasion: Given the probability of ferry strikes and weather-related cancellations, not to mention a serious lack of communication from the various companies about said cancellations, hiring someone to look out for your interests is a solid investment. Before you plunk down that credit card, though, contact a few places to get quotes (we used Dolphin Hellas; dolphin-hellas.gr), and pay close attention to how quickly they reply, and how thoroughly they address your questions and concerns—you want someone who will move quickly and efficiently on your behalf, and a high level of care and a speedy response time in the planning stages forecasts the consideration you'll receive on the ground.

2. Travel at the Right Time
Sights like the Parthenon won't be deserted in shoulder season, but they'll be much less crowded than they are in the summer. (Anyaivanova/Dreamstime)
Looking for a great summer getaway? This is not the place for peaceful days at the beach or leisurely strolls through postcard-perfect villages and towns. Greece is at peak capacity from June to August, meaning overflowing crowds, high hotel rates, and packed-to-the brim restaurants and attractions. To bring down your bill—and avoid the mobs—visit during shoulder season, when the streets may be bustling but elbow room is far easier to come by. In spring and fall, the weather's just as idyllic, and though you'll still file in with the hordes to see the Parthenon and navigate the narrow footpaths of Oia, on Santorini, it's much worse in July.
3. Pick Your Priorities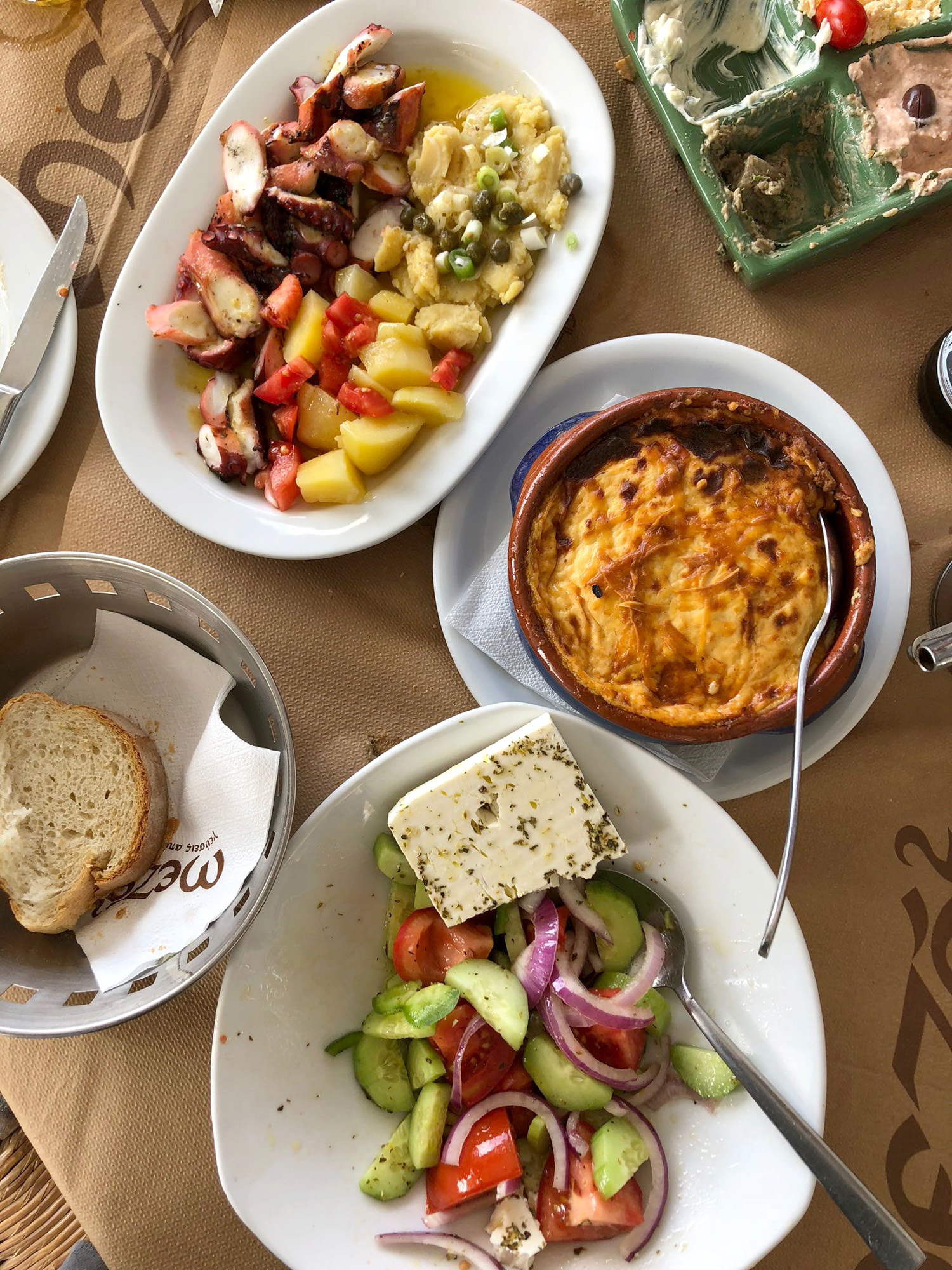 Go cheap on accommodations so you have more to spend on food and drink. (Maya Stanton)

The bad news: You probably won't be able to find a travel agent who's willing to book your ferry tickets alone. The good: In addition to taking care of the nitty-gritties, like transfers and hotels, as well as last-minute schedule changes, like putting you on a flight when the ferries are canceled and extending hotel stays when necessary, an effective agent will help allocate your dollars to align with your personal priorities. Can't get a good night's sleep without downy pillows and luxe linens? They'll book you in at five-star hotels (and charge you accordingly). Prefer to spend less on accommodations so there's more in the budget for dining and activities? No judgement—or flea-trap motels—here. Of course, you can do this on your own as well, but since you're paying for the service, let them reserve your rooms and buy your museum tickets while you do the important work of restaurant research and souvenir shopping.