For All of Miami's Sizzle, There Are Times When I Just Want to Chill
By Clarissa Cruz
updated February 21, 2017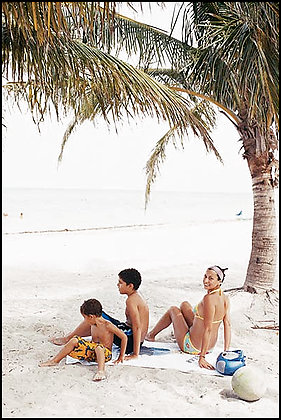 Graciela Cattarossi
What happens when the city you grew up in turns into a hotspot? One night you order a mojito, and the next night you have an ice-cream sundae.
Paris and Diddy would probably beg to differ, but it is possible to get through a weekend in Miami without dancing on a table. I should know--I grew up in the place now known for party-hopping glamazons, but in my youth (the '80s), South Beach was more Golden Girls than Gucci.
I was raised in Cutler Ridge, 45 minutes south of SoBe (a term no one actually uses, by the way). After Hurricane Andrew destroyed my family's home in 1992, my parents moved us to Dilido Island, one of the five islands that connect downtown Miami to Miami Beach. There, with South Beach just a 15-minute stroll away, I had a front-row seat to the South Beach revolution on my visits home from college. I live in New York City now, but I go back often to see my folks--especially when my beloved Miami Heat are playing--and it never fails to astound me how much the city has changed.
Even so, I find myself returning to the unapologetically untrendy places I loved as a kid, like Swensen's in Coral Gables--my high school version of the Peach Pit from Beverly Hills, 90210. It's part of a national chain, and there's nothing exciting about the menu or decor, but the charm lies in consistency: The burgers are still satisfying, the booths are comfortable, and the Bonanza Splits as shareable as I remember.
About two miles north is Delicias de Espana, a Spanish restaurant and grocery store that some Cuban friends turned me on to. I always order the same thing: slivers of serrano ham, chunks of Manchego cheese, and pulpo (octopus), which arrives at the table sizzling and sprinkled with paprika.
Another favorite hangout was Coconut Grove, a neighborhood sandwiched between the University of Miami and Biscayne Bay. By day, the Grove was--and still is--a leafy enclave of outdoor cafés, boutiques, and a shopping/entertainment complex known as CocoWalk. But on weekends, it belonged to local teens. We trolled the main drag in slow-moving cars, checking each other out. Today, the crowds have abandoned the Grove for Miami Beach, making it much easier to get a table at Cafe Tu Tu Tango--a restaurant (the first of seven locations across the country) that jumped on the small-plates bandwagon years before it was cool. The shopping at CocoWalk isn't anything you can't find at many malls, but I've scored killer deals on cold-weather items like leather jackets because none of the bronzed locals need them.
As for the beach, sure, it's fun to observe the blingy, beautiful, and often topless sea of humanity on South Beach. But when I want to relax I head to Key Biscayne. Well-tended Crandon Park is just as pretty as South Beach, with long stretches of sand dotted with palms. And unlike at its neighbor to the east, parking is a breeze and there are more families than entourages soaking up the sun. I often bring a picnic lunch to eat at the tables scattered around the park, one of which was the site of my seventh birthday party. I still have pictures of my sister and me in ruffled bikinis, and my then-toddler brother in a leopard-print Speedo.
Of course, I'm not completely immune to the slick charms of present-day South Beach. Prime 112, for example, has become one of my go-to places for special occasions. Inside The Browns Hotel, the steak house has attracted its share of celebrities since it opened in 2004. While it could have fallen victim to the beautiful people/ugly food trap that plagues other area hotspots, Prime 112's perfectly grilled steaks put it miles ahead of the competition.
For somewhere that's more low-key yet still in the center of the action, I love David's Cafe II. One part of the restaurant has white-clothed tables and solicitous waiters ready to serve Cuban specialties like ropa vieja (shredded beef stew) and my boyfriend's favorite, bistec empanizado (breaded steak cutlets). But go through the side entrance and you'll find a nondescript lunch counter with worn stools and a take-out window. There, locals in flip-flops sip their industrial-strength cortaditos (espressos with a splash of milk) and grab sandwiches to go.
I'm not surprised when I meet friends for drinks at The Setai and we spot one of the Simpson sisters. Celebrity sightings are as much a part of Miami now as palms and thongs. But it's nice to know I can go back to the places that really make the city home. Let other folks wait behind the velvet ropes.
Food
Swensen's 1586 S. Dixie Hwy., Coral Gables, 305/661-7658, Bonanza Split $6
Delicias de Espana 4016 S.W. 57th Ave., Miami, 305/669-4485, tapas from $2.75
Cafe Tu Tu Tango 3015 Grand Ave., Coconut Grove, 305/529-2222, small plates from $4
Prime 112 112 Ocean Dr., Miami Beach, 305/532-8112, steaks from $28
David's Cafe II 1654 Meridian Ave., Miami Beach, 305/672-8707, bistec $14
Activities
Miami Heat 786/777-1250, ticketmaster.com
CocoWalk 3015 Grand Ave., Coconut Grove, 305/444-0777
Crandon Park 4000 Crandon Blvd., Key Biscayne, 305/361-5421
Nightlife
The Setai 2001 Collins Ave., Miami Beach, 305/520-6000, martinis from $15