Money is biggest stress on vacation, survey shows
By Michelle Baran
September 29, 2021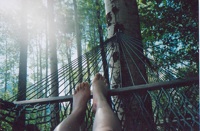 Courtesy <a href="http://www.flickr.com/photos/sleepyrambling/2530111360/" target="_blank">Flickr/An P-Ham</a>
Yes, vacations are supposed to be about de-stressing. But there can still be plenty of tension no matter how hard we try to make getaways relaxing.
The top three things that cause friction on vacation are money, sightseeting and food, according to a recent survey of 1,000 U.S. consumers conducted by independent research company TNS, and commissioned by SpringHill Suites by Marriott. Some 26 percent of Americans said they squabble about how much money to spend when they are on vacation, 22 percent disagree about what to do while traveling, and 9 percent disagree about where to eat while on vacation.
Three-quarters of survey respondents said that taking a vacation this year will be vital to their mental health. Among the reasons why, 44 percent cited de-stressing, 37 percent are hoping that getting away will lift their spirits, and 8 percent are hoping that a vacation will help get their relationship back on track.
But despite a resolve to relax, financial stresses find vacationers even when they're trying to disconnect from it all. According to the survey, 64 percent of women and 41 percent of men report feeling guilty about spending money while on vacation.
Certainly, traveling with kids can also add to the stress. To deal with kids who act out on the road, parents said they either snapped at youngsters, ignored them or took some deep breaths.
So, how do vacationers bounce back from a stressful scenario?
There's nothing like a good nap, or a long night's sleep to relieve tensions. Americans cited sleep as the number one activity that is most likely to relieve stress after a conflict while on vacation.
What about you? What stresses you out most while on vacation, or do you successfully detach and relax? Let us know by voting in our poll or sharing your best, and worst, stories of tension and relief below.
More from Budget Travel:
Got Stress? Get to Puerto Vallarta