Why You Should Drink Tomato Juice When You Fly
By Liza Weisstuch
May 18, 2018
Oliver Nowak/Dreamstime
United Airlines announced they were taking tomato juice off the service cart. Travelers were livid. Turns out science justified the outrage.
The Twitter backlash against United Airlines earlier this month quickly escalated to fever pitch, and it had nothing to do with aggressive passengers or legroom or malfunctioning seatback screens. After the airline announced a plan to scrap tomato juice from its drink repertoire, it nearly caused mutiny—people threatened to ban the carrier, some posted humorous memes, and some contemplated why they were obsessed with the salty red beverage when they fly. If you're among the significant proportion of passengers who find themselves overcome with a hankering for a disposable cup filled with room-temperature crimson canned tomato juice, you understand the outrage at the thought of it suffering the same fate as SkyMall, which went to the great shopping catalog graveyard in the sky in 2015.

The digital uprising caused a quick reversal, and United tweeted "You say tomato. We say, we hear you. Tomato juice is here to stay. #letscallthewholethingoff" on May 10. 
TOMATO JUICE: BETTER THAN BEER?
But the viral hullabaloo wasn't just a game by a few bored trolls. Science is involved. Tomato juice, while rarely ordered at sea level, is an appealing choice at 30,000 feet because of the effect that altitude has on our tastebuds. Perhaps the most solid research came from a 2010 study by the Fraunhofer Society, a German research institute that was hired by Lufthansa when the German airline realized they were going through 53,000 gallons of tomato juice in a year. Compare that to 59,000 gallons of beer. The thought of tomato juice giving beer that kind of competition seems ludicrous, so it's easy to understand why executives were confounded.
FLYING AFFECTS YOUR SENSE OF TASTE
Fraunhofer's experiments involved replicating cabin conditions, including the 10 to 15 percent humidity level that's standard on airplanes. Those levels dry out your nose and mouth, diminishing your sense of taste. Add to that the low pressure, which decreases oxygen levels in your blood, thus dulling odor and taste receptors, and the appeal of a strongly flavored beverage like tomato juice starts to make more sense.
"We learned that tomato juice being on ground level is rather... I'm not saying moldy, but it tastes earthy, it tastes not overly fresh," Lufthansa catering executive Ernst Derenthal told NBC New York when the findings were released. "However, as soon as you have it at 30,000 feet, tomato juice shows, let's say, its better side. It shows more acidity, it has some mineralic taste with it, and it's very refreshing."
There's actually another factor: sound. A 2015 study by Cornell University points out that we hear 85 decibels while soaring through the sky in a metal tube at 575 miles per hour. According to a release, Robin Dando, assistant professor of food science at the university, said the study confirmed that taste is compromised when exposed to extremely high noise levels, but only specific tastes. Sweet receptors are deadened, but sense of umami, the Japanese term for that elusive balance of sweet and salty flavor, is enhanced. Tomato juice is strong in umami. 
EVERYBODY'S DOING IT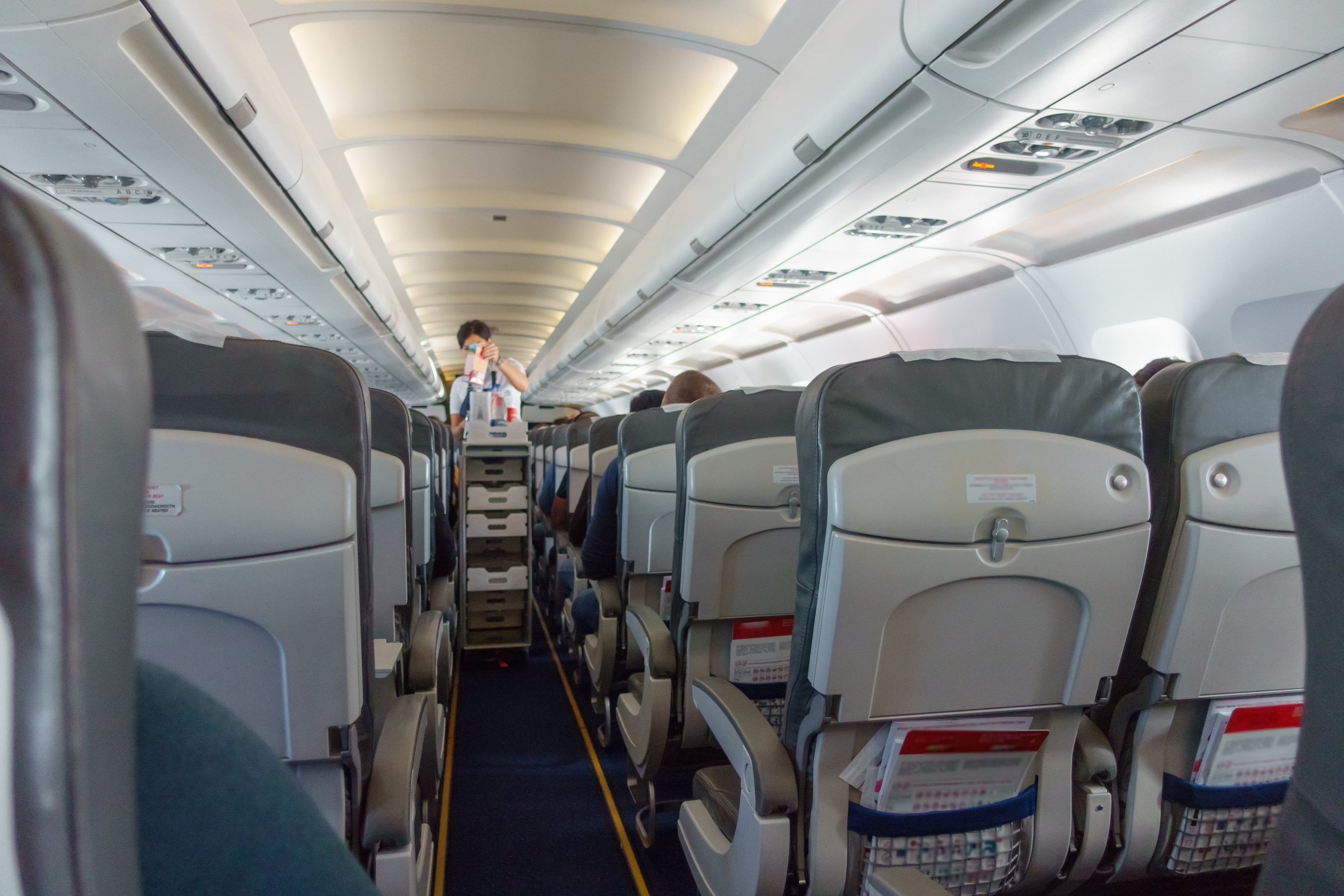 But wait—there's more! There's one more factor at play here: the power of suggestion. Picture it: you're out to dinner with friends and you're debating on what entree to order. Your friend tells the waiter he'll have the sea bass. Suddenly, your decision is made. So next time you're flying and the guy next to you orders tomato juice and the flight attendant cracks open a can and you start to salivate, go on and ask for one too. And if you want to add vodka to transform that sad little can of tomato juice into an iconic mile-high Bloody Mary, we won't tell. 
Plan Your Next Getaway