Utrecht: Holland's "Festival City"
By A. Christine Maxfield
October 3, 2012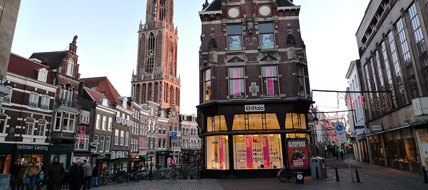 Courtesy <a href="http://www.flickr.com/photos/zoetnet/4236629311/" target="_blank">zoetnet/Flickr</a>
Although Amsterdam is as much of an experience as it is a place, the city of Utrecht—the fourth largest in the Netherlands and an enclave for students and artists alike—provides an idyllic setting for families. With at least 16 festivals year-round, this first-century city proves that there's much more to Holland than windmills and tulips.
Culturele Zondagen: Cultural Sundays is a series of monthly events supported by local art institutions to create a theme relevant to Utrecht, from the passion of voetbal (soccer) to performances at the Oudegracht (Old Canal). Many disciplines—from opera, literature, street culture, and storytelling—are professionally represented during the events divided amongst dozens of locations. June 5–6, July 4, Sept. 12, Oct. 29–31, Dec. 19, , 011-31/302-323-080, free.
Festival de Parade: A roving festival that travels from Rotterdam to Amsterdam, the circus-like setting highlights street-theater performance, dance, musicians, and filmmakers both young and old. To really feel like you're part of a carnival, dinner is served in a mini ferris wheel. The Parade's reputation precedes itself, so when the sun sets and the party rises, there's a special section set aside for the younger members of the family. July 16–Aug. 1, Moreelsepark, 011-31/334-654-555, free to $10.
Festival Oude Muziek: The internationally renowned Early Music Festival has been an area institution for nearly three decades, with more than 60 classical concerts performed in church venues. This year's theme centers around music from the eras of the four Louis (XIII-XVI), including both instrumental and vocal French Baroque. Aug. 27–Sept. 5, Muziekcentrum Vredenburg and other locations, 011-31/302-329-010, free to $55 including lunch.
Europe: Day 4, Amsterdam