5 National Parks to Visit in Winter
By Lauren David
November 29, 2021
HaizhanZheng - Istock
These National Parks are the best with a blanket of snow.

The short daylight hours and cold temperature invite us to stay indoors but venturing out to a National Park in the midst of winter has its own benefits—less people. The swarming crowds of summer are gone, offering a chance to see these splendid parks at your leisure and appreciate the landscape, often blanketed in snow. There are plenty of winter activities inviting you to enjoy the snow, such as hiking, tubing, sledding or cross-country skiing. Visiting in winter requires being extra prepared with proper hiking shoes and adequate clothing for freezing or below zero temperatures so make sure to pack your gloves, scarves, ear muffs and rain gear.
Big Bend National, Texas
Big Bend National Park, located in the western region of Texas and bordering Mexico, encompasses part of the Chihuahuan Desert and Rio Grande. The park was created in 1944 and there are fossils dating over 130 million years ago that highlight the expansive geological diversity. The Chiso Mountains are a special part of this park because the entire mountain range—spanning 40 square miles—is within the confines of the park and formed from volcanic activity in the Eocene epoch.
Snow isn't common in the winter and day time temperatures are often in the 70's, making it great weather for hiking. Though be prepared for near or below zero weather as the cold sets in as soon as the sun goes down. Hop in the car and enjoy the Ross Maxwell Scenic Drive that leads to Santa Elena Canyon, a 1,500-foot vertical chasm made of limestone and is along the border between Mexico and Texas. Stop frequently on this 30 mile road, where there are plenty of overlooks and monuments or turn off and hike on one of the many well-marked trails.
Bryce Canyon National Park, Utah
Bryce Canyon is magical in winter with layers of snow set against the red rock hoodoos and spires. Located in south central Utah and established as a park in 1923, ponderosa pines and fir-spruce forests thrive along with plenty of wildlife in this amphitheater shape of plateaus and meadows. The park has 56 square miles to explore. Some roads, including Fairyland Road and Paria View Road are left unplowed where you can traverse the expansive snow with snowshoes or cross-country skis. Sections of the Rim Trail are open as well where you can enjoy the vistas of the Main Amphitheater and the Bristlecone Loop Trail. You can also opt for sledding above the rim, one of the few areas where this is possible. If you want a break from the snow, hop in your warm car and stop along at some of the main vista points to take in the views.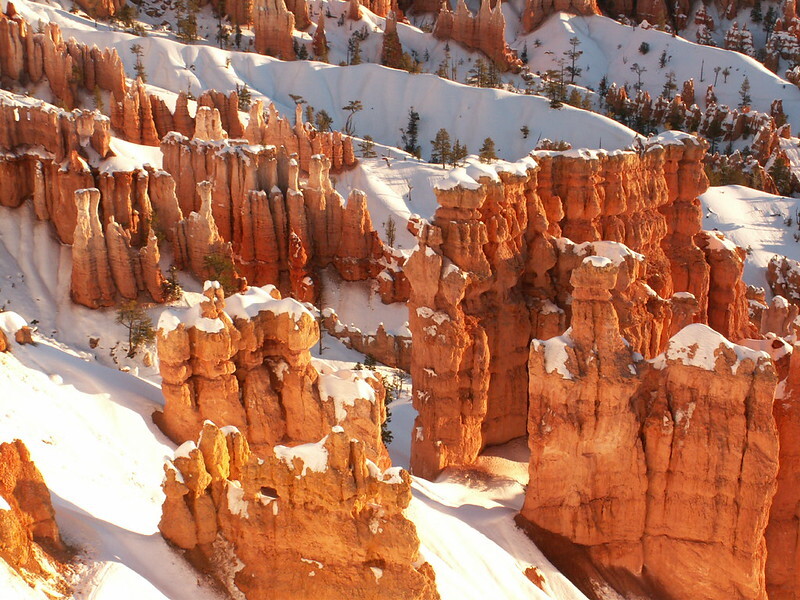 Glacier National Park, Montana
Glacier National Park, created in 1910, has over a million acres with an ecosystem that has been protected and mostly undisturbed. Snow blankets the mountain peaks and glaciers and the coniferous forest of larch, firs and spruce trees serve as a backdrop for Lake McDonald. Mountain goats, Bighorn sheep, beavers, nine species of bats, as well as Grizzly Bears are just some of the 71 different types of mammals that live in the park. Going-to-the-Sun Road is one of the highlights—spanning 50 miles with challenging, hairpin curves. This is the only road that crosses the park and passes through the Continental Divide, though during the snow filled months only certain parts of the road are accessible. Upper Lake McDonald is a popular snow area where you can ski up to McDonald Falls or Sacred Dancing Cascade. Visit Marias Pass, known by the locals as the "summit," where skiing and snow activities are often ideal. There are plenty of routes for cross-country skiers and snowshoe fans who want to experience the solitude in this vast oasis.

Olympic National Park, Washington
Covering almost a million acres and spanning from sandy beaches to mountain peaks to lush fir and cedar tree rainforests, the geography of this park is unique. Created in 1938, it is designated as a World Heritage Site by UNESCO and as an International Biosphere Reserve. In the colder months, Olympic National Park is beautifully draped in snow with a myriad of activities to partake in. Hurricane Ridge is a haven for snow lovers, offering downhill skiing and snowboarding and an area for tubing and sledding or just playing in the snow. There are several trails for cross-country skiers and snowshoers, who prefer to head into the backcountry or connect with nature as they traverse the white powdery snow.
There are frequent storms on the Pacific coast in winter so being attentive to weather conditions is fundamental. Between bouts of harsh weather, low tide is an optimal moment to take a stroll along the sandy beach. Visit the Hoh rainforest in the north of the park where you can surround yourself among a variety of trees, including Red Cedar, Big Leaf Maple and Douglas Fir or go towards the southwestern area of the park and hike in the Quinault rainforest with a distinct geography of alpine meadows, lakes and peaks carved by ice.
Because of the geography of this park, the weather can change at a moment's notice so keep this in mind when planning your trip and once you arrive with your day to day plans.
Yosemite National Park, California
Waterfalls, meadows and the granite wall of half dome makes Yosemite famous. The park was first protected in 1864 and became part of the National park service in 1890. The beauty of visiting in the colder months is experiencing this 1,200 square mile park when crowds have dissipated, offering plenty of solitude.Yosemite Valley and Wawona are accessible year-round by car but many roads close due to the snowy terrain, making traversing by foot one of the best ways to enjoy the park. Many trails are open with various options from easy and low-key hikes to more challenging ones where you can navigate through coniferous forests filled with ponderosa and sugar pine, incense cedar, white and Douglas fir trees or stare up at Giant Sequoias.
Temperatures can be mild during the day, although freezing temperatures and snow are common. If you time your visit when there is snowfall, typically between December- March, winter wonderland options abound from sledding, tubing, snowshoeing or snowboarding and skiing down the oldest slope in California on Badger Pass. Curious about snowshoeing? Take a ranger-led snowshoe walk where you'll be in a good company while you learn about the sights, although be prepared for sore muscles afterwards because it's more challenging than it appears.
Disclaimer: Make sure to check the park website to ensure the activities and areas of the park you wish to visit are open and accessible. Some roads and park areas have been closed due to Covid and/or to inclement weather. Please also respect measures to prevent the spread of Covid, including passing through towns en route to your destination.
Plan Your Next Getaway