11 Spectacular Labor Day Getaways
By Kaeli Conforti
August 16, 2013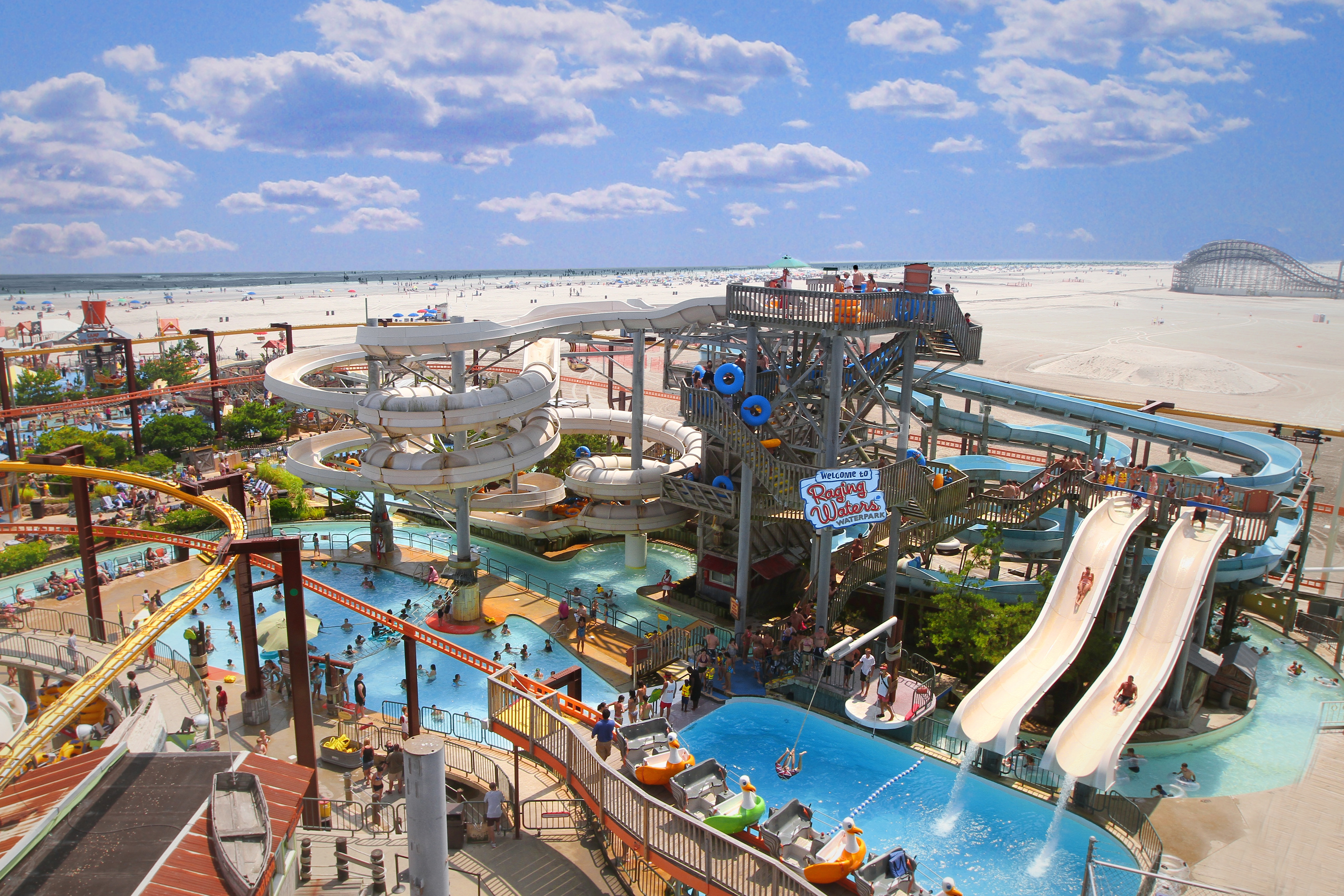 Courtesy Morey's Piers & Beachfront Waterparks
Looking for the ultimate long-weekend escape? Relax! Budget Travel has done all the homework. Whether you're craving one more trip to the beach or are searching for the perfect end-of-summer festival, getting away has never been quicker, easier—or more affordable.
Labor Day weekend may be just around the corner, but it's not too late to plan the perfect three-day getaway. From coast to coast and around the world, there are plenty of free and budget-friendly activities to choose from. Whether you're in the mood for a Jazz Festival in Chicago, a quirky traditional event held every year in Park City, or an American music extravaganza in Virginia Beach, we've rounded up 11 exciting events and festivals around the country you won't want to miss.
Daytona Beach: For family-friendly fun on a famous Florida beach
While the words Daytona Beach may conjure up scenes from MTV's Spring Break, the area has come a long way since then, and is now much more of a family destination offering a wide variety of kid-friendly events, festivals, and beachfront entertainment fit for all ages. This Labor Day Weekend, catch a free concert at the Daytona Beach Bandshell on Saturday night starting at 7:15 p.m. featuring a performance by Rocket Man, an Elton John tribute band—stick around for a fireworks show starting at 9:45 p.m. Baseball lovers can watch the Daytona Tortugas play ball on Sept. 4th, 5th, and 6th at the Jackie Robinson Ballpark, where dogs are welcome and the kids will have a chance to run the bases—don't miss their fireworks show Saturday night. Also while you're in town, stop by the Daytona International Speedway for a behind-the-scenes look at all things NASCAR. Hotels in this part of Florida are super affordable over Labor Day Weekend, too, with rates at the Courtyard Daytona Beach Speedway/Airport starting at $109 a night and rates at the Residence Inn Daytona Beach Speedway/Airport starting at $159 a night.
Lake Tahoe: For carnivals, boat races, and great discounts on ski gear

On Saturday, Sept. 5th, you'll have the opportunity to board one of South Shore's two Mississippi paddlewheeler boats, California's Tahoe Queen or Nevada's M.S. Dixie II, for the 23rd annual Great Lake Tahoe Sternwheeler Race, a unique only-in-Tahoe experience that can be yours for from $25 per adult ($10 per child) including brunch and drink specials. If you'd rather be a spectator, cheer runners on from the sidelines as they compete in the fourth annual Heavenly Mountain Run, racing from the California Base Lodge at 6,565-feet all the way up to the Tamarack Lodge at 9,150-feet. You can also enjoy live music with an impressive fireworks display over the lake Sunday night starting at 8:30 p.m. Another notable weekend event is the 6th annual Sample the Sierra Festival on Sept. 6th from 12 p.m. to 5 p.m. at Bijou Community Park, where you can sample fresh farm-to-table food and wine creations by local chefs and farmers. Don't miss the chance to stock up on ski gear for next season at the annual Heavenly Sports Labor Day Tent Sale, where you can save up to 70 percent on ski and snowboard equipment at Heavenly's California Main Lodge on Sept. 5th from 9 a.m. to 6 p.m., Sept. 6th from 10 a.m. to 5 p.m., and Sept 7th from 10 a.m. to 2 p.m.
Puerto Rico: For a no-passport-required Caribbean beach break
Airfares to this sizzling U.S. island (no passport required!) are around $445 for Labor Day travel. Sound good? Picture yourself lounging on the beach listening to the waves crash in the distance, fruity drink in hand. Spend some time exploring Puerto Rico at your own pace with this travel package to San Juan that includes ocean view accommodations at La Concha Resort, a Renaissance Resort located in San Juan's trendy Condado neighborhood. You'll also get daily breakfast for two at the resort's Ocean Café Restaurant among other perks, from $186 a night. (Note: While Labor Day falls during the Atlantic/Caribbean hurricane season, the NOAA has predicted a quieter season than average for 2015, with only 1 to 4 hurricanes, and possibly only 1 ranked as a Category 3, serious, hurricane.)
RELATED: 25 Incredible Road Trips BT Readers Love
The Jersey Shore: For beachside water parks on the pier

The beaches along the Jersey Shore have definitely bounced back from last year's storm damage with style—some of them even made our list of America's Most Awesome Boardwalks, and Ocean City, N.J. was featured as one of BT's favorite beach towns. This Labor Day weekend, pay a visit to one of New Jersey's many beachside waterparks, like Raging Waters and the Ocean Oasis Waterpark & Beach Club at Morey's Piers in Wildwood, now celebrating its 46th season, for a fun way to cool off in the hot summer sun, whether you prefer to relax in the lazy river or take on adrenaline-pumping attractions like the Cliff Dive slide and WipeOut. Waterpark passes start at $44 for adults and $36 for children under 48". Seniors over age 65 get in for $20 with a valid photo ID.
Paris: The perfect place for a romantic three-day weekend getaway
A three-day weekend in Paris? Yes, you can! In fact, Budget Travel Senior Editor Jamie Beckman just did it. Find a neighborhood that you like, book a comfortable hotel, and relax—don't overschedule and you'll enjoy exploring on foot, visiting green spaces, and soaking up the romance. Hotel 29 Lepic's stellar location, near the Sacré-Coeur basilica and Moulin Rouge in Montmartre, is tough to beat for the price (from about $70 per night, 29lepic.fr). And though average airfares from the U.S. to Paris are around $1,063 right now, WOW airlines has round-trip flights to Paris out of Boston and Washington, D.C., starting at about $384 after taxes.
Washington D.C.: For free concerts and kayaking on the Potomac

Each year on the Sunday of Labor Day weekend, the National Symphony Orchestra performs a free concert for the public on the West Lawn of the U.S. Capitol at 8 p.m. While no tickets are required, it is recommended that you get there early to get a good spot—gates open as early as 3 p.m. and you can watch them rehearse at 3:30 p.m. The 27th annual DC Blues Festival is slated for Saturday, Sept. 5th at the Carter Barron Amphitheater from noon to 7:30 p.m., with performances by Sharrie Williams, James Armstrong, and The Mojo Priests among others. You'll also have the opportunity to attend vocal, guitar, and harmonica workshops led by talented Blues artists at the John Cephas Workshop Stage. The DC Blues Festival is free and open to the public. Want to enjoy the great outdoors during your long weekend? Consider renting a kayak or canoe from the Thompson Boat Center for a totally different view of the city from the Potomac. Canoe rentals cost $16.50 per hour or $33 for the day and can hold up to three adults or two adults and two small children. Rent a single kayak for $16.50 per hour or $44 per day, or a double kayak for $22 an hour or $55 per day.

RELATED: 20 Best-Kept Secrets of Washington D.C.
Chicago: For free art fairs and a jazz festival

The 37th annual Chicago Jazz Festival takes place this year from Sept. 3rd to Sept. 6th at the Chicago Cultural Center in Millennium Park. Admission is free and you'll have the chance to view performances by Muhal Richard Abrams, Jose James, and Dee Dee Bridgewater among others. From Friday to Monday, Washington Park is home to the 26th Annual African Festival of the Arts, an event featuring exhibitions by Chicago's best artists. General admission tickets cost $20 for adults at the gate, $15 in advance; family and weekend passes are available for $40. Click here for more fun things to do in Chicago year-round.
Virginia Beach: For three days of bands on the beach—and a half-marathon

Music lovers, rejoice! For three days over Labor Day weekend (Fri-Sun), more than 20 bands will take the stage for the 32nd annual American Music Festival playing all kinds of music—rock and roll, jazz, blues, country, and R&B—by local, regional, and national bands on a giant beachfront stage on 5th Street as well as several outdoor stages at the 17th Street Park, the 24th Street Park, and the 31st Street Park. Highlights include big-name artists like the Steve Miller Band on Friday night, Rebelution, The Wailers, and G. Love & Special Sauce on Saturday night, and a performance by Sheryl Crow on Sunday night. Tickets cost $20 in advance and $25 the day of the show. This year, you can purchase a Passport Pin for access to all three shows, from $40 when purchased in advance. Those seeking a more active vacation can sign up for the Rock 'n' Roll Virginia Beach Half-Marathon, a race through the streets of the city on Sunday, Sept. 6th, that raises money for St. Jude's Children's Research Hospital. Registration prices may vary; check the website for more details.
Miami: For parties, brunches, and bike rides on the beach

Party people won't want to miss Reload, a pool party event from noon to 8 p.m. on Sunday, Sept. 6th, at the Shore Club featuring international DJs and the best house music in South Beach. Refuel at the Shore Club's Sunday brunch, where ladies pay $44 per person including unlimited mimosas and bellinis (men must pay $44 for the brunch plus an additional $20 for unlimited drinks)—access to the Bloody Mary bar is an extra $20. Tickets to the Reload pool party start at $40 per person for all day access or from $30 per person for pool party access between noon and 3 p.m. Early bird tickets start at $10 per person when ordered ahead of time online. Take a spin on Miami's public bike sharing program,Citi Bike Miami (operated by Deco Bike Miami), for a spin, and rent a bike anywhere from 30-minutes to a full day. 30-minute passes are available for $4; one-hour passes for $6; two-hour passes for $10, four-hour passes for $18; and one-day passes are available for $24. Looking for a calmer beach experience? Stake out the perfect spot on any of Miami Beach's seven miles of sand. The best part: it's free.
DON'T MISS: 20 Most Awesome Boardwalks in America
Park City: For historic parades and the Running of the Balls

Labor Day is more commonly referred to as Park City Miner's Day in this part of Utah—a tradition dating all the way back to 1898. Each year there's a celebration in honor of the area's rich mining heritage, complete with a community pancake breakfast, live music, races and games for the kids, the Funky 5K Fun Run, and the annual Miner's Day Parade down Historic Main Street. Perhaps the most intriguing part of the celebration is the annual Running of the Balls, a charity fundraising event held on Monday at 10:45 a.m. where participants "adopt" a ball for $5 (or 5 balls for $20), and watch in awe as thousands of them are released down Main Street, racing to the bottom of the hill. The first ten to reach the bottom of the street are tracked, earning their owners a grand prize of airline tickets, season ski passes, or any number of other donated surprises.
LEGOLAND: Kiddie paradise in Florida & Southern California
If you've got little ones, LEGOLAND is like Paris for kids—always a good idea. With fun rides, hands-on activities, and a hotel that feels like it's built out of those iconic colorful blocks, the theme park's So. Cal and Florida locations are a fun way to say bye-bye to summer. Even better, if you purchase LEGOLAND dollars (now available on the TravelEx currency exchange) through Labor Day you'll get free parking, free admission to the park's water park, and a free order of the theme park's famous Granny's Apple Fries.