9 Items That Will Make Packing a Breeze
By Maya Stanton
April 15, 2019
Save time and hassle getting your essentials packed so you have more time to enjoy your trip.
Packing can be a drag, but it's much less stressful if you've got the proper equipment. From luggage racks to packing cubes, we've rounded up our go-to tools for making the experience easier, plus the non-negotiable items (think: a smart lint roller, a sleek electric toothbrush) that live in our suitcases year-round. Now all we need is someone to unpack for us.
1. For a Well-Organized Suitcase
(Courtesy Shacke)

Some of us stuff as many items of clothing into our carry-on as possible, even if we have to apply a knee to get it to zip. Others prefer a minimalist approach, and for that well-organized, streamlined experience, packing cubes are key. Shacke's set of four comes in varying sizes that can be mixed and matched to hold everything you need for a short weekend hop or an extended 10-day stay, and your suitcase will be a Type A's dream for the duration. (Pro-tip: Consider packing by day rather than by clothing category—i.e., all of Monday's gear goes in one cube, rather than, say, pants in one and socks in another—so you're not opening them all up every time you get dressed.)
Shacke Pak 4 set packing cubes with laundry bag, $30; shacke.com.
2. For a Hassle-Free Packing Experience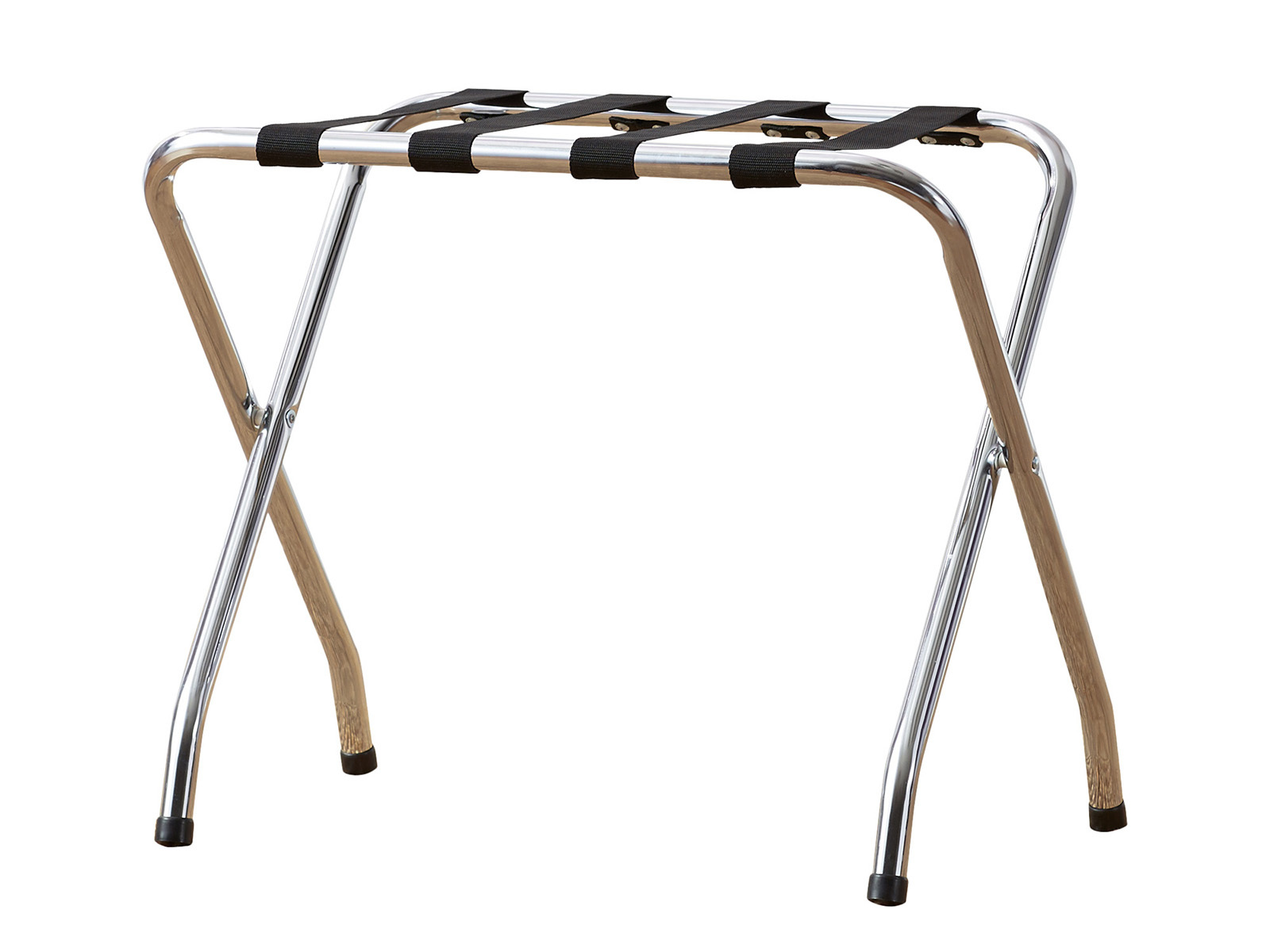 (Courtesy Wayfair)

If you're regularly on the go, packing can be a literal pain, especially if your suitcase is on the floor and you're constantly bending down to do the job. (And if you're putting it on your bed to load it up, stop immediately! Those wheels are just as filthy, if not more so, than airport security bins, and we all know how germy those things are.) A sturdy, no-frills luggage rack is a small luxury, but it's one that'll make a big difference. And as a bonus, your houseguests will surely appreciate it as well.
Wayfair Basics chrome luggage rack, $30; wayfair.com.
3. To Wring Out Every Last Drop
(Greg Marino)

Americans are reluctant to take paid time off as it is—why squander those hard-earned days by not enjoying them to the full extent? Surely you can squeeze in one last dip in the ocean before you head to the airport—all you need is a place to stash your wet gear. ALOHA Collection's splash-proof pouches keep damp bathing suits from leaking all over everything else in your pack, and with an array of extremely cute designs to choose from, they're functional and fashionable too.
The Mid-Size pouch, $40; aloha-collection.com.
4. For a Carry-All That's Not a Space Hog
(Courtesy Everlane)

Planning on doing some serious souvenir shopping, or just looking for a way to carry everything you need for the day without resorting to a massive tote? When it's folded into its front pocket, Everlane's packable backpack measures just 9-½ inches by 6-½ inches, so it'll slide right into your carry-on, and it's emblazoned with a cheery "bon voyage" that'll get your trip started on the right foot.
The packable backpack, $35; everlane.com.
5. To Wrangle Your Toiletries
(Courtesy Topo Designs)

Dopp kits are often a bottomless pit of toiletries and accoutrements, but the version from Topo Designs can help you avoid all that. Its unique triangular shape allows it to sit upright on narrow hotel sinks or shelves, and even though the interior is surprisingly spacious, the brightly colored lining makes it easy to find whatever you need. Whether you're packing the entire medicine cabinet or traveling light, you'll have plenty of room.
Dopp kit, $34; topodesigns.com.
6. For a Deep Clean On the Go
(Courtesy Quip)

Once you've switched from a standard brush to a water pick or an electric toothbrush, it's tough to go back. Hardcore dental equipment doesn't tend to be very portable, but when you're on the road, Quip's battery-operated electric model is just the ticket: With soft bristles and a sonic vibration motor, plus a sleek travel cover with a suction strip that adheres to any glossy surface, freeing up precious sink or shelf space, it'll help you stick to your oral-hygiene regimen.
Electric toothbrush set, from $40; getquip.com.
7. To Keep Your Clothes Pristine
As much as we love our pets and miss them while we're away, we really don't need our apparel to serve as a reminder of the furry friends we've left behind. This clever lint roller from Flint is less than six inches long when closed, but it extends and retracts as needed and takes up next to no room while it's at it. Refills are cinch, and it comes in so many colors and designs, you're bound to find one that matches your luggage.
Retractable lint roller, $10; amazon.com.
8. For Cozy Toes
(Courtesy L.L. Bean)

Even in the sunniest of climes, hotel air conditioning can be excessive. Your favorite well-worn slippers should probably remain where no one else can judge—or see—them, but a pair of cushy, cozy socks will keep your feet from freezing, no matter how low your travel companion likes to set the thermostat. This super-soft cotton-ragg set from L.L. Bean won't itch or stretch; they're also quick drying and moisture-wicking, and they won't occupy much real estate in your suitcase either.
Cotton ragg camp socks, two for $20; llbean.com.
9. To Avoid That Rumpled Look
Who wants to waste precious time and energy struggling with an unfamiliar iron? A portable steamer is a no-fuss way to eliminate wrinkles—and it's much more effective than hanging your clothes in the bathroom while you shower and hoping that does the trick. (...what, like you haven't tried it?) This compact number from URPOWER weighs less than two pounds and measures just over eight inches tall, produces steam in a matter of minutes, and comes with a heat-resistant glove and a pouch to stash it in.
URPOWER garment steamer, $25; amazon.com.
Plan Your Next Getaway