Wild & Wonderful Leaf-Peeping Destinations You Haven't Seen Yet
By Maya Stanton
October 18, 2017
Courtesy Mariah Baron
Go way beyond the conventional fall getaway with a new interactive foliage map that unlocks the secrets of spectacular campsites across America.
Leaf-peeping season is flying by, but there's still time to catch the colors in all their glory—if you know where to look. Enter: The fall-foliage map from Hipcamp, a website that aims to get people outside and into nature via campsites at national parks and private properties around the country. Input your travel dates, tailor your search by price, group size, amenities, activities, or terrain, and the results will reveal where leaves are still at their peak and what properties are available to book, so you can choose a location and pick your accommodation in one fell swoop. Having a tough time deciding between New England and the Smokies? Let the destination be your guide. From glamping in the Adirondacks to snuggling up in a tipi at an animal sanctuary in the shadow of Mt. Rainier, these are not your average drive-in campsites.
Glamping at Wintergreen Lake in the Adirondacks. (Courtesy Mariah Baron)
Get away from city life and back to nature with a glamping trip to Wintergreen Lake, a private retreat in the Adirondacks run by the same family for seven generations. Go for a hike and feel the leaves crunch beneath your feet, then spend the afternoon on the water, canoeing or kayaking, before heading back to home base: a platform tent kitted out with soft rugs, cozy linens, and mood lighting, courtesy of string lights at the entryway and lanterns at the bedside. A nearby cabin with full electricity and comfy couches supplies an extra lounge area, while the lakeside firepit—complete with a pair of the region's namesake Adirondack chairs—provides the perfect position for star-gazing, bird-watching, or canoodling.

Butterfly Farm Sanctuary's EarthSeed tent. (Courtesy Bryan Collings)
In the Great Smoky Mountains, the Butterfly Farm Sanctuary offers an Instagram-worthy photo op for anyone seeking personal clarity minus the roughing-it part of the outdoor experience—in the spiritual retreat's EarthSeed tent, you'll find solitude without sacrificing the amenities. With its queen-size bed, carpeted floors, and in-tent furnace allowing for year-round use, nearby bathroom and kitchen facilities (vegetarian cooking only!), and a private deck for morning meditations, you'll be saying "serenity now" in no time.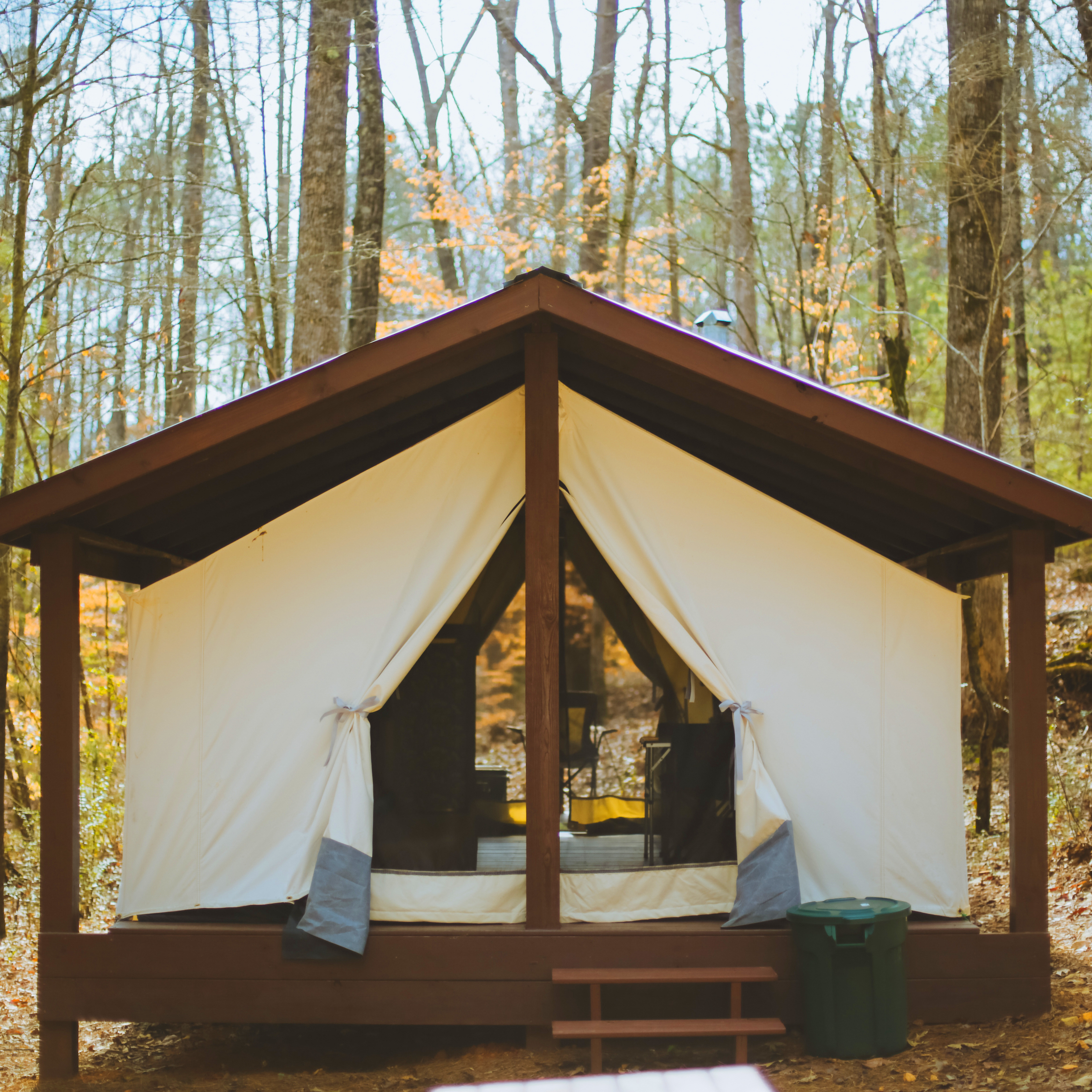 Beechwood Cabin Tent. (Courtesy Andrew Shepherd)
For something similarly civilized but a little more spacious, consider one of the cabin tents at Thus Far Farms in South Carolina—it's the best of both worlds, with sturdy wood flooring and metal roofing, plus canvas tenting to remind you that you're out in the elements (but still keep you warm and dry). There's a kitchen with a camp stove and dish-washing area for easy meal prep, dining tables inside and out, a wood stove, and an indoor toilet; the solar-heated shower is just steps outside the door.

Forage for mushrooms at Hawk Meadow Farm. (Courtesy Ezekiel Gonzalez)
Fans of fungi will appreciate a stay at a working shiitake farm in the Fingerlakes, set on 60 acres of woods and fields in the middle of wine country, complete with a crystal-clear stream, plenty of leafy colors, easy access to vineyards, and log-grown fresh mushrooms for breakfast.

If 'shrooms aren't your thing, try taking in the stunning views of the Blue Ridge mountains from a private perch on a North Carolina farm, just outside of Pisgah National Forest. Pitch your tent at one of the secluded campsites, explore the property's fields and trails, and revel in seclusion under the stars. But only if you want to be alone—the property is also home to a music and arts retreat, so the vibe is warm and welcoming, with live jam sessions and a community house with a wood-burning stove. Be sure to tour the solar-powered recording studio and tropical subterranean greenhouse before you make tracks.
Further north, on the banks of the Winooski River in Vermont, a public campground called Onion River plays host to campers, hikers, and leaf-peepers from May to October. It's not quite as private as some of the other places mentioned here, but the beautiful surroundings more than make up for it. Go for a dip in the river if it's not too cold, pick apples from the orchard, and wander the trails before heading back to your site for a quiet evening around the firepit.