7 Things to Do in Asheville, NC
By Liza Weisstuch
March 23, 2018
Sean Pavone/Dreamstime
A vibrant arts scene, creative restaurants and beer galore dazzle in this Southern jewel of a city.
The history of Asheville, North Carolina, is a history of vacationing and just plain getting away from the rush and hubbub of urban life. It dates all the way back to the late 1800s, when George Washington Vanderbilt II became smitten with the mountains-rung town. Among the many draws was the curative mountain climate, which established it as a retreat for tuberculosis sufferers, F. Scott Fitzgerald not least among them. After his first visit, Vanderbilt bought 125,000 acres of land there because you can do that when you're a Vanderbilt. He built a home inspired by French Renaissance chateaus and today it still stands as the largest private residence in the nation. The Biltmore is easily the area's biggest attraction, but it's also been a destination for well-heeled travelers like Edith Wharton, Henry James, and an illustrious collection of presidents, from Theodore Roosevelt to Jimmy Carter to Barack Obama. But you certainly don't have to be a celebrity to enjoy the town to its fullest today, as no fewer than 3.8 million visitors discover each year. Its location—a reasonable driving distance from Atlanta, Charlotte, Nashville, Greensboro, Durham, and many other cities—make it a primo pick for a weekend getaway, but thanks to its epic brewing scene, creative culinary pioneers, and all-around laid-back progressive spirit, chances are you'll need more than a weekend to take it all in.  
GROVE PARK INN: HISTORY AND CLASSIC DESIGN ON DISPLAY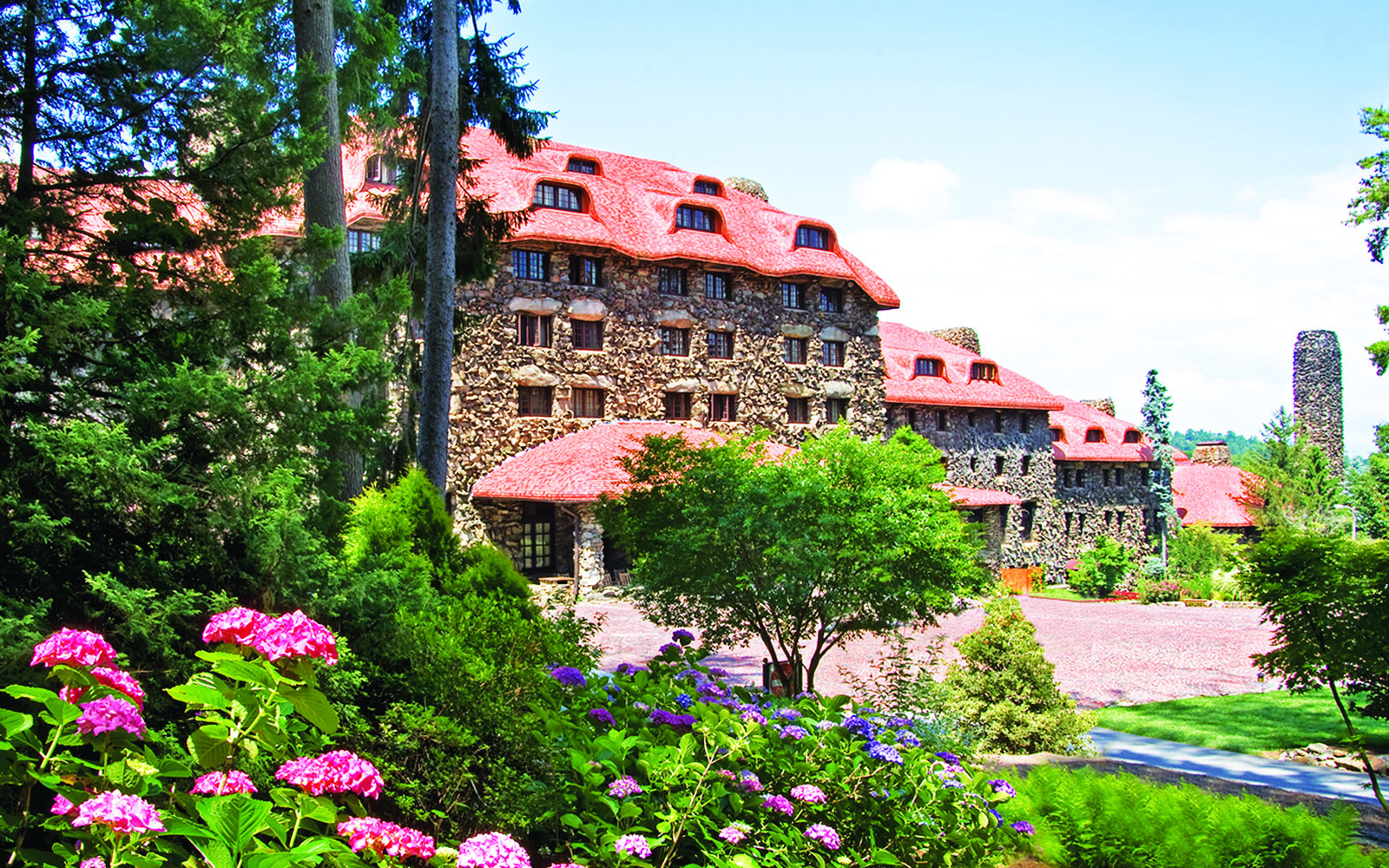 The posh Grove Park Inn is an architectural marvel that tells the history of Asheville. (Courtesy The Omni Grove Park Inn)

The Biltmore is perhaps the city's most high profile tourist attraction, but a sense of early 20th century extravagance is also on display at the Grove Park Inn, which has welcomed guests as notable as Eleanor Roosevelt and Henry Ford. (They're all featured in the portrait gallery in the Great Hall, aka: lobby). Today the inn is a luxury property with a 43,000-square-foot spa, pools, and amenities fit for Saudi royalty, but it also has a museum like quality that's available to anyone. The centerpiece of the Great Hall is an antique grandfather clock worth about $1 million. After you take in the jaw-dropping views from the terrace, head upstairs in the old-timey elevator, complete with an operator, to the Palm Court, one of the first atrium-style hotel lobbies. It's decked out with original Arts and Crafts style handmade furniture as well as photographs that chronicle the circa-1913 construction of this architectural marvel. (Think: mules, wagons, ropes, 10,000-pound granite boulders, and 400 men working 10-hour shifts six days a week.) And while you're there, take note: there's a restaurant on the terrace, so make a plan to stay for dinner during sunset. 
BEER CITY, USA
There are plenty of people and places that have put Asheville on the national radar as a must-do foodie destination, but easily one of its biggest attractions is its beer. So much beer. It's often referred to, in fact, as Beer City, USA because there are more breweries per capita than any other city in the USA. Not bad for a city of about 90,000. One of the star players is Wicked Weed. As a northerner, I hadn't heard of the brewery because its beers haven't been available far outside North Carolina, but that's about to change thanks to its recent acquisition by AB-InBev, the colossus that owns Budweiser and Corona. Not to worry, though, it won't affect the Funktorium, Wicked Weed's industrial-chic taproom. In addition to being one of the most fantastically named beer joints in America, they are devoted exclusively to sour beers. There's an astounding selection of sour beers, the style that Wicked Weed made its name with. With barrels aging in the back and a fun gift shop so you can take a few bottles for the road, this is a place where the hardcore beer nerd can geek out (each selection on a menu board includes the pH level and the type of barrel it's aged in) but it's laid-back enough that novices can feel comfortable asking questions. The community has become such a leading light that gargantuan brands like Sierra Nevada and New Belgium Brewing have established east coast operations here. Tours are offered and they're free.

Any drinker's visit to Asheville would be incomplete, however, without a stop at Highland Brewing, the first legal brewery since Prohibition when it opened in 1994 and the largest independently owned brewery in the southeast today. Oscar Wong, a retired engineer who started it as a scrappy operation in a basement, is known today as the regional godfather of craft brewing. His daughter Leah runs the ship today. The family-friendly taproom is vast yet welcoming with live music five nights a week. There are four core beers and up to eight experimental or limited releases on draft at any time. Tours are offered.
But what makes Asheville a truly exciting beer town is the multitude of breweries that are a bit more far-flung. (But only a bit. This is a pretty small town, after all.) To whit: The Wedge, located on the ground floor of a building with 20 artists studios upstairs. Founded by a metal artist, it's adorned with eccentric and delightfully creepy art. Station yourself at the bar or on the chill wrap-around porch outside and drink up. 

ASHEVILLE PINBALL MUSEUM
About 75 pinball machines and a variety of other arcade games are open for play with the price of admission at the Asheville Pinball Museum. (Liza Weisstuch)

I hadn't expected to spend much time at Asheville's Pinball Museum. I've never been much of any kind of gamer. But this game museum, I quickly discovered, is also a history museum, an anthropology study, and a chronicle of technology, too. All this on top of being a nostalgic arcade. The museum opened in 2013 and now boasts about 75 pinball machines available for playing with themes ranging from race cars to the Rolling Stones to the Terminator to super heroes galore, to name just a few. A kind young employee showed me around and explained how machines evolved from analogue, with not a single digital component, to machines with speech. The then-futuristic looking, now quaint, Pin-Bot machine introduced in 1986 was a literal game-changer with the addition of ramps. Then in 1992 came the advent of dot-matrix displays. But about the fun part: the $15 admission ($12 for kids 10 and under) gets you open access to all the machines, no tokens or coins required. There are also all sorts of circa-1980s arcade games and plenty of other treats for 80s pop culture junkies. A snack bar offers beer and soda. Just one note: it can get very busy and there is a maximum capacity. They don't take reservations so be prepared to wait.

BEYOND BARBECUE: REDEFINING APPALACHIAN CUISINE 
Take everything you know about "Southern cooking" and toss it out the window. Asheville natives and chefs who've gravitated here from elsewhere around the country are redefining Appalachian cuisine. Katie Button, a four-time James Beard nominee, rises to the top of imaginative Southeastern chefs. After cutting her teeth at the acclaimed elBulli in Spain, the native daughter opened the Spanish tapas spot Cúrate, which has an astounding sherry selection to wash down classic Spanish bites, and then Nightbell, which focuses on small plates that showcase seasonal Appalachian ingredients, largely sourced from local farmers. In addition to turning out delicious food and meticulously crafted cocktails, the mission here is noteworthy as well: zero waste. In partnership with Cúrate, the kitchen uses lesser known cuts of meat. Bar director Phoebe Esmon swaps odds and ends with the chefs for pickling, canning, and preserving. The pulp from the house cider is used in a cider/bourbon cocktail makes a cameo in the jam served with the skillet corn bread. 
Creativity extends far beyond the plate at the riverside Smoky Park Supper Club, a casual, lively eatery set in a strategically arranged shipping containers. There's truth in advertising here, as the kitchen specializes in all sorts of wood-smoked morsels, from char-grilled oysters and wood-fired mussels to all kinds of meats. Even vegetarians will be pleased with choices like the charred cauliflower soup. And the cocktails are strong enough to stand up to the food's intense flavors.
WEST ASHEVILLE: SIP, SHOP, SAUNTER
Local pride defines the increasingly hip West Asheville neighborhood. (Liza Weisstuch)

Every city's got at least one: it's the neighborhood whose hip quotient has skyrocketed in just a few short years, thanks to an enterprising creative class. That neighborhood here is West Asheville, which is essentially a single main thoroughfare, Haywood Ave, with boutiques and bars and cafés and restaurants lining both sides for about a mile. I spent about three and a half hours walking from end to end, no small feat when I tell you it was raining buckets the entire afternoon. Nonetheless, I started at the Drygoods Shop, a gorgeous old actual dry goods shop that's been appropriated as a designers' collective. Owner Leigh Anne Hilbert, a seamstress who opened the place in 2011, makes leather/waxed canvas bags under the company name Overlap Sewing Studio. She also offers classes. Among the other makers that claim studio space here and sell their wares are New Life CBD Oil and Meri Hennon, who makes stylish leather bags under the brand Night Heron Studio. Just across the street I popped into Flora, a café/florist hybrid that might be the most zen coffee shop I've ever come across. The florist actually calls itself a "botanical living boutique," as it specializes in living wall installations and the like. The shop space opens into the café, which has soaring ceilings, huge windows looking onto the road, and floral displays covering an entire wall. The coffee, pastries and all the trimming are Asheville-centric. After we chatted about her graduate courses in psychology and her sister who lives in Amsterdam, she told me that even the honey they use is sourced from a nearby organic beekeeper. "It's as local as you can get," she said.
Making my way north, I stopped into Retrocade, which is exactly what it sounds like: a throwback of a spot with vintage arcade games and beer. All-day access to thousands of games fetches just $10. A few storefronts down in a cottage-like setup was On the Inside, a lingerie studio where Elise Olson makes high end unmentionables as well as PJs and accessories. There's an exquisite delicacy to every piece here. True confessions: because of what had become a biblical-caliber storm, I took an Uber the 1.7 miles for dinner at Pizza Mind. As I dried off, I couldn't imagine pizza anywhere tasting better. 
RIVER ARTS DISTRICT
Wander through dozens of artist galleries in the River Arts District. (Liza Weisstuch)

Asheville has long had a gravitational pull on creative types. As early as the late 1800s, women came to the region from more northern states and built lives for themselves as craftspeople. They set up schools and became avid practitioners of the Arts and Crafts style. The arts scene is still thriving, as evident in the River Arts District, a once-industrial neighborhood where warehouses and industrial buildings, like a tannery and a cotton mill, have been appropriated by artists. Now, with their cheery, brightly colored facades, most galleries, many of which are also working studios, are open to the public each day. Some even have drop-in demos or drop-in classes. Odyssey Center for Ceramic Arts, for one, offer pot-throwing sessions most Fridays. I spend a solid few hours browsing delicate pottery, electric-hued landscape painting, and eccentric wax sculptures. And where artists go, affordable eats follow. Check out the globally-accented tacos at White Duck Taco and grab a cappuccino at one of the many laid-back cafes.  
GINGER BEER TAKES CENTER STAGE 
Ginger's Revenge features a variety of housemade ginger beers in a lively industrial-chic setting. (Courtesy Jack Sorokin)

I've walked into many a'specialty bar over the years—a sherry bar in New York City's East Village, a gin bar in San Francisco, and an amusingly quirky bubbles bar called Cava in Kansas City. Never in my wildest dreams, however, could I have imagined a ginger beer bar if you ever dared me to. Husband-and-wife-run Ginger's Revenge is a standout in a city of beer bars. They serve brewed-onsite alcoholic ginger beer—and lots of it. I sampled a flight of honey-chamomile, agave lime, pear rosemary, and dry-hopped. Each offered a different degree of ginger spiciness to shine through. There's a lively block party vibe to the place, what with communal tables and . The night I visited, the resident food truck was Booty's Meat Market, a one-woman-show. The owner (and everything else) dashed about the room taking orders and delivering plates of slow-stewed leg of lamb, cod tacos, and much more. 
Plan Your Next Getaway