7 Great Places to Eat in San Juan, Puerto Rico
By Maya Stanton
January 15, 2019
Maya Stanton
Put on your stretchiest pants and prepare to feast.
With its beautiful white-sand beaches, a picturesque, colorful old town, and tropical Caribbean climes, Puerto Rico's capital city has plenty to recommend it. But if you visit San Juan and don't do some serious eating, you're really missing out. From rich coffee (some of the best in the world) and stellar pastries (be sure to try the quesito, a tangy-cheese-filled treat with a crisp, sugary exterior) to snacks (the stuffed fritters known as alcapurrias are especially addictive) and fine dining, you really can't go wrong. Here are seven delicious, budget-friendly bites from my last trip—each one $18 or less.
1. Jose Enrique
(Maya Stanton)
A chance to support a local civic-minded chef who also happens to be a James Beard award semi-finalist, and one of the island's most lauded culinary ambassadors to boot? Yes, please. Chef José Enrique offered up his restaurant as the initial base of operations for the disaster-relief work his friend José Andrés's organization, World Central Kitchen, did in the wake of Hurricane Maria, and on top of that, his food is really something special. Though it's a casual spot located in the neighborhood of Santurce, in a humble building sans signage, Jose Enrique is hardly nondescript. Between the bright-green exterior and the reasonably priced, ever-changing menu of traditional Puerto Rican favorites, it's one for the highlight reels. For starters, try the poppers ($12), battered and fried chunks of fish in a creamy, spicy sauce, or the crab (above; $14), served cold with tomatoes, red onions, and herbs, doused with lime, and layered with a slice of avocado on a platter of crispy green plantains. Though they're equally good, the mains are pricier, so consider making a meal of the appetizers, and you'll walk away happy. (Pro tip: The restaurant doesn't take reservations, so arrive early and prepare to queue up. Lunch is a great option, especially mid-week—I went on a Wednesday, got there when it opened, and had my pick of the tables.)
176 Calle Duffaut, San Juan; 787.725.3518; joseenriquepr.com.
2. Lote 23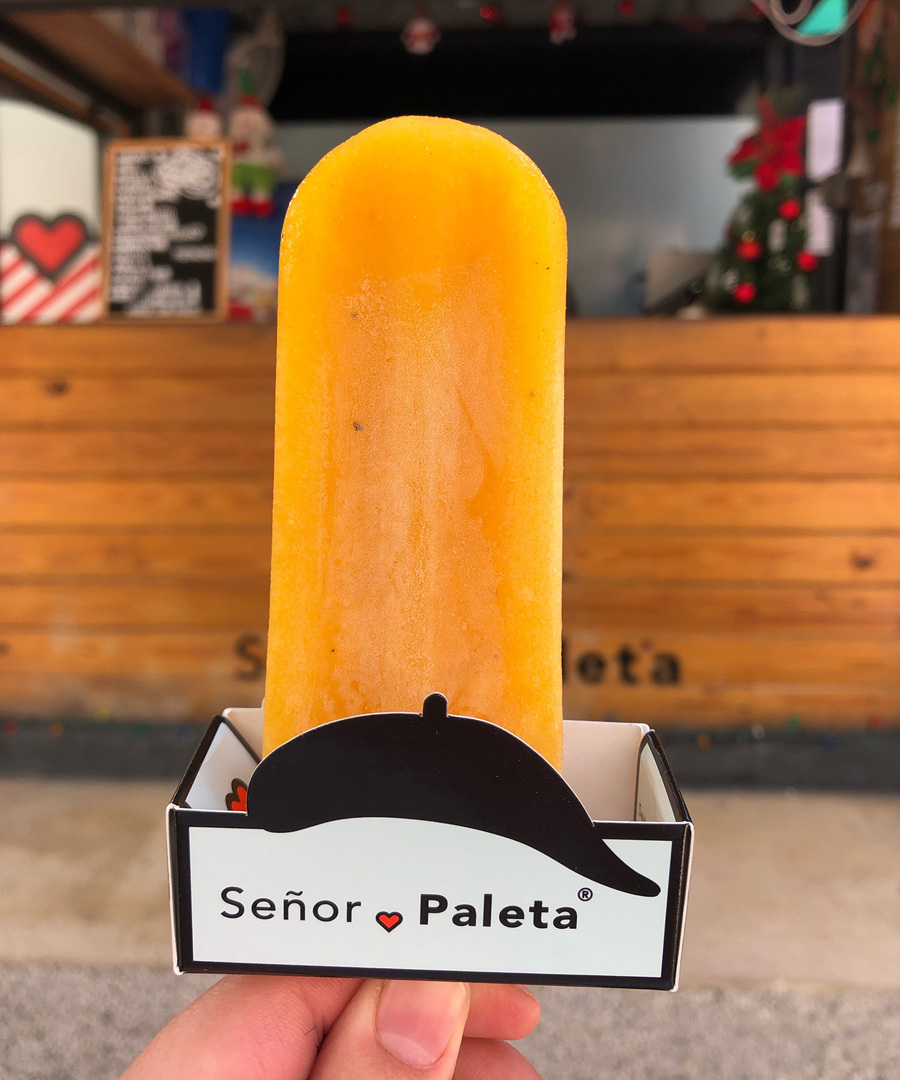 (Maya Stanton)
Launched in late 2016, Santurce's Lote 23 is equal parts food park and community center: Its kiosks and Airstream trailers feed locals and tourists alike, and it's a destination for yoga, music, and dancing too. If you're coming to eat, you can fill up on hearty plates of pernil or fried chicken, go light with a poke bowl, snack on an order of croquettes, perk up with an iced Puerto Rican cold-brew coffee, and fill in the remaining cracks with a handmade popsicle from Señor Paleta. These are not the vaguely fruity concoctions you may remember from your childhood—we're talking vibrant, full-bodied flavors here, from gelato-style varieties like peanut, pistachio, nutella, and dulce de leche to tropical sorbets like mango, guava, soursop, and passionfruit (above). They all ring in around $3 a pop (...pun intended), and you can't go wrong with any of them.
1552-1558 Avenida Juan Ponce de León, San Juan; lote23.com.
3. Santaella
(Maya Stanton)

With a chic, industrial-meets-contemporary dining room facing a lush, interior garden and a chef who's worked with famous names like Ferran Adría and Eric Ripert, this fine-dining space in Santurce has the potential to be a real budget-buster. The smart bet is to swing by at lunch to sample chef José Santaella's upscale, market-driven cocina criolla for less than $20, or belly up to the bar in the evening for a cocktail and a small plate or two. Drinks-wise, the spicy paloma ($15), with smoky mezcal, grapefruit juice, crushed red pepper, and a ginger-tahini salted rim, is an exceptional accompaniment to the empanadillas (above; $14), a plate of snack-sized empanadas with fillings that change from day to day. (Mine were stuffed with chorizo and cheese, a basic-sounding combination that tasted anything but.) Planning a splurge meal to kick off or wrap up your trip? This is the place to go big.
219 Calle Canals, San Juan; 787.725.1611; josesantaella.com.
4. Verde Mesa
(Courtesy @VerdeMesa/Instagram)
In the heart of Old San Juan (one of our 51 Affordable Discoveries for 2019!), this small restaurant features pressed-tin ceilings, eye-catching mason-jar light fixtures, a hodgepodge of vintage furniture, friendly service, and superb Mediterranean-Caribbean fusion cuisine. Vegetarian-friendly dishes are a rarity on the island, but here they're more than just an afterthought—case in point, a refreshing ceviche-style chayote salad spiked with mango, lime, and cilantro; a hearty pumpkin and barley porridge with kale, pecorino, and roasted eggplant; and a vegetable-laced mound of rice, a signature dish. On the meatier side, the Moroccan-spiced lamb stew is a stand-out, bones and all, but the real winner is the octopus appetizer ($18), a pile of perfectly charred tentacles showered with pea shoots and served on a bed of smoky piquillo-pepper puree. They don't take reservations and there's usually a wait, but you won't regret putting in the time.
107 Calle Tetuan, San Juan; 787.390.4662; facebook.com/verdemesa.
5. La Bombonera
(Maya Stanton)
This circa-1902 Old San Juan bakery and café teases passersby with a tempting window display of assorted pastries, but don't succumb—at least not 'til later. You're here for one singular sandwich: the Mallorca, a sweet roll layered with your choice of fillings, pressed until the edges are warm and crisp, and dusted with a heap of powdered sugar. You can have it with simple accompaniments like butter or chocolate, but I can never turn down a savory-sweet combination and chose the egg, ham, and Swiss ($7). The yolk was still soft, the cheese wasn't quite melted, and the rich, salty filling just about stood up to the sugary roll. But it was the hot sauce that brought things into balance. I would've paid the fees to check a bag so I could bring home a bottle of the tangy, garlicky, house-made concoction, and I am an avid never-checker. Order a cortado ($3), a strong little cup of coffee with a touch of milk, to go with your sandwich, and pick up a few of those pastries on your way out, too.
259 Calle San Francisco, San Juan; 787.705.3370; facebook.com/labombonerasanjuan.
6. Kiosko El Boricua
(Maya Stanton)
For a taste of real-deal Puerto Rican snack food, jump in the car (or grab an Uber) and head out of town. Some 10 miles east of Old San Juan on the island's north shore, the Piñones area boasts an array of roadside kiosks hawking local bites against a backdrop of postcard-perfect beaches. There's always a line at Kiosko El Boricua, and for good reason: Everything's made to order, and it's all delicious. Try the pastelillos (turnovers with a shatteringly crisp exterior and a thin, soft layer of dough underneath) with crab (above; $5), the alcapurrias (fritters made from taro root and green plantains) with salt cod ($3.50), or the piononos (stuffed sweet plantains that are often rolled around the filling, but here it's more like a plantain sandwich) with beef ($4.50). The seafood tacos are also great, but this is where I should note that Puerto Rican tacos and Mexican tacos are not the same thing—the Puerto Rican version is yet another a deep-fried turnover-style snack, so don't go in expecting a soft corn or flour tortilla. Come hungry, spring for a cheap beer to wash it down, and carry your haul across the street to tuck in on the sand.
PR-187 km 8.0, Bo Torrecilla Baja, Loíza; 787.596.1684; facebook.com/kioskoelboricua.
7. Chocobar Cortés
(Maya Stanton)
A fourth-generation chocolate-making operation dating to 1929, Chocolate Cortés originated in the Dominican Republic before expanding production to the founder's native Puerto Rico, and today, the bean-to-bar company's locally and sustainably grown cacao varieties are starting to earn worldwide recognition. You can taste the goods at Chocobar Cortés, a cocoa-focused café in Old San Juan. Visit at brunch for sweet dishes like chocolate pancakes and French toast, or try the equally tasty, if a bit unconventional, savory preparations: roasted pumpkin soup with a white chocolate and wasabi crostini, perhaps, or a crispy chicken roulade with blood sausage and caramelized chocolate tomato sauce. My friend and I stopped by just after sunset and opted for pre-dinner drinks, a chocolate martini ($12) laced with Baileys for her, and a frozen mocha hot chocolate ($5) with whipped cream and chocolate nibs for me. Both were luscious and refreshing, and the quality of the chocolate was unmistakable. Ground chocolate is for sale, so yes, you can try this all at home.
210 Calle San Francisco, San Juan; 787.722.0499; chocobarcortes.com.
Plan Your Next Getaway