Meet Our Favorite Hotel Pets
By Kelsey Ogletree
July 2, 2019
Courtesy Deer Path Inn
From penguins and parrots to dogs and horses, these hotel pets will give you a warm welcome—and ensure a few smiles—during your stay.
From rescue pups and fluffy cats to talkative parrots and a family of penguins, adorable animals are doing double duty at hotels around the country. Not only do they make guests smile with free cuddles, many of them are also hotel "employees," fulfilling duties like leading guests on hikes, ringing the bell at the front desk, and leading philanthropic efforts in their communities. An added bonus? Research shows pets can help alleviate stress, anxiety, depression, and feelings of loneliness and isolation, which is good for hotel staff and guests alike. Get to know some of the cutest hotel pets out there, guaranteed to put a smile on your face the moment they greet you.
Oreo at the Armstrong Hotel: Fort Collins, Colorado
(Courtesy the Armstrong Hotel)

The grand hostess of the Armstrong Hotel (thearmstronghotel.com), a historic property in Fort Collins that will reopen this April following a renovation, can often be found curled up in a window seat in the lobby or stretched out on the front desk. Adopted as a kitten 14 years ago, majestic Oreo is as popular with hotel guests as she is with locals. She has many friends who live in the area and come to visit her each week, and as such, she's developed a few tricks to keep them entertained, like raising her paw for a high-five (for treats, of course). During winters in Colorado, Oreo tends to get a little stir crazy; come spring, you can find her sprawled out on the sidewalk enjoying the sunshine, much to the delight of Mugs Coffee Lounge visitors next door.
Sasha at Bobby Hotel: Nashville, Tennessee
(Courtesy Bobby Hotel)

Adopted from a local shelter, Sasha arrived at the Bobby Hotel (bobbyhotel.com) in Nashville when it opened in April 2018. As the resident hotel dog (not to mention Instagram star, @ahoteldog), she takes her welcoming duties very seriously—greeting guests as they enter the lobby, playing fetch, and ringing her own gold bellman's bell. Though she's been in her "forever home" less than a year, she's already doing her part to give back to other animals who need rescuing: Towels in each guest room embroidered with Sasha's face are available for purchase, with all proceeds going to the Country Road Animal Rescue, from which she was adopted. She was overjoyed to accompany the hotel team in bringing the shelter a check—along with much-needed items like dog beds, toys and food—after the holidays last year.
Sunshine and Chance at The Palms Hotel & Spa: Miami Beach, Florida
(Courtesy the Palms Hotel & Spa)

These two birds might be the longest-standing residents of the Palms Hotel & Spa (thepalmshotel.com) in Miami Beach. Macaw parrots Sunshine, 18, and Chance, 29, first arrived at the resort as rescue animals 16 years ago, and have since become the property's sociable mascots. They spend their days in the shade of the Little Gazebo, engaging in friendly conversation (Sunshine often says, "Hola!" in response to a greeting) and posing for selfies with guests passing by on their way for a swim. On at least one occasion, their proximity to the pool has led to the parrots engaging in a game of Marco Polo with kids, chiming in with a "polo!" call of their own. The lovable duo plan on enjoying many more years at the Palms, as the average life expectancy of macaws is about 50 years.
Oreo, Nahu, Buddah, Zen, Mai, Tai, and Momi at Hyatt Regency Maui Resort & Spa: Maui, Hawaii
(Courtesy Hyatt Regency Maui Resort & Spa)

You might not expect to find penguins in Hawaii, but this unlikely group is living their best life in the tropical climate at Hyatt Regency Maui Resort & Spa (hyatt.com). African black-footed penguins, an endangered species, began their tenure on the island in 1985, when the wildlife team at the property rescued George, Waddles, and Oreo. The only remaining resident is Oreo—he's outlived the average life expectancy of his species (roughly 10 to 20 years in the wild or 30 in captivity), though he now has a large ʻohana --that's Hawaiian for family--to keep him company. Guests can visit them any time in the atrium lobby, though the 9:30 a.m. feedings are a must-see. (Just watch out for Buddah, the bossy one). The resort also has parrots, swans, flamingos, ducks, and African-crowned cranes on the property and offers wildlife tours around the grounds three times a week.
Katie and Betsy at the Betsy Hotel: South Beach, Florida
(Courtesy the Betsy Hotel)

Brought to their home at the Betsy Hotel (thebetsyhotel.com) as puppies by their owners, the Plutzik family, these beautiful golden retrievers (Katie, 14, and Betsy, 3) have become a bedrock of the community there. Officially dubbed Canine Executive Officers, the pair can almost always be found hanging out in the corner of the lobby, especially on Friday afternoons, when they engage with guests during a formal meet-and-greet called "CEO Cocktails with Katie and Betsy." Both dogs keep a busy social calendar, making regular appearances at corporate meetings the hotel hosts, as well as philanthropic events around the community. Older and wiser, Katie is quite the muse; she even inspired a poem by award-winning poet Gerald Stern when he was a guest at the hotel.
Hamlet at the Algonquin Hotel: New York City
(Courtesy Algonquin Hotel)

Though he's been at New York City's Algonquin Hotel (algonquinhotel.com) for less than two years, this calm, playful ginger is already a celebrity, surveying the lobby's happenings from his "treehouse" perch atop the front desk. He particularly delights guests when he hops down for a personal greeting while they're checking in. For a feline, he's quite the patient little guy, allowing children to pet him, going nose-to-nose with visiting dogs, and occasionally flopping over for a belly rub. But it's not all play: Hamlet puts in long hours as the official DirectFurr of Public Relations for the hotel, a role that includes cohosting an annual cat fashion show for charity in August. Lucky for him, he's handsomely rewarded for his work—guests frequently send him gifts like cards and toys.
Cupcake at Salamander Resort and Spa: Middleburg, Virginia
(Courtesy Salamander Resort & Spa)

She's only 32 inches tall, but what this miniature pony lacks in size, she more than makes up for in personality. As the equine ambassador for Salamander Resort & Spa (salamanderresort.com) in Middleburg, which has an on-site equestrian center, she's a star and she knows it. Find her in the lobby Friday and Saturday afternoons, clad in a blue rhinestone halter to welcome guests to the hotel. That's only the start of her responsibilities, however: She's in high demand for appearances at conferences and birthday parties (complete with custom cupcakes from the in-house pastry team) held on the property, and she even visits individual guest rooms upon request. In keeping with her diva status, Cupcake has a diva-caliber wardrobe for every occasion—think: red, white, and blue tutus for the Fourth of July, shamrock barrettes for St. Patrick's Day, and red bows for Christmas.
Mr. Nutkin at Deer Path Inn: Lake Forest, Illinois
(Courtesy Deer Path Inn)

Deer Path Inn (deerpathinn.com) has celebrated the legend of its resident squirrel for nearly 90 years, since the English-inspired manor first opened in Lake Forest. (Don't worry, the little guy stays outside, though squirrel figurines are scattered throughout the interiors in his honor). Adventurous, curious, and amiable, the current Mr. Nutkin often greets guests at the entrance, standing guard like a British soldier. He's so well-known throughout the community that locals pop by in the hopes of spotting him through the windows of the English Room during afternoon tea service. "His warm and fuzzy presence completes the Deer Path Inn family," says innkeeper Matt Barba. Notorious for having a full belly, especially in preparation for a Chicago winter, Mr. Nutkin once inspired a turndown snack of chocolate acorns.
Zoey at Cloud Camp: Colorado Springs, Colorado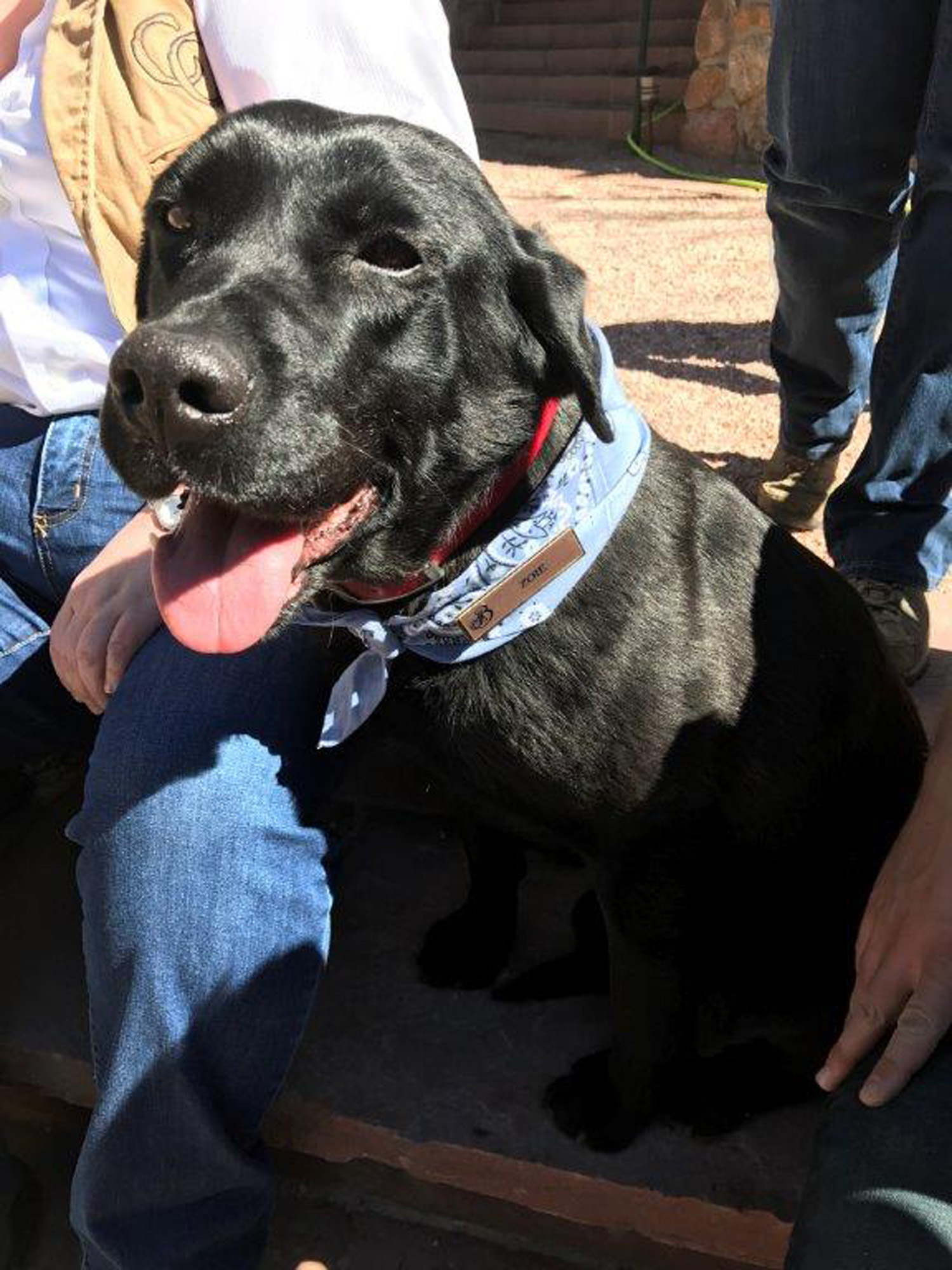 (Courtesy Cloud Camp)

Ever since she arrived at Cloud Camp (broadmore.com/cloud-camp), a lodge perched 3,000 feet above The Broadmoor in Colorado Springs, in summer 2017, 6-year-old Zoey has started her day at 5:00 a.m. Her duties begin with the raising of the flag, followed by leading guests on hikes and welcoming visitors. Trained as a bird dog, she's incredibly obedient, yet also very nurturing. Zoe once showed her softer side when a woman who was terrified of dogs arrived at the lodge; sensing that she needed special attention, the sweet pup spent time with her each day, gently helping her overcome her fear. The woman called it a life-changing experience, says Cloud Camp staff. When she's not on duty, Zoey's been known to mingle with royals. She once had her photo taken with the Baroness Sybille de Selys Longchamps of Belgium, the great-great-granddaughter of hotel's founders.