Budget Italy: Yes, You Can Afford Amalfi
By Robert Firpo-Cappiello
May 5, 2017
Minnystock/Dreamstime
You haven't really seen Italy till you've hugged the southern coast, where villages perch precariously over the sea and days and nights are given over to the sweetness of doing nothing.
Nowhere else on earth quite compares to Italy's Amalfi Coast. You've seen the pictures: A highway that hugs the hillsides. Colorful towns that perch along cliffs, as if to say, "Quick! Grab us—along with our buffalo mozzarella, limoncello, and caponata—before we tumble into the sea!" And, of course, the people strolling the streets, kicking back on the beaches, and embodying the expression La dolce far niente ("The sweetness of doing nothing"). If you're like me, you've probably regarded Amalfi's awesomness as a little too rarefied for the likes of you. With must-see neighbors to the north (Rome, Florence, and Venice, anyone?) and what we've presumed to be a prohibitive price tag, this gorgeous stretch of Italy's Campania region has languished on the margins of our travel list. That's going to change. While it's possible to drop a small fortune in pursuit of a sun-drenched dream here in the enchanting countryside outside of Naples, it is also possible to grab your piece of the Amalfi without breaking the bank.
GETTING THERE
The simplest way to see the Amalfi region is on a day trip from Naples. Viator.com and other tour operators offer easy, reasonably priced round-trip sightseeing tours via bus or private car. Sure, you'll soak up some sole, but you'll leave wanting more. The next step up is a multi-day excursion from Naples or Rome, in which you can spend a few days (a typical tour from Rome may include three days' sightseeing and two nights' accommodations for under $400). This will be more than a window on Naples, the Amalfi, and the ruins of Pompeii, but it's hardly an immersive experience. For that, G Adventures offers the opportunity to live in an agriturismo on the Amalfi Coast for a week, with tours of the nearby towns, restaurant and home-cooked meals, for less than $1,800 (not including airfare). If you're ready to explore sans tour guide, book a flight to Naples (flights from New York start around $1,200, but to get the earliest notification for fares, follow all the major airlines on Facebook and Twitter and subscribe to their e-newsletters), grab the convenient public rail line, the Circumvesuviana, to Sorrento, and travel at your own pace along this string of jewels along the water.
SORRENTO
(Nata_rass/Dreamstime)
Often the first stop for visitors to the Amalfi, Sorrento is perhaps the picture-perfect Amalfi town because of its photogenically tiered buildings adorning the hillside that rises from the water. Remember, this is such a popular arrival point that it will probably strike you as a bit touristy, and that breathtaking cliff sort of precludes a conventional beachgoing experience. But don't overlook the authentic charms lurking behind the tourst façade. Elizabeth Minchilli, author of the bestselling apps Eat Rome, Eat Florence, and Eat Venice, notes that while vendors at every turn will attempt to sell you bottles of limoncello (the signature lemon liqueur of Southern Italy), there are lesser-known local favorites to be savored. "Try fried fresh-caught anchovies," suggests Minchilli, "and caponata, a local salad made with cornbread, tomatoes, tuna, basil, and mozzarella." Casa Astarita is a comfortable and affordable B&B (casastarita.com, from $150).
AMALFI
Yes, Amalfi is the name of the region (officially Costiera Amalfitana) and of one of its towns. Centuries ago, this little village was a dominant force in the Mediterranean shipping trade. These days, it's more about hoisting cold beverages than sails. Ideal for leisurely strolls, you can cover most of Amalfi in a few hours, window-shopping and snacking along the way. Ready to bump your walk up to the next level? Gillian Price, author of Walking on the Amalfi Coast, recommends, "Take a walk on the old mule tracks, the Sentiero degli Dei ("Pathway of the Gods"), a breathtaking route high above the spectacular coastline. It links the hillside village of Bomerano (above Amalfi) with gorgeous, trendy Positano. Should you need a guide, contact local expert and English-speaking Giovanni Visetti (giovis.com). While in Amalfi, enjoy a Caprese salad, lentil soup, and lemon risotto with prawns at Da Gemma Trattoria (trattoriadagemma.com).
POSITANO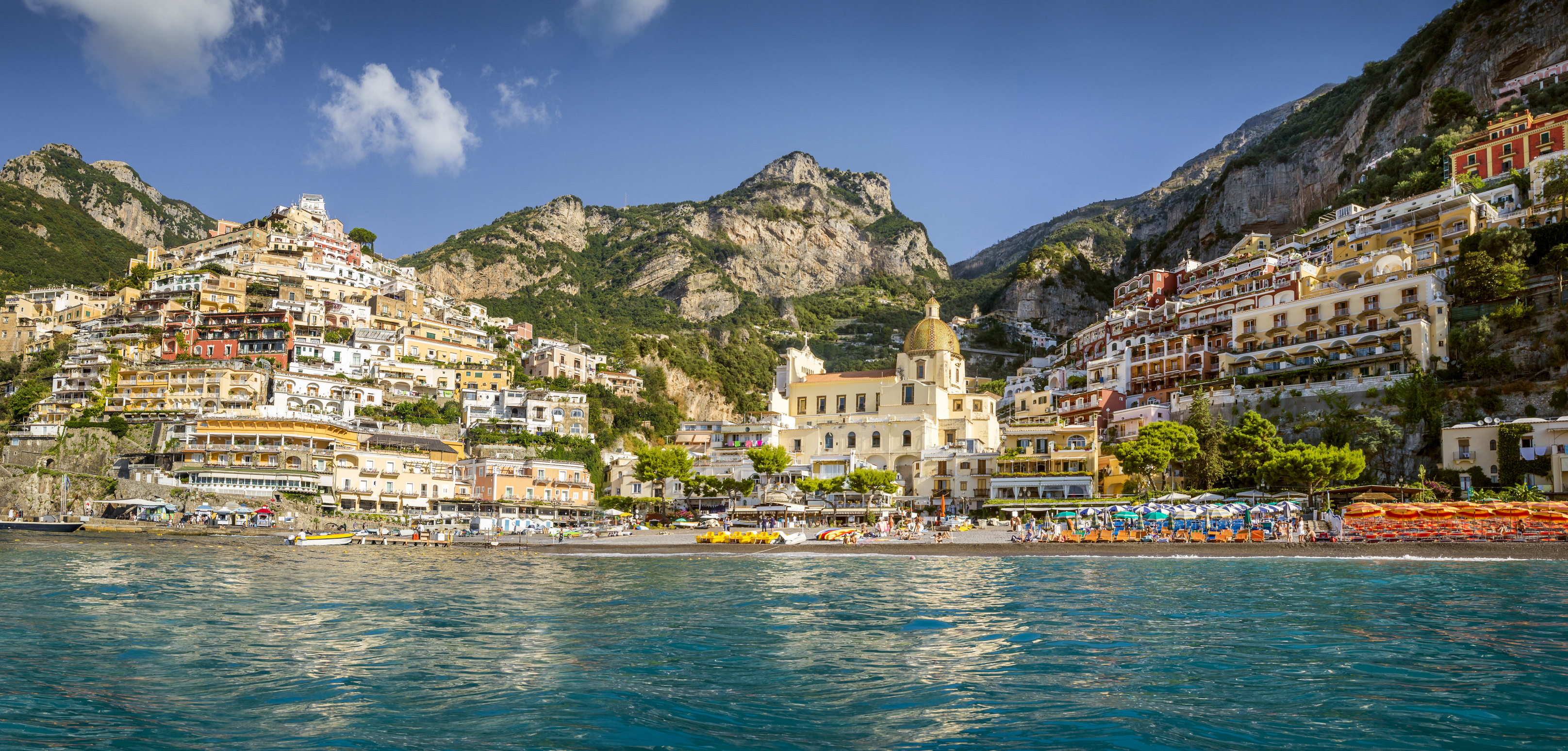 (Mikolaj64/Dreamstime)
Here, big-city style meets coastal sun and fun. You can spend an entire day or more browsing Positano's boutiques and ceramics shops, and the prestigious Franco Sinesi gallery is a must for modern art lovers. And, of course, an upscale town like Positano is a perfect place to indulge in more great food. "Delizia al Limone is a luscious, soft sponge cake with delicate lemon cream," enthuses Price. "And Sfogliatelle are layered pastries stuffed with candied fruit and ricotta." If you're looking to spend a night or two here in affordable luxury, the former palazzo Albergo California (yes, Eagles fans, that's "Hotel California") won't disappoint (hotelcaliforniapositano.it, from $200). And when you're ready to hang with Positano's jetsetters, belly up to the sleek, modern Next2 bar-dinner can be pricey, but you can soak up the vibe for the price of a tasty local cocktail (next2.it).
MINORI
You might call Minori your window into the real Amalfi Coast. This is, after all, where Italians themselves are likely to visit on vacation, and you'll definitely notice a more relaxed, less touristy scene here. And speaking of real, the executive chef at Minori's Hotel Villa Romana, Giuliano Donatantonio, leads cooking classes that let you take home some of the secrets of Italian cuisine, recipes included (hotelvillaromana.it, weekend special includes two nights, breakfast, and one dinner for two from $260; learn more about cooking classes at travelingtoitaly.com). The town is also home to a limoncello factory that offers tours-and tastings!
PAESTUM
In Paestum, you can do more than just eat fresh mozzarella and tomatoes like everybody who visits the Amalfi does—here, you can actually see how the light, creamy cheese is made daily. Drop by Tenuta Vannulo (vannulo.it) for a tour of an operating buffalo mozzarella factory. Minchilli suggests, "Enjoy fresh mozzarella grilled on lemon leaves till just warmed and oozing." And you can thank the somewhat forbidding-looking water buffaloes who live on the grounds of Tenuta Vannulo for contributing their milk to the uniquely heavenly cheese!
PRAIANO
When visiting Italy, there are a few simple rules of thumb that always pay off. One, "If it was good enough for a doge, it's pretty much going to be a nice place to visit." Here in Praiano, the doges (dukes) are long gone, but the relaxing atmosphere and lovely mountainside make this one of the Amalfi's off-the-beaten-path gems. Enjoy an afternoon at the local beach and the Chiesa de San Luca.
CAPRI
(Neirfy/Dreamstime)
"Catch a ferry to Capri, where the Roman emperors built their holiday villas," recommends Price. Indeed, Augustus and Tiberius made Capri their home-away-from-home, and these days hydrofoils from Positano and Amalfi will get you there for about $22 (a few dolllars extra for luggage). If you like your rocky seashores mixed with Roman ruins, world-class cafes, and more than a hint of the artsy crowd that put this island on the travel map in the 20th century, Capri might be the highlight of your Amalfi adventure!
Plan Your Next Getaway