10 Unique National Park Service Sites You Haven't Visited Yet
By Maya Stanton
April 9, 2019
Zrfphoto/Dreamstime
Once you've seen the Grand Canyon, Yellowstone, and the Great Smoky Mountains, here's where to go next.
We have plenty of love for the National Park System's heavy hitters, but with 418 sites spanning more than 84 million acres across the country and its territories, there are a ton of lesser-known gems just begging to be explored. Here are 10 extraordinary protected lands that deserve a place on your bucket list.

1. Chaco Culture National Historical Park: New Mexico
(Golasza/Dreamstime)

From the mid-800s until the mid-1200s, the Chaco Canyon's high-desert environs was a social and economic hub for the ancestral Pueblo culture that called it home. Chacoan architecture was particularly impressive, featuring huge, multi-floor, multi-room dwellings called great houses, built over the course of decades and incorporating canny design elements in the process. More than 3,000 of the massive stone structures have been preserved, and most of the cultural landmarks are open for self-guided exploration year-round. Take in the five major sites along the 9-mile Canyon Loop Drive, sign up for a ranger-led tour of the great houses, or hike the backcountry trails for ancient petroglyphs and stunning vistas. For a special treat, visit at night, when the Milky Way puts on an unbeatable show. Designated an International Dark Sky Park in 2013, Chaco's Night Sky program roster includes weekend lectures and telescope viewings at the observatory. Stargazers, mark your calendars: Biannual star parties are usually held in May and October, and an astronomy festival happens each September.
7-day pass, $25 per car; nps.gov/chcu.
2. Glen Echo Park: Maryland
With a children's discovery museum, a dance hall, and a fully functional carousel dating to 1921, it's safe to say Glen Echo Park, located about eight miles from Washington, D.C., is not your average federally protected land. Originally established in 1891 as a Chautauqua, a non-denominational Christian summer camp–like phenomenon, it became a proper Coney Island-style amusement park in 1911. During the next three decades, Echo Park added bumper cars, a pool with a capacity of 3,000 swimmers, the Spanish Ballroom, which hosted pop stars like Bill Haley and His Comets, and more. It closed in 1968, the National Park Service took over in 1971, and the historic district was added to the National Register of Historic Places in 1984. Today, Glen Echo counts half a million annual guests for classes and performances, though few of its original attractions remain: Its entrance is still visible, but the pool itself is in ruins; the bumper-car pavilion remains intact, albeit without its steel floor; the carousel, fully restored, operates from May through September, and the ballroom can be rented out for special events. Pack a picnic lunch, go a few rounds on the carousel, and bask in the nostalgia.
Park entry, free; carousel rides, $1.25; nps.gov/glec.
3. Effigy Mounds National Monument: Iowa
Throughout the Upper Mississippi River Valley, in parts of what's now Iowa, Wisconsin, Minnesota, and Illinois, Native American earthen mounds of varying shapes and sizes dating to pre-Columbian times proliferate. You'll find 206 of them in northeastern Iowa, from linear ceremonial mounds to more animal-shaped effigy mounds than anywhere else in the world. Just don't expect to leave with a full understanding of these ancient structures: Archeologists speculate that they could be territorial markings, while tribal descendants say they're sacred sites. Stop at the visitor's center for a map of the park's 31 bird and bear shapes, then wander its 14 miles of trails, including short accessible stretches and steeper hikes, to see how many you can spot.
Free; nps.gov/efmo.
4. Manhattan Project National Historical Park: New Mexico, Washington, and Tennessee
The world's first atomic weapons were developed through a top-secret government project involving hundreds of thousands of scientists, mathematicians, and members of the military, spread across three massive sites: uranium-enrichment and plutonium plants in Oak Ridge, Tennessee; nuclear reactors and chemical separation plants in Hanford, Washington; and the remote complex at Los Alamos, in northern New Mexico, where Robert Oppenheimer notoriously led the team that designed and built the bombs. All three sites are open to visitors, though some areas of each remain under the Department of Energy's purview and may not be accessible to the public. Still, there's plenty to see: Walk through historic downtown Los Alamos on a self-guided tour, sign up for a free guided tour of the B Reactor in Hanford, or, for a small fee, book a bus tour through the Oak Ridge site with the Department of Energy.
Park entry, free; nps.gov/mapr.
5. New Orleans Jazz National Historical Park: Louisiana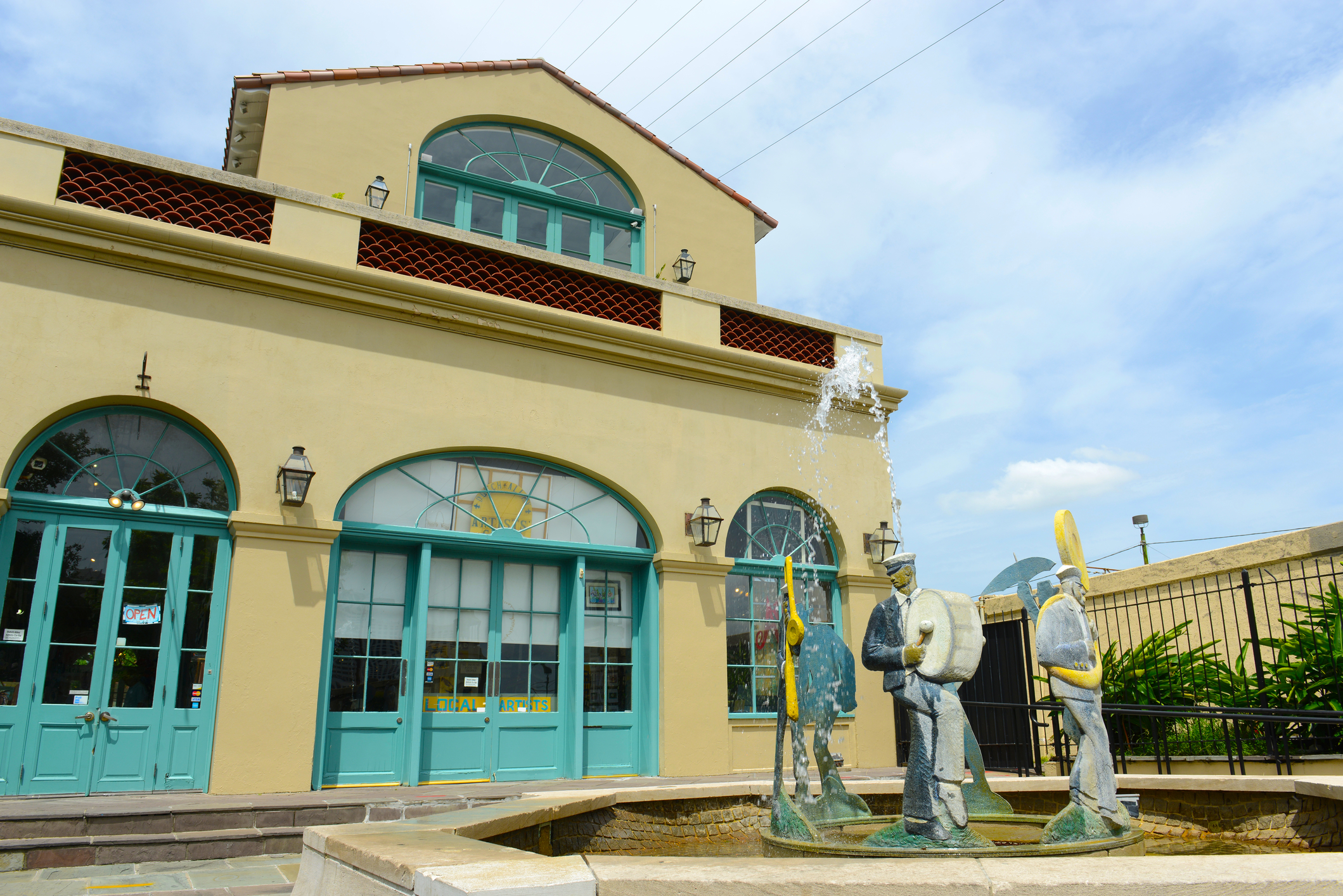 (Wangkun Jia/Dreamstime)

From L.A. to New York, America boasts a dizzying array of jazz venues, but where better to get a feel for the form than the place it was born? At the New Orleans Jazz Museum in the city's National Historic Park, near-daily concerts range from solo acts to traditional quartets to a band made up of park rangers and civilians alike. There are also ranger-led demonstrations and lectures on the history of jazz that often have a live-music component as well. But there's more to the park than these performances. Drop in for a free yoga class and practice your downward dog as a park ranger provides the improvisational-piano soundtrack, take a self-guided audio tour of 11 historically significant sites around the city, or visit the Hogan Jazz Archive at Tulane University to watch hundreds of oral histories from local musicians.
For a schedule of park events, including concerts, talks, and ranger-led demonstrations, visit nps.gov/jazz.
6. Wind Cave National Park: South Dakota
In the Black Hills of South Dakota, below a square acre of prairie and pine forest, there's an extremely complex cave—one of the oldest and longest in the world. Wind Cave is so spacious it has its own internal air-pressure system, taking its name from the gusts emanating from its natural entrance: The Lakota referred to the cave as the "hole that breathes cool air," and the brothers credited with its discovery in the 1880s were drawn to it by the sound of the wind across its mouth. Subterranean expeditions during the next 130-plus years revealed a staggering geological display, from cave formations like the commonly seen popcorn and frostwork to the much rarer boxwork—and there's more of that here than in any other caves in the world combined. It's free to explore the 33,851 acres of parkland above ground, but you'll need to sign up for a guided tour to see the cave itself. Options range from easy (the Garden of Eden tour, which enters and exits via elevator) to extremely strenuous (the Wild Cave tour, which comes with a warning that crawling is involved). Tickets are available on a first-come, first-served basis; they go quickly during the peak summer season, and reservations are only available for specialty tours, so visit early to avoid a wait.
Cave tours from $10 for adults, $5 for seniors and kids ages 6-16, and free for kids 5 and under; nps.gov/wica.

7. Manzanar National Historic Site: California
(James Mattil/Dreamstime)

Eastern California's Owens Valley has seen its share of tragedy. In the early 1860s, 1,000 members of Paiute tribal groups were forcibly removed by the military after miners and homesteaders arrived on the scene. And almost 80 years later, following the attack on Pearl Harbor, the U.S. government rounded up 120,000 West Coast residents of Japanese ancestry—including natural-born citizens—and herded them into internment camps for the duration of the war. Manzanar was one of 10 relocation centers built in seven states, and it's said to be the best preserved of the bunch. A National Historic Site established in part "to serve as a reminder to this and future generations of the fragility of American civil liberties," it offers visitors a glimpse of what life was like for the 11,070 Japanese Americans interned here from September 1942 until November 1945. The grounds feature exhibits, reconstructed barracks, and excavated gardens, ponds, and building foundations, which you can explore on foot or via a 3.2-mile self-guided drive.
Free; nps.gov/manz.
8. Saguaro National Park: Arizona
(Irina Kozhemyakina/Dreamstime)

Flanking Tucson to the east and west, the two districts of Saguaro National Park are best known for their namesake plant: The saguaro is the largest cactus in the country, and it's been heavily protected here since 1933, when Herbert Hoover designated the area a national monument. Congress bumped it up to national-park status in 1994, and it's been welcoming the cactus-curious ever since. There are more than 25 types of succulents on display, but the giant tree-sized saguaro is the star. Native to the Sonoran desert, it's an anchor for the area's diverse southwestern ecosystem, providing nesting space for birds and serving as food for bats, mammals, and reptiles too. Both park branches combined have more than 165 miles of hiking trails, from accessible walks to seriously strenuous treks; there's also backcountry camping, cactus gardens in each district, and a petroglyph site boasting more than 200 of the prehistoric rock carvings. Visit from late April to early June to see the saguaro in bloom, and be sure to stay in the park to catch a sunset—between the vibrant sky and the stark desert landscape, it's a spectacular show.
1-day pass, $20 per car; nps.gov/sagu.
9. Blue Ridge Parkway: North Carolina and Virginia
Running 469 miles through the Appalachian countryside, the Blue Ridge Parkway links Shenandoah National Park and Great Smoky Mountains National Park. The outcome of a Depression-era public works project that began in 1933, it's the longest American road conceived as a single stretch. As a "museum of the managed American countryside," the meandering road juxtaposes mountain-top views with lush stretches of forests and streams, passing by rustic log cabins and millionaires' vacation homes. Construction took decades—the majority wasn't completed until 1966, and the last 7.7 miles finally opened in 1987. By design, it's the ideal setting for a leisurely road trip: Speed limits top out at 45 miles per hour, and the route combines stunning natural beauty (alongside opportunities for hiking, kayaking, biking, and more) with history (a center devoted to the region's traditional old-time music, a working early-1900s mill, a textile magnate's grand estate) and whimsy (Dinosaur Land!). Check for road closures before you go, and bon voyage.
Free; nps.gov/blri.
10. Great Sand Dunes National Park & Preserve: Colorado
Colorado is home to the tallest dunes on the continent, and people have been answering their siren song since nomadic Stone Age hunters and gatherers first made their way into the San Luis Valley 11,000 years ago. Modern Native American tribes like the Ute and the Navajo, Spanish and American explorers, Gold Rush hopefuls, homesteaders, and Buffalo soldiers followed in succession, before fears of destruction via mining and industry prompted President Hoover to declare it a national monument in 1932. In 2004, it was expanded into a national park and preserve, and the diverse activities on offer today are a big draw. There are two accessible areas at the edge of the dunes, and the visitors' center has two sand wheelchairs available to loan. Most of the park and preserve is open for exploration on horseback, and you can sign up for a guided ride or bring your own animals. Rent sandsleds or sandboards from an area outfitter and take to the dunes or hit the road for a fat-bike ride; other options include, but are not limited to, swimming, fishing, hunting (in season), and four-wheel driving. Regardless of how you spend your day, stargazing is a required nighttime activity.
7-day pass, $25 per car; nps.gov/grsa.
Plan Your Next Getaway